Some playing card decks to remember in a year that many people prefer to forget
We all agree that 2020 has not been the best year of our lives. However, I wanted to make a small selection of some decks released this year that are worth remembering. The objective of this article is to review decks that I find interesting, without boasts of exclusivity, without impossible to get editions, just decks that have meant something to me, either because of their interest as a collector or because of human beings behind their creation.
I also wanted to make sure that you would have a chance to get them if you like any, so I spoke to my good friend Will Roya (PlayingCardsDecks.com) and asked him to offer you a discount to get them at a more reasonable price. Then you can go on reading and, if you like any, you'll find the links to purchase them and, at the end, a code to get them for less.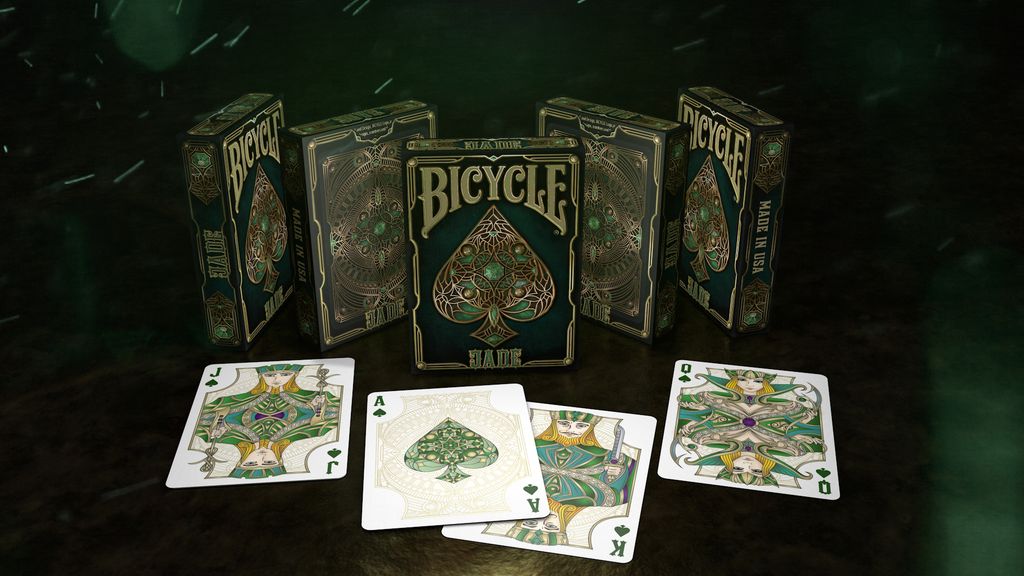 Produced by Gambler's Warehouse, the deck has been designed by Shapeshifters,  masters of blending 2D and 3D techniques , with whom I have had the opportunity to collaborate on other interesting projects such as Syndicate or Black Magic.
In a world full of envy and intrigue, four kingdoms fight for the power that the coveted gem will give them. This is the scenario in which the story told by these cards takes place.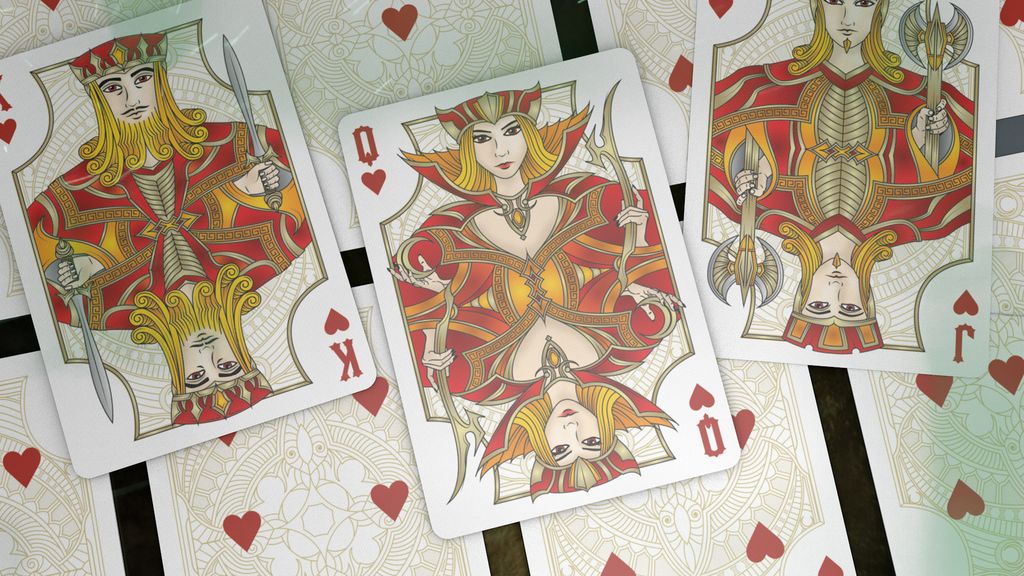 The color and details have been wisely combined to create fantastic-inspired illustrations. With the players and magicians in mind, faces use white backgrounds for an easier identification. However, these backgrounds have been lavishly decorated with very elaborate but subtly presented structures to keep the cleanliness without sacrificing detail and exquisite elegance.
This Bicycle branded deck has been printed by the USPCC in a limited edition of 2500 and you can get the latest units HERE.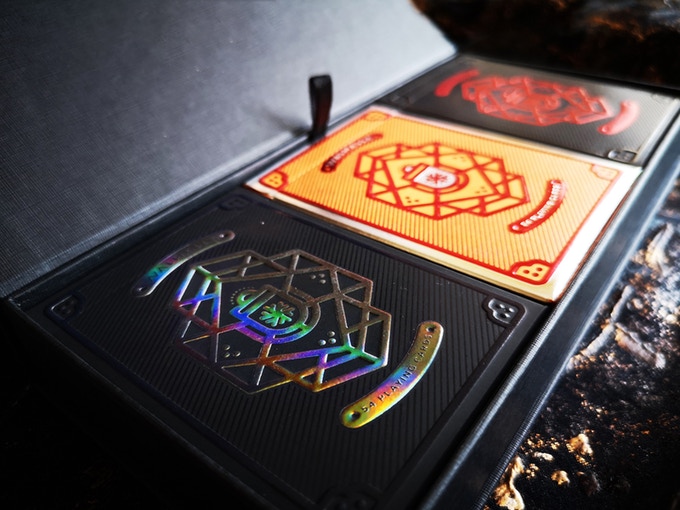 Inspired by Norse mythology,  the WALHALLA decks take a tour of the family tree and the main characters linked to the Norse deities with a very original design style. The casual illustrations by Julien Riesen for these cards show a delicate work with a balance between detail and the use of the strokes to give each card its own personality.
The format of the numbered cards is quite original, with a common scheme in which the appropriate number of pips is clearly illuminated to keep its playability.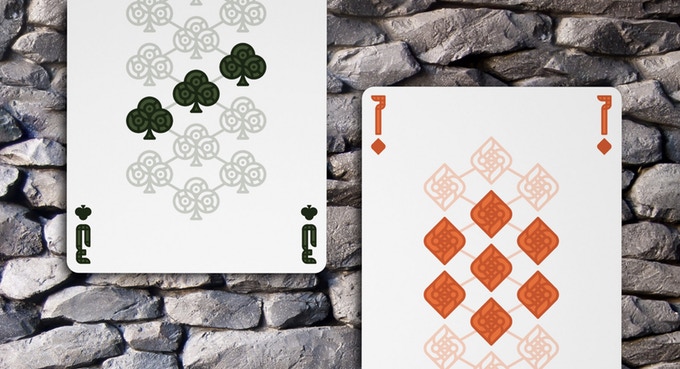 The court cards are able to approach in a very didactic way the epic mythological gods and goddesses in a symmetrical scheme that reminds the traditional but that are completely customized.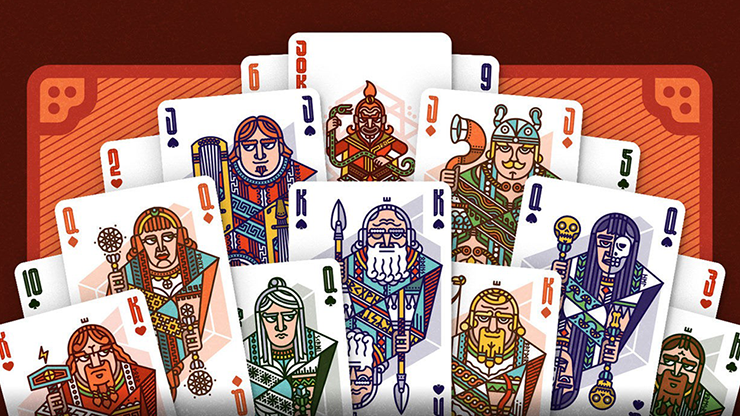 Printed by Noir Arts (NPCC) the tuck cases are a true work of art with embossing, several foils and refined stock in different colors. In addition, the cards also use metallic inks.
Three editions are available: ODIN, with vivid colors on a white background, FREIA, monochromatic with black backgrounds, and VALKIRIES, with invisible inks revealed under ultraviolet light.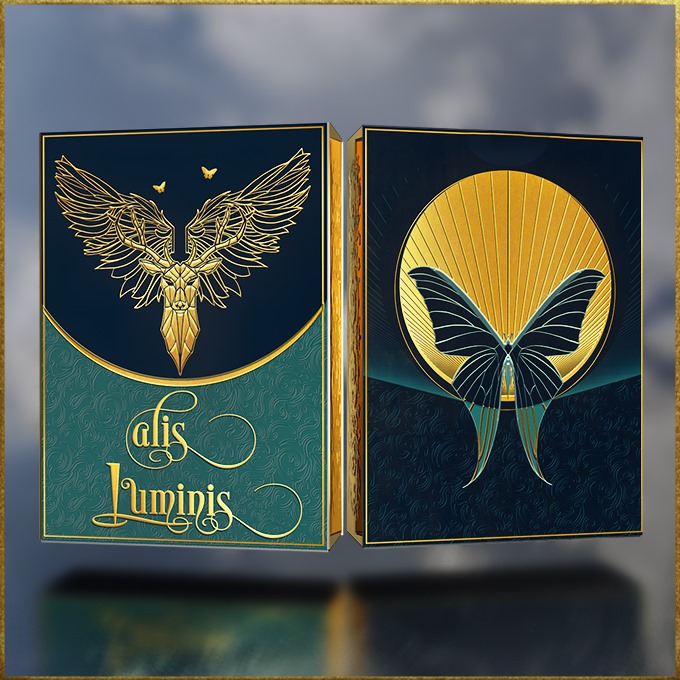 Sometimes the great artistic quality of some playing cards is nothing compared to the human quality of the human beings behind them. Ritu and Bivas are a lovely couple and a fantastic and creative work team based in India. Nature, fantasy and mythology are just some of the sources of inspiration for this deck that involves the work of more than a year and a half of illustration work and thorough composition. The artist has created beautiful images specifically designed to be part of a card deck.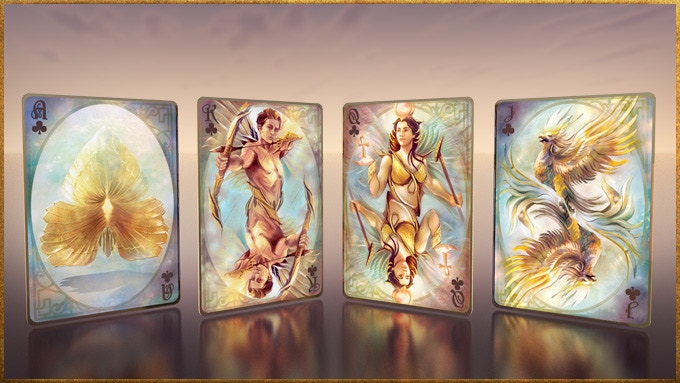 Completely hand-drawn, each and every one of the protagonists who decorate the court cards are full of details and show themselves majestically in symmetrical compositions. Mythological gods, fantastic characters and mythical animals look like trying to leave their canvases wrapped in a halo of magical mystery.
The great printing work by Noir Arts (NPCC) has given this beautiful deck that you can get AQUÍ.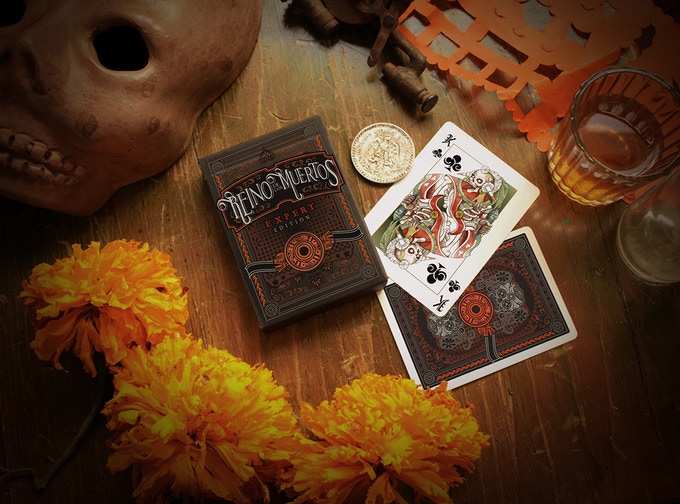 Born from the passion for a well done job and looking for a change through the artistic expression, a group of young talents created Sextante Estudio almost a decade ago, in the heart of Mexico City. Inspired by tradition, but since innovation, they have collaborated with other companies in a good amount of creative projects in playing cards design until they jumped into crowdfunding, a few months ago, to offer their own playing cards seal.
El Reino de los Muertos Expert Edition is a completely refurbished reissue of a limited edition released in 2017. This deck shows the vision of the artist Guzo Borboa of the most popular celebration known as The Day of the Dead in which the illustrations pay homage to the Mexican culture of all time, from La Catrina to pre-Hispanic gods.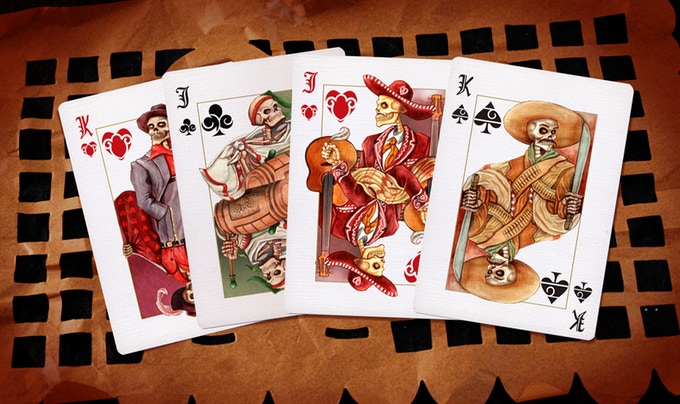 A wise combination of folklore and modernity has been put at the service of the design of each and every corner of these cards. The court characters tell their own story in that transition between life and death that, in this festival, far from other more pessimistic traditions, is an explosion of joy and color.
Not only players but also magicians and cardists have been taken into account with white backgrounds, gaff cards and the Slim Line B9 Finish by Cartamundi, who printed a limited edition of 3000 decks. You can get it AQUÍ.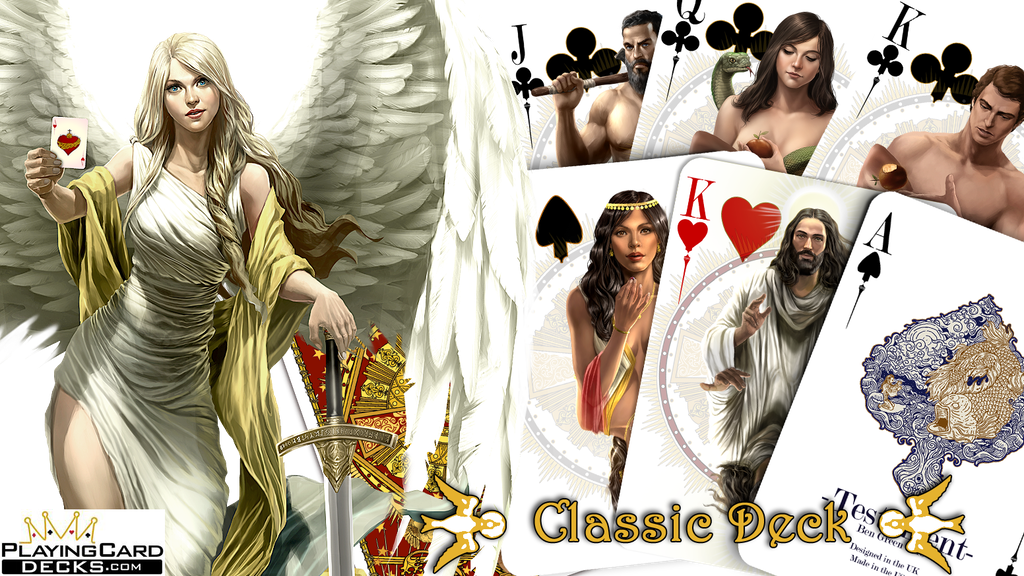 This is not actually the first edition of the deck. From its initial conception, two editions of the deck were created. The ART edition, printed by WJPCC, was successfully funded and produced in late 2019. In this edition, the court cards featured extremely neatly illustrated scenes combining manual and digital techniques.
This CLASSIC edition presents a different graphic concept in a traditional symmetry format that brings the deck closer to the common playability idea. For production, Ben teamed up with Will Roya (PlayingCardsDecks.com) to ensure a smooth production and distribution process.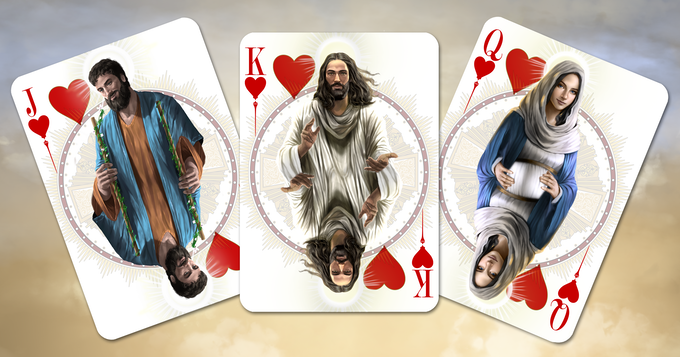 The court cards group biblical characters into each suit. While spades, clubs and diamonds are more focused on the Old Testament, the hearts court is represented by the Holy Family, with Jesus Christ being the king of hearts.
The deck was printed by the USPCC in a limited and numbered run of 2,500 units. You can get it AQUÍ. In addition, you can get in exclusive a few remaining units of the original ART deck (with all the extras and gold edges) and the ART 2 deck.

ARTE is the result of an elaborate creative work to take magic to a new level through artistic expression. A set of decks in which the colors, shapes and designs are evocative of the most varied emotions.
Perfect for card magic, the cards respect the standard scheme to make them completely recognizable to the public, but have an interesting customization with large aces, bright colors on the backs and court cards and different gaff cards in each deck to offer a greater variety of routines and tricks through their combination.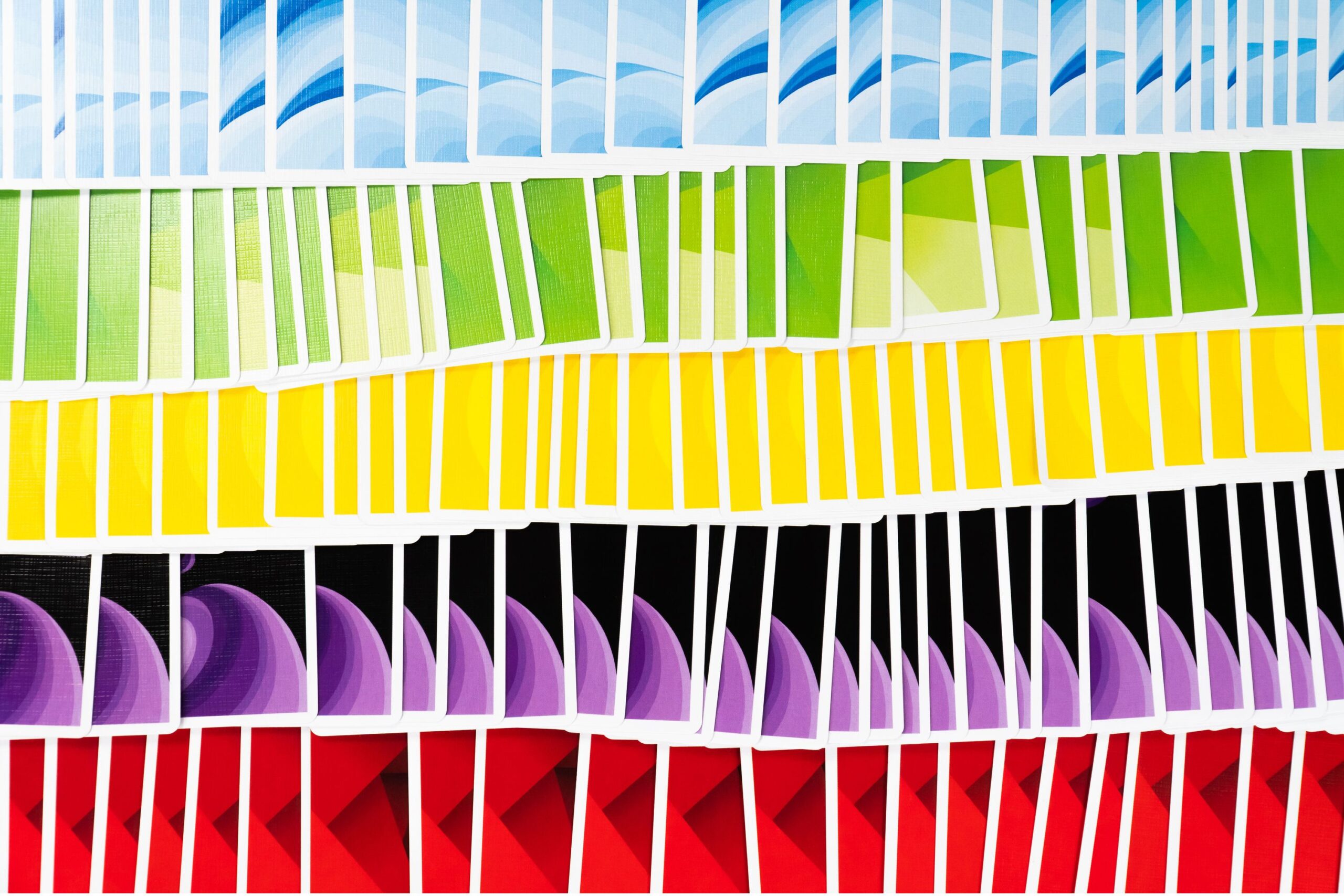 The five decks have been carefully packaged in a luxurious holographic foiled box and in a limited edition of 800 units with a numbered certificate and a link to a video with instructions and fantastic routines.
Created by Borja Montón and designed by Max Playing Cards, the decks have been printed by Cartamundi with their acclaimed B9 SlimLine finish. Get this fantastic collection HERE.
---
---
I hope you liked this small selection of 2020 playing cards. If you want to get some, you have the latest units available at PlayingCardDecks.com.
---
Also, as promised, you can use the code 'max10' to get a 10% discount on the official PlayingCardDecks.com page. Take advantage to get some more decks from their extensive catalog. And remember that you can also become a member of the PIP BOX CLUB and receive a fantastic selection of surprise decks every month for a quiete discounted price.
May next year be much better for all of us! Good luck!
https://www.maxplayingcards.com/en/wp-content/uploads/2020/11/2020_crack.jpg
1080
1920
Max
https://www.maxplayingcards.com/en/wp-content/uploads/2020/03/MPClogo-300x138.png
Max
2020-12-04 21:38:22
2022-09-15 20:22:52
Some playing card decks to remember in a year that many people prefer to forget