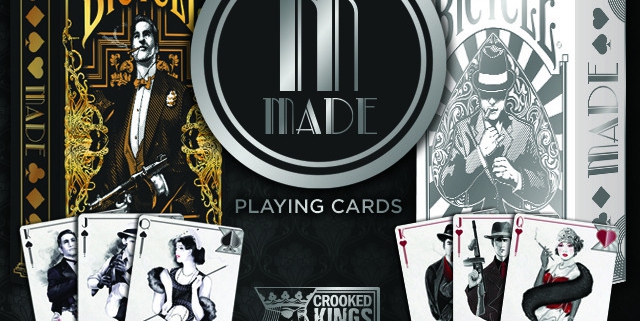 MADE deck. Don't play with them or you will get into trouble
Scott King has brought us many cool decks of cards. After Gentlemen 52 and the successful campaign of Viking decks, a new theme, a new design and some more new decks captivate our senses: MADE.
The style of the decks and the maturity of the campaigns created by Crooked Kings have evolved considerably. This is how Scott remember his first project: Gentlemen52:
Gentlemen 52 was really a learning experience for us. My business partner, Jeff and I, didn't really know how to go about making a deck through Bicycle, let alone making a project on Kickstarter, so we went into it completely blind. The toughest part was figuring out what to make a deck about. We tossed out a lot of ideas, but the facial hair theme seemed to really stick. It was a fun concept and we were excited to see what we could do with it! I remember the second it got funded, we were both texting each other a countdown for every pledge that would come in, and I remember my stomach being in knots, because it really came down to the wire. I have a special place in my heart for Gentlemen 52, and I was so elated once it finally hobbled over the finish line. That one experience really showed us what we did wrong and what we did right. Obviously, we're still learning though. I really like art. Art of all kinds. We want to do a variety of different styles and themes that run the entire spectrum :)
MADE decks are inspired on the 1920's Mafia's world. The illustration are hand made and details on cards and cases has been carefully selected to give as an awesome and elegant result. This is what Scott told to me about the inspiration of the deck:
So, I've always really been into the art deco style specifically seen in the 1920's in the United States of America. The design elements found in that era range from both simple and geometric, to complex and very ornate. It was a very interesting juxtaposition and really was an awakening in the design world. Additionally, organized crime becoming more and more affluent which was really starting to reach a tipping point all across the country. The mafia/mob was beginning to operate like a business and becoming more and more prominent and in control of specific areas as they expanded. There was a large scale battle taking place between organized crime and the governing bodies. Couple that with prohibition and you have an all out war type scenario. I had seen a lot of decks done in the past which featured mobsters, but most of those focused on the beat em' up bad guys that were more or less stereotypical. I really made a conscious decision to focus on the elegant aspect of the time and lifestyle. I wanted to show the artwork in a refined and graceful style which is why I picked the high contrast black and white color scheme with accents of red. To amplify that style, I also went with an influence of Judith Van Den Hoek, who is a very talented designer specifically in the fashion world. From there, I really tried to add elements of the art deco style into the actual cards themselves, from the backs to the card elements. I really am happy with the way they turned out!
Everything has been redesigned to fit with the theme: new pips, a fantastic set of court cards depicting characters directly related to the mafia and night life, refined tuck cases with gold and silver inks to highlight the implicit elegance of the designs and back designs inspired on the Art Deco architecture and style. Everything is nice and cool.
Like in the previous campaign, there will be different decks available. The original versions, Gold and Silver, are two completely different decks. The campaign is already funded and has raised some stretch goals so another two decks have been unlocked. Stork Club and Cotton Club will be two new and limited tuck box editions, embossed and foil stamped,  that will have a numbered seal (1,500 units of each deck will be made) and will include a nice numbered coin.
Scott has not revealed it to me yet, but he has promised there will be an awesome add-on at 35K, and I am sure it will be awesome. He has provided me with some exclusive images of the gold edition artwork. I hope you like them.
You will enjoy a lot these decks. Have a look to the gallery and visit the project website to raise your pledge. You won't regret it.
Good luck!
https://www.maxplayingcards.com/en/wp-content/uploads/2014/06/MADE_banner.jpg
480
640
Max
https://www.maxplayingcards.com/en/wp-content/uploads/2020/03/MPClogo-300x138.png
Max
2014-06-29 14:06:42
2014-06-29 14:06:42
MADE deck. Don't play with them or you will get into trouble