CYBER WEST playing cards. An extraordinary symbiosis of man and machine in a futuristic Wild West
Playing cards are a source of inspiration in themselves, and at the same time they are canvases to develop the imagination of any artist or creator. These small rectangles of black cored paper become a perfect means of transportation for any story that also offers multiple possibilities to tell it. A group of passionate artists come together under the name of Syndicate Games to give us an interesting proposal: CYBER WEST.
The idea of ​​a biological relationship between man and machine has existed in the scientific literature since the mid-20th century, even before being party of the science fiction productions. Cyber ​​West combines the idea of ​​a future world, inspired by the Far West, in which man, along with other animals, have already undergone an evolutionary fusion in which their bodies integrate mechanical parts. This curious mixture has been wisely executed in hand-drawn monochrome illustrations in a beautiful and unique style.
The court cards thus represent characters who seem to have come out of a cowboy and Indian comic in a futuristic world ruled by machines, which have already blended in with their bodies. All these cards tell the story of their protagonists through their face, their body and their accessories. Therefore, it is possible to imagine a complex, disturbing and enormously captivating world.
The aces are represented by totem animals, spiritually linked to the different tribes, but also connected to them through their cybernetic part.
The back is a striking symmetrical composition with an eclectic aesthetic that combines a futuristic, almost spaceship-like look with Native American and Wild West symbols.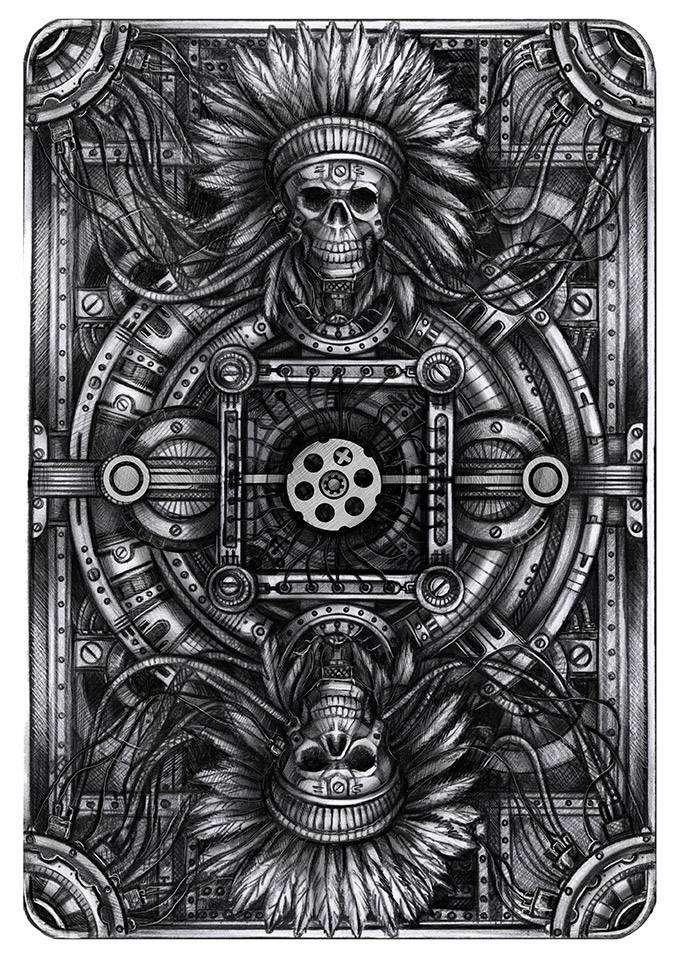 The fight between cowboys and Indians and the spiritual dichotomy of good and evil are represented in the two jokers and the two extra special cards.
All the cards in the deck have been customized, including the numbered ones.
For the campaign, four editions of the deck will be printed, sharing the same cards but with small variations on the tuck cases. The Silver edition has an impressively embossed tuck case with a silver metallic foil. The Golden White Edition is limited to 500 decks with gold foiling, embossing, and a numbered seal. The Kickstarter edition will be special for backers, with a green foil, and a numbered seal (also limited to 500 decks) with the KS logo. The most luxurious one, the Black edition, will use an elegant black foil, embossing, numbered seal (also 500) and will have the author's signature.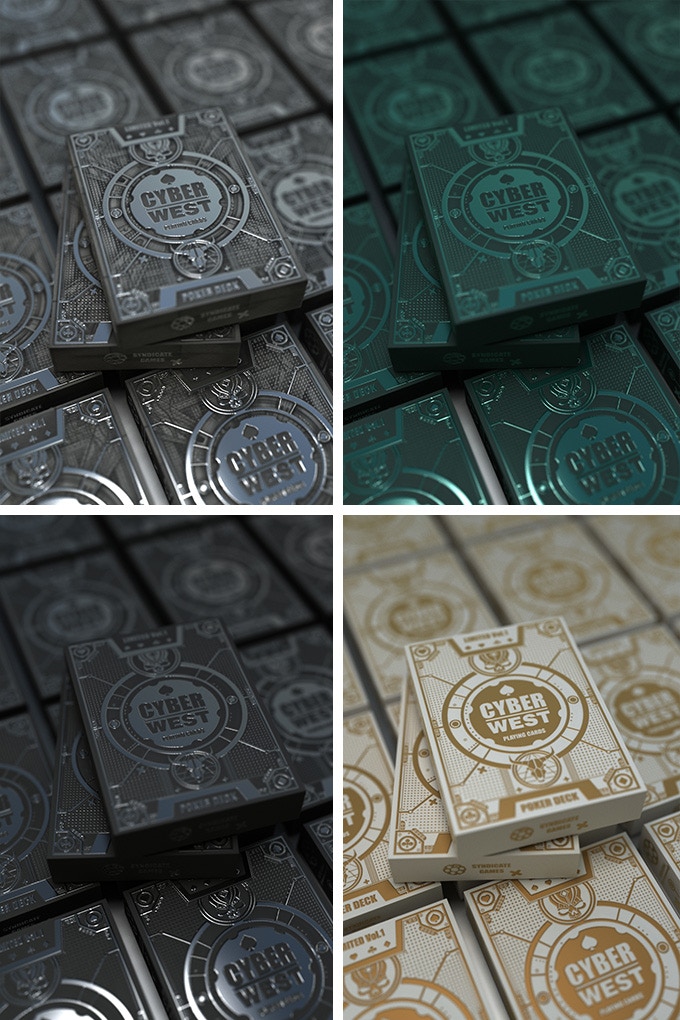 Printing will be done by NPCC (Noir Arts) in Ukraine so the quality of materials and finishes is guaranteed.
The campaign is already funded and there are only two days left! If you like it, visit the project website, choose your deck (or get them all) and raise your pledge.
Good luck!
https://www.maxplayingcards.com/en/wp-content/uploads/2022/07/Cyberwest_banner.jpg
1080
1920
Max
https://www.maxplayingcards.com/en/wp-content/uploads/2020/03/MPClogo-300x138.png
Max
2022-07-02 18:21:35
2022-07-02 18:21:35
CYBER WEST playing cards. An extraordinary symbiosis of man and machine in a futuristic Wild West