Gemini Playing Cards. The beauty of the imperfect symmetry
It has been over three years since his first job in Requiem and Lorenzo Gaggiotti (Stockholm 17 Playing Cards) has done nothing more than achieving success as a playing cards designer. Each new deck has been a spectacular display of talent and inspiration. Now, he gives us his latest creation: GEMINI.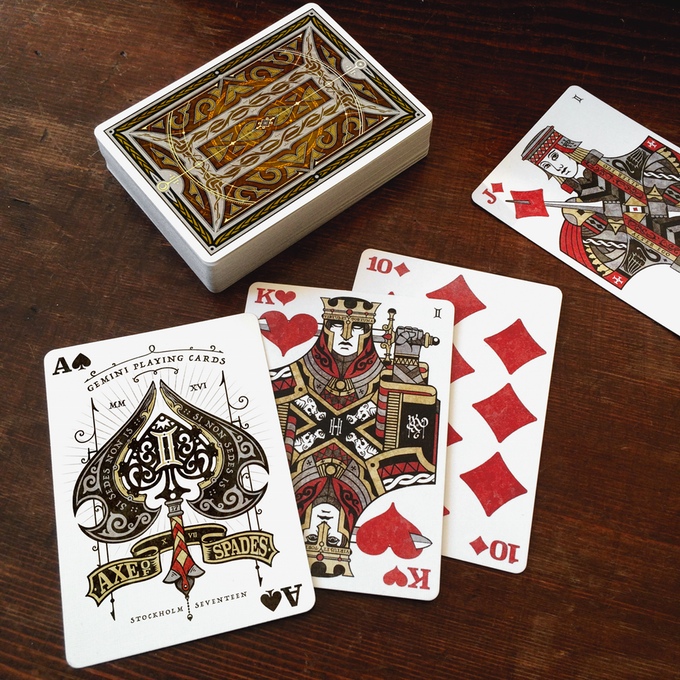 Castor and Pollux, two twin brothers that were born from two eggs and different fathers, are mythological characters who gave name to the brightest stars of the Gemini constellation, the third in the zodiac, which sign is represented by two twin brothers. Lorenzo has used this name for a new deck inspired by the traditional reflection of the court cards depicting two apparently identical but slightly different figures. In his designs these differences become more evident with details in each card that will delight his followers.
For the illustrations, Lorenzo has chosen medieval inspiration designs, creating a set of elements with his unmistakable style that make this deck something really special. Aces are beautiful axes. The indexes have a horizontal design instead of the common vertical structure and the numbered cards have quite large pips.
The court cards, according to the inspiration, have small differences between both reflected images to make more marked the asymmetry and the court characters interact with their pips depicted either grabbing or piercing them with their weapons.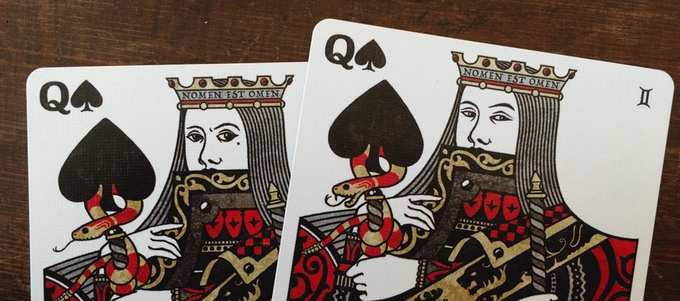 Collectors will be happy (unlike their pockets) to know that there will be three different editions (with the same faces and different back colors) all printed by The Expert Playing Cards Company. The first two, Terra and Ignis, will be offered from the beginning of the campaign while the third, Noctis, will be a stretch goal (that will be unlocked for sure). The tuck cases, all in black stock, will be really beautiful, and no inks will be used, but a mixture of embossing and foil (which will also decorate the interior). While the Gemini symbol will be present in the back of the case and elegantly decorated, the front will include a beautiful typography handmade by the calligraphy master Kark O'brien, which represents a portion of an ancient Roman text about astrology. Terra will use copper and gold foil while Ignis will be red and gold. Noctis will be the third deck with silver foil and, with enough funds, will also include foil on the back of the cards.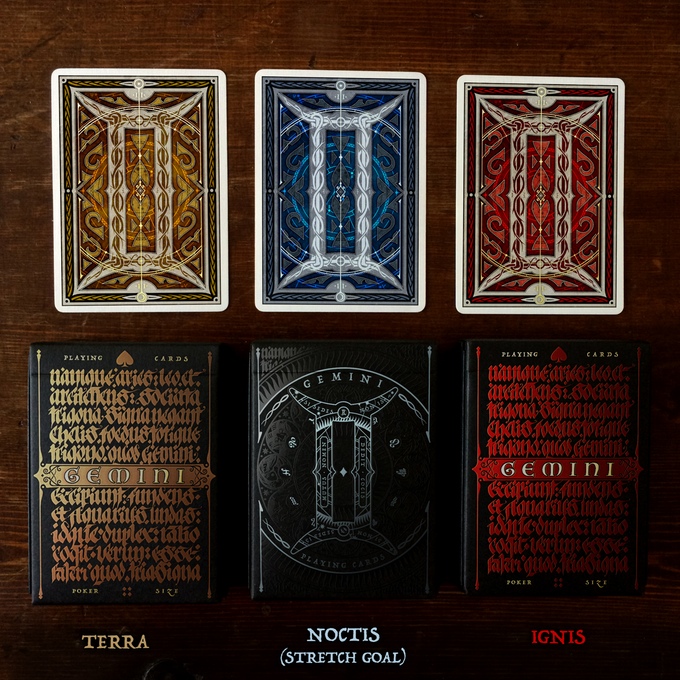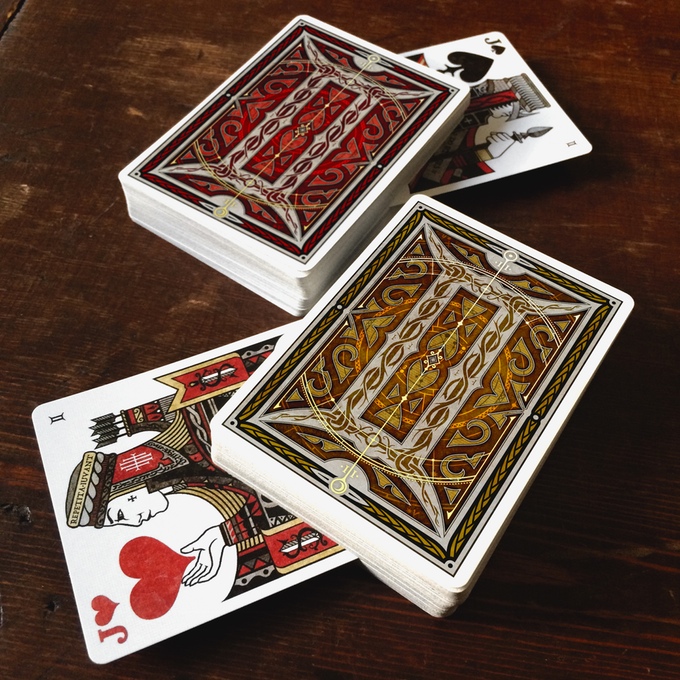 Finally, as noteworthy within the project launch, Lorenzo will offer in September 23 rd, the Experimental Edition, an ultra-limited version as he usually does in his projects, with a handcrafted case made by himself with a letterpress process, signed and numbered and the Terra deck inside. This edition will use a nice white stock with gold foil.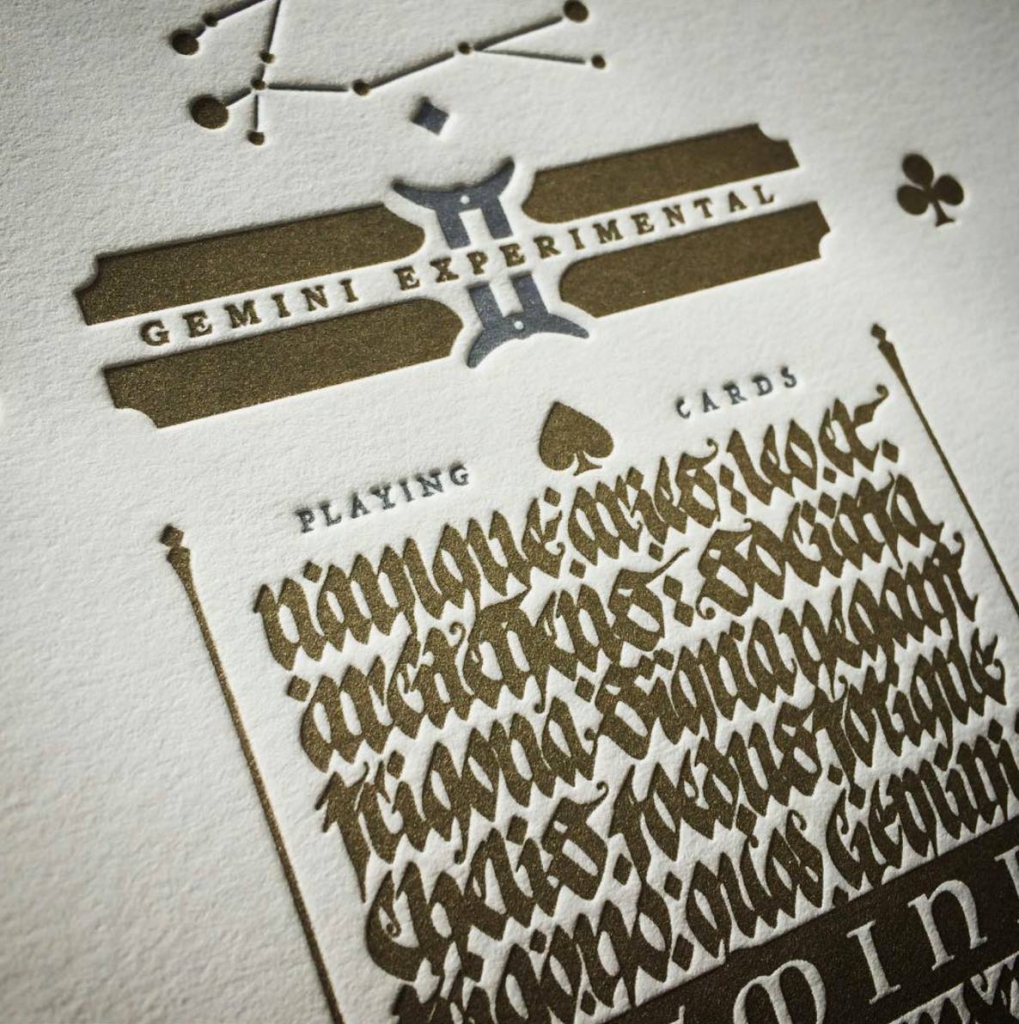 Undoubtedly, another successful campaign full of talent that you can not miss. Visit the project website and raise your pledge.
Good luck!
https://www.maxplayingcards.com/en/wp-content/uploads/2016/09/Gemini_banner.jpg
576
1024
Max
https://www.maxplayingcards.com/en/wp-content/uploads/2020/03/MPClogo-300x138.png
Max
2016-09-10 23:13:36
2016-09-10 23:13:36
Gemini Playing Cards. The beauty of the imperfect symmetry