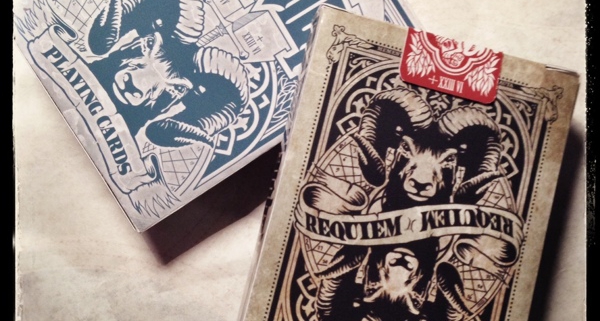 Requiem deck. Negative energy from a broken heart becomes art on playing cards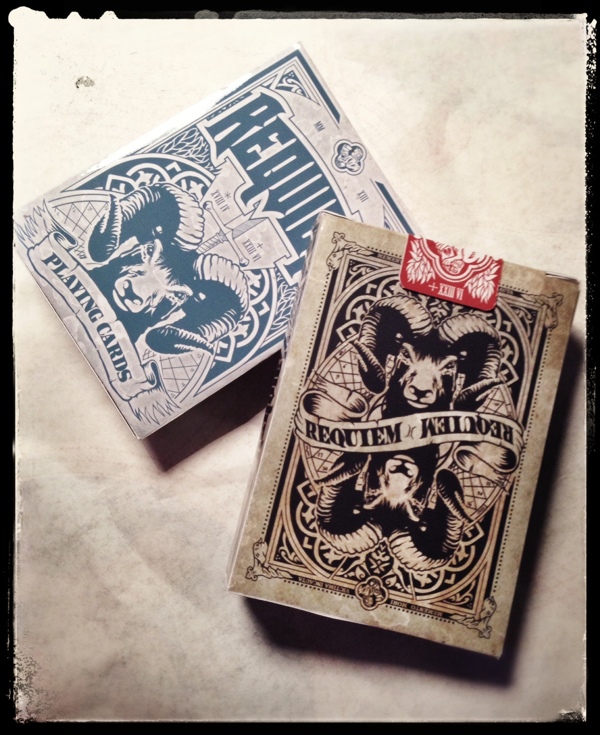 The deck is impressive, the design is dark and intense, and the story behind this deck has to be told: Requiem playing cards.
Lorenzo Gaggiotti has been working almost six months to have this deck finished. After spending some time looking for a producer and founder, he has finally decided to launch it for crowd funding and having a look to the very first hours, he will have for sure a huge success.
The inspiration for the deck is a classic, but very sad, story. Lorenzo was dumped by his (ex)girlfriend in a very drastic way. He couldn't react, and he felt his soul destroyed. Now you better understand why he wrote in the tuck-box: "chronicles of a lost love". The courts, joker and aces represent a specific day of that period and of course a mood, a bad one. Even suits reflect that bad mood: hearts are broken, clubs have thorns, diamonds are cracked and spades are dry leaves.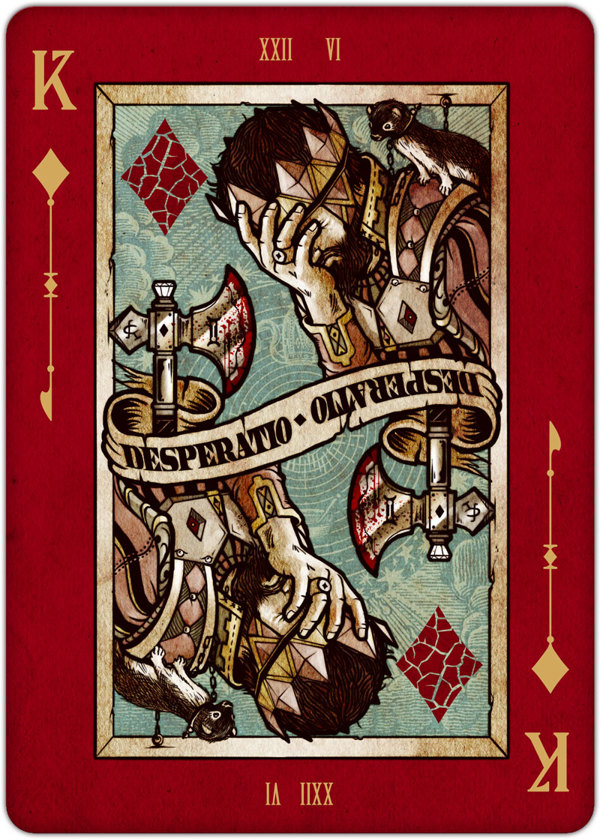 Each illustrated card contains a date in roman numbers (day and month) and a name in Latin. The Latin word has been translated into English in the 55th card to explain the meaning for each card. The pips represent the mood, and the dark-red bloody background fits the mood of the deck. It´s a dark deck, full of pain, tears and blood, as he felt after that bad experience.
The artist used the deck to release and transform the darkness into beauty and creativity. Like the composer making a song, he did Requiem. Art for him is a valve, a way to release positive or negative energy and "put it on paper", so he can get rid of it and give it to a bi-dimensional surface. Scars are still there, but they are not open any longer.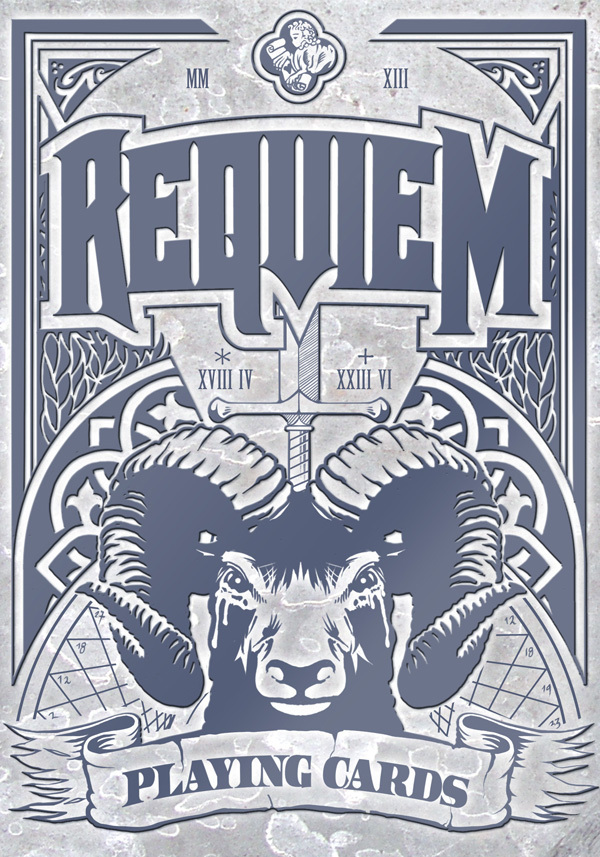 So here you have a deck as a result of a suffering soul. The title of the deck speaks itself, and the crying ram (he is Aries) represents the artist in his bottomless pit. The illustrations are full of hidden meanings he will reveal along the campaign. He even included the lady of his despair in the queen of spades.
So, the old story that signed him will become a piece of art that will be enjoyed by thousands of card fans all around the globe. The deck will be printed by the USPCC and there will be two tuck-box versions (with the same cards), Winter and Autumn. Then, it will never be reprinted.
Enjoy the image gallery. Visit the project website and raise your pledge to get a piece of the artist soul.
Good luck!
https://www.maxplayingcards.com/en/wp-content/uploads/2014/01/Requiem_decks.jpg
735
600
Max
https://www.maxplayingcards.com/en/wp-content/uploads/2020/03/MPClogo-300x138.png
Max
2014-01-11 23:54:30
2014-01-11 23:54:30
Requiem deck. Negative energy from a broken heart becomes art on playing cards