The dark side of Kickstarter. A light at the end of the tunnel: Back to Asylum. Deep INTERVIEW and PROMOTION for readers.
MAX's NOTE
This is the longest article I have ever published in Max Playing Cards. I have though of writing about Kickstarter's dark side for a long time and the launch of this Back to Asylum Project has been the perfect excuse.
I am sorry for having been so profuse in explanations, details and information but I have been working for a long time on this and I think the content of this article is worth the time to read. You have to confirm it.
I sincerely hope you enjoy the reading as much as I have enjoyed the writing.
KICKSTARTER AND HUMAN SHAMELESSNESS
It is clear Kickstarter has become one of the main launching platforms for playing cards creators. Crowdfunding has proven to be the best (and sometimes the only one) option for talented artists to see their creations come true.
But Kickstarter also has a less friendly face as it can become a weapon of mass destruction in the hands of unscrupulous developers whose only goal is to get the money and run.
Since the beginning of KS card projects (late 2010), I have had the opportunity to participate in several hundreds of campaigns showing my support not only as a backer, but also from Max Playing Cards. This has given me many satisfactions but also a few sorrows.
There are decks eventually printed but never reached to the backers (or at least to most of them). Such is the case of "The Core", "The Hedge" or "Dragon Dynasty" (although I have written about them all, they don't deserve to be linked for their complete lack of shame). The most painful thing for us, the backers, is that we have seen how the decks we have paid with our pledges are available in ebay or online shops sold by lucky backers that received their rewards (generating a secondary market that takes advantage of the creators' shameless actions) and sometimes by suspicious profiles probably directly linked to the own creators under an anonymous mask… And the only way to have those decks is even buying them there, spending double and losing all the previous money and a bit of dignity.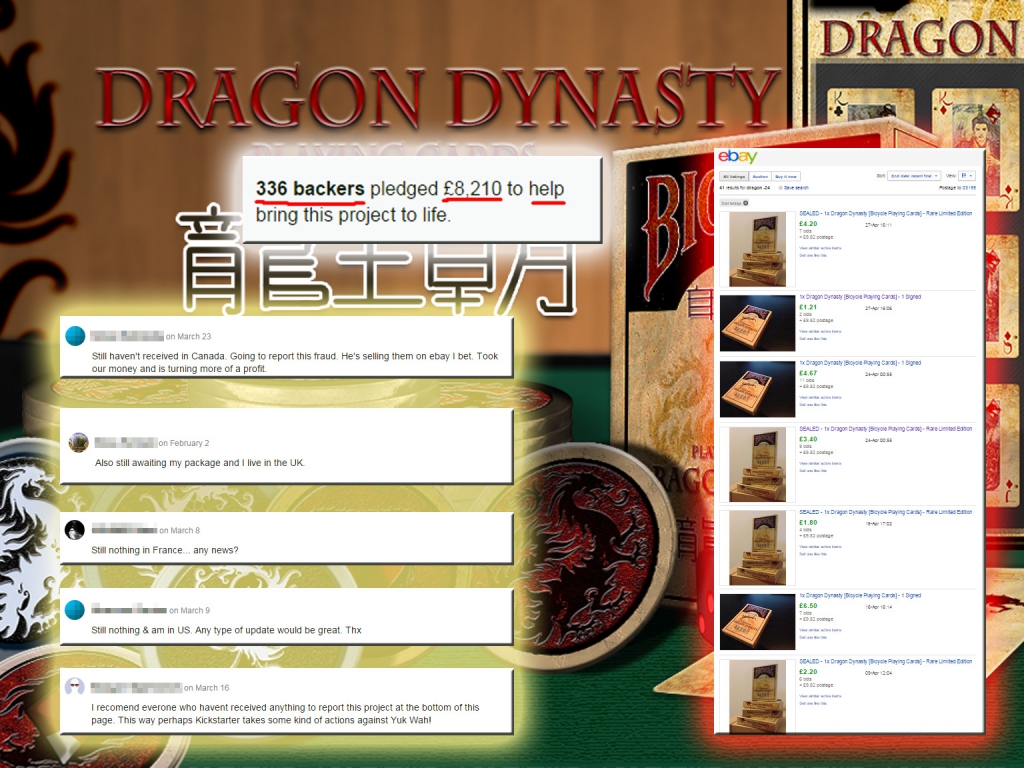 Other funded decks weren't simply never printed. Once the money has been collected, it becomes part of the heritage of unscrupulous producers. Such is the case of "Founders" or "Asylum" that were never even sent for the printer approval.
I've only mentioned a few, but unfortunately there are many more. (Someday I will make the "Shameless Hall of Fame").  This is an insult to backers and a betrayal to their honesty and confidence. Some people will think that this should be controlled and avoided by the platform where everything is in play, the company that earns 5 of every 100 coins backers spend on projects (around 530 million dollars last year).
Kickstarter has no mechanisms to ensure that what was promised in the project is correctly fulfilled or otherwise give the money back to the backers. Given the enormous amount of money KS enters as a percentage of the campaigns, they might have some kind of warranty insurance in cases of blatant scam by creators. This way, KS becomes somehow complicit in these crimes because they ALWAYS get their percentage even before the money reaches to the hands of the creators. But this is something polemic we should talk about at long length…
BACK TO ASYLUM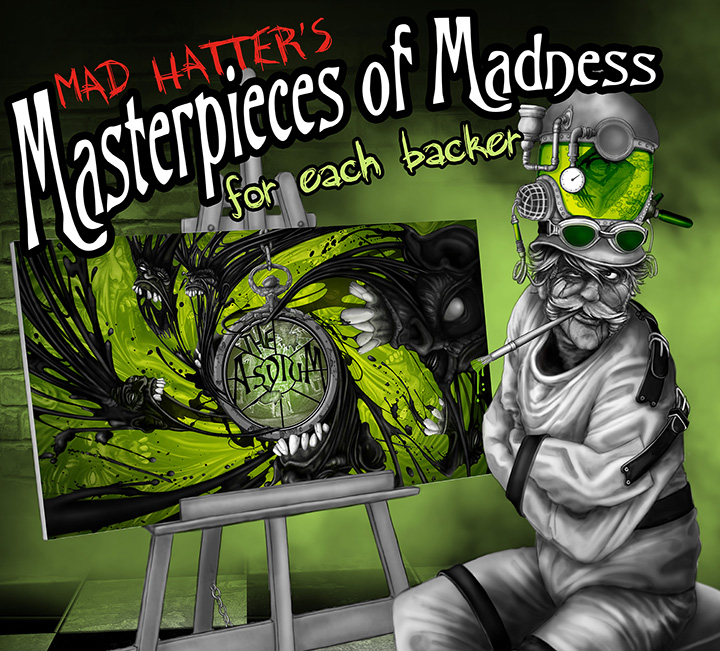 The case of Asylum project is quite interesting because it is the only one (that I know) that has achieved favorable court rulings that have forced the creator to return the money. Unfortunately, these measures were only applicable in some states in the USA, while others, such as all the European countries, lack of clear legislation that would regulate these facts and punishes the fraudsters.
While this dead end is solved someday (or not), I would like to talk about Asylum. This project is different to others in much more than that.
In the first Asylum campaign, Altius Management (owned and managed by Ed Nash), collected more than $25,000 and never printed the cards. This clear scam splashed not only to backers, but also its own artist, Serbian Milan Colovic, who was involved in the campaign even more than his own responsibility, and who was also ripped off because he was never paid for his professional service.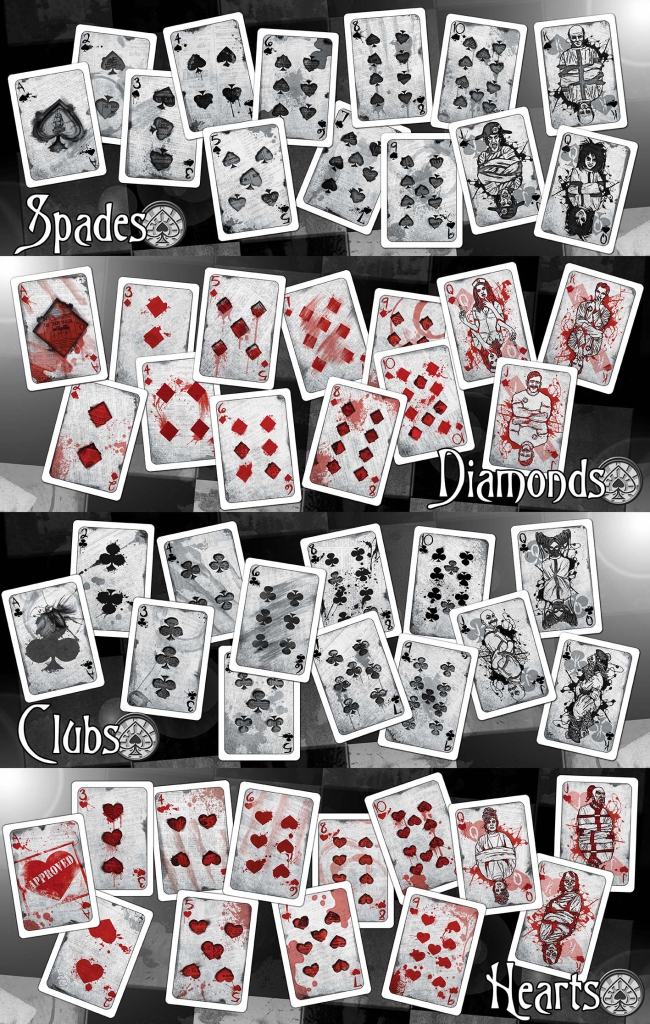 The complex and painful development of post-campaign placed Milan in a difficult situation in which his reputation was at stake. Fortunately, it was clear that he was just another victim of the scam.
Before continuing, and by professionalism, I do want to clarify that I had the opportunity to talk with Ed Nash repeatedly. From the beginning, he said that the cards would be printed, but with his actions he has made clear his lack of intention to do so. He stopped answering my messages long time ago.
Almost three years later, Milan was able to consider the possibility of recovering Asylum. It was a difficult decision because it would certainly generate controversy but at the same time it was a necessary decision because all the talent invested in their artwork should become real. Therefore, and after contacting Roman Kotiv (Noir Arts), the BACK TO ASYLUM project has been finally released.
THE INTERVIEW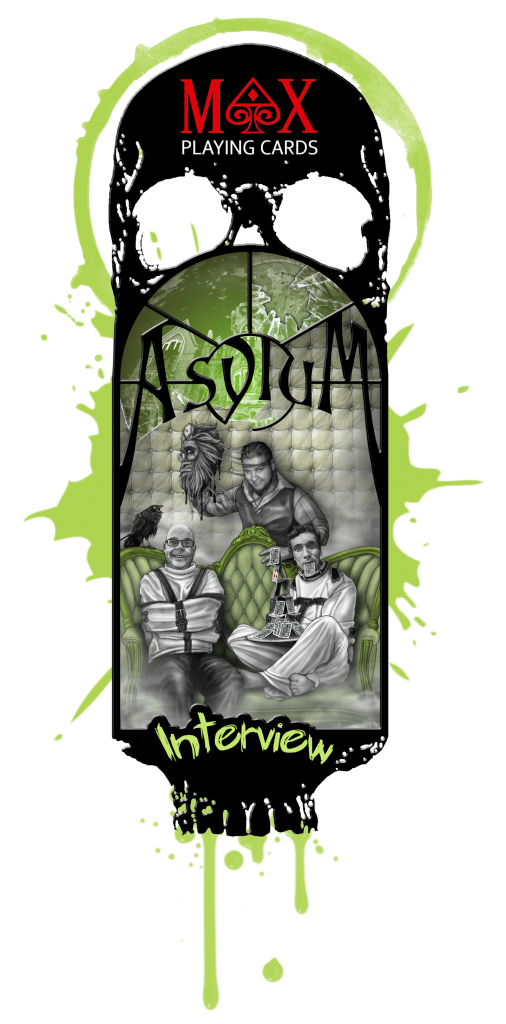 I have had the opportunity to talk to Milan and Roman and the result is an interesting interview where both gave me clear and honest explanations. I hope you enjoy it.
Max Playing Cards – Hi Milan. Hi Roman. Thanks for your time to answer some questions regarding this amazing project you have just released. Milan, the last time we spoke was in October 2012 and you were enthusiastic about the Asylum project. All that excitement turned into a nightmare. Can you explain (briefly) what happened and how did you live it?
Milan Colovic – Max, first of all, I'm very grateful on opportunity you gave me to explain entire situation from my point of view. I didn't wanted to publish any official statements, until some things weren't resolved for sure, so a lot of people stayed uninformed by now. I would try to be concise as I can, although the entire saga is quite complicated. Complete artwork of Asylum was created long ago before campaign started. Beside artwork, all calculations were done, terms with manufacturers agreed, and I've got pretty good marketing plan at the time. Unfortunately, as a foreigner I needed mediator in order to fulfill legal regulations, prescribed by Kickstarter. For last 8 years I worked as freelancer, and I used one of the portals for connection of employers and professionals to announce a competition for business partner. Ed Nash provided me the best portfolio for review, and he agreed to proposed terms. He had registered firm, which provided me some confidence and trust, compared to other competitors at that time. We signed a contract and campaign started. There were some turbulences because he didn't fulfill certain obligations even during the campaign, but most of the things seemed all right. Campaign ended, I made tables with sorted orders while waited for funds to be processed. In order to speed up entire process I already printed all custom artwork, signed posters, gift cards, prepared hand drawn sketches and sent all that to headquarters of Altius management, from my country. I paid all expenses of printing and shipping with my own money. Artwork was delivered to the Altius HQ and very soon I realized that it would be only artwork which would be printed at all. Ed Nash took the money and disappeared, and in a matter of weeks I was treated the same way as every backer – I was ignored. I didn't received any royalties, nor any penny from money gathered in campaign. Not even a compensation for the money I spent on printing and shipping of signed artwork. Although I had signed legitimate contract, I didn't have funds to press charges against Nash, personally. Expenses of prosecution would be much more, than possible profit. I think that as a professional scam artist, Ed Nash counted on that. Law enforcement and their prosecutor, were only alternatives. While entire nightmare started to develop, I found few honest and well-intentioned people among backers (I don't want to reveal their identity without their consent). I am unspeakably grateful to all of them. One guy from that group turned out to be "hot shot lawyer", and his connections and advises were priceless. We formed base camp, and patiently gather material for prosecution. The Nash's laziness turned against him in this stage. Since he was neglecting backers, I was the one that gathered all information from most of them, I was the one who provided material to manufacturers and negotiate with them, and sort out all orders. During my career, I acquired the habit to archive all conversations with clients. So, very soon, with all the help from "comrades" from base camp who provided their own material, claims, and proofs of scam – we gathered prosecution material, and I cleared my name in front of people and law. After almost two years of efforts, and numerous tries – case was formed and excepted, and Nash was sued by State of Washington.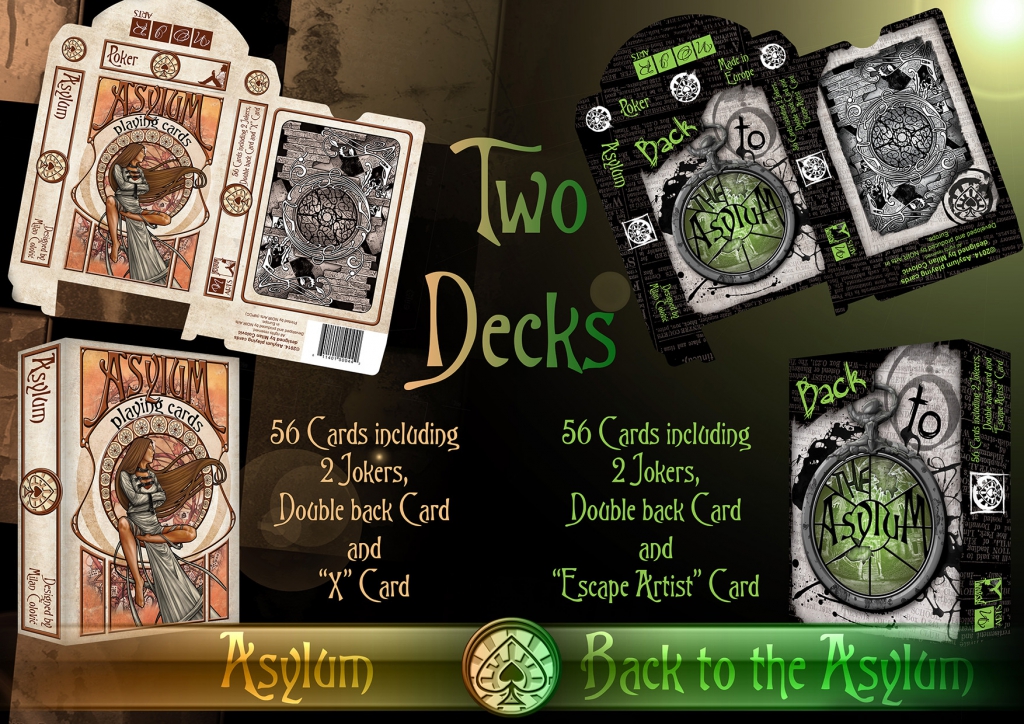 Max – The project was not fulfilled, but what happened to the designs?
Milan – Nash and I had contract which granted him license for a year. Contract was automatically terminated on August 27, 2013. So, artwork was still in my possession, but I thought that it would be unfair toward scammed backers to push design further, until I resolve and reveal all matters connected to Nash's scam.
Max – It seems that the idea of reviving the deck is quite advanced. How did you make the decision to do it with Noir Arts?
Milan – Roman was the guy who contacted me, first. And I can thank you Max, for that. Your blog obviously connects people from all around the world. He put forward a business proposal, and shared some of his plans with me. We started serious negotiations in November, 2014. I was pretty skeptical and cautious after all things happened, so I didn't want to rush things. I liked Roman's working philosophy – I didn't sense the greediness in his plans. He stated that he was even willing to give up large portion of the profits, in order to develop project in a proper way, and earn the trust of the backers for his firm, also. And even he was not obligated to do that, he decided to stand in front of other people's disgraceful mistakes. As I mentioned, I'm pretty distrustful of business partners, after all things happened with Nash, but Roman's successful projects and people reviews of his decks, giving me some trust.
Max – Roman, Noir Arts has already launched three projects in KS: Demon Deck, Defunctorum and Chess. You are one of the few card creators that has your own infrastructure for printing them. What do you think it is the strength of your cards regarding quality and printing options? Would you say that you can compete with the US and Asian offer that have recently imposed?
Roman Kotiv – Having necessary infrastructure and printing on our own – allows us to control every aspect on every stage, pushing our product towards highest possible quality. Noir Arts just started its way, and we are constantly improving manufacturing process. This is not only about printing itself, it also includes paper, coating, embossing, add-ons like coins, engraved plates and boxes, and many more. Saying about paper, we are partnering with Koehler Paper Group – biggest and most recognized European paper company with strong reputation. I believe, that attention to details, precision in manufacturing, using high quality paper and special coating, is giving Noir Arts a chance to become recognizable in between other playing cards companies, and our decks are beloved among collectors from all over the world.
Max – What is the feedback you have received by backers about the quality of the cards?
Roman – We have received very positive feedback about the quality. I must say, that it is a big pleasure to see that people like what you do, and really appreciate your efforts. There were few comments regarding cello wrap in Defunctorum project, which I must admit was not as expected. We reviewed and considered all the feedback, and now, with important conclusions and fresh ideas are ready to start new projects.
Max – What is the idea to launch Asylum. How many decks will be there?
Roman – New Asylum campaign will include 3 decks: Original Asylum, Back to the Asylum and original backer-exclusive Asylum Inmate. It will be available in Insanity bundle only.
Max – It is possible, probable in fact, that those who backed the first Asylum campaign have mixed feelings. On the one hand they will be pleased that the deck can be a reality but on the other, they will feel that backing the new Asylum means paying the same thing twice. What is the message you want to send to those "survivors" of Asylum "?
Roman – First of all, we are not offering the same thing. This campaign includes 3 decks instead of one, improved artwork, new add-ons, and some other cool things, that will be announced during funding process. We have put a lot of efforts to make Asylum as exciting and desirable as possible. For all the survivors – we would like to say: It is always unpleasant to get involved into scam. We can't go back in time to correct the past, but we can offer you the future – Asylum is back, and this time for real! Join the evil side – we have cookies.
Milan – Yes, Max, that was one of mine greatest doubts. However, people must understand that this new project is not related in any way to Nash. I have full understanding for the people who are bitter because they were scammed – I'm the one of them, at the end. Have fully respect for their decision not to support us, but from the other side – I would appreciate that they don't call for boycott, neither. I didn't forgot or quit from justice, nor previous backers should do that. But, instead of hating our new project in front of the screen, whoever wants to bring real offender to the face of justice – would have my support. I would connect people to the right personas who can gave them legal advice, and of course I would provide them insight in prosecution material. I can't agree with ascertainment that we "selling the same thing twice". I spent almost six months on creating new artwork. We decided to keep original Asylum deck as it is, as a gesture of respect to the people who liked it. It's still accessible to them in its original form. "Back to the Asylum" is the improved version of it, with corrections based on people's response and suggestions received in the first campaign. We don't have funds to give away decks to scammed people, although we would gladly do that. But we have very special treatment of appreciation for them. We made some special bundles for backers who were scammed. Bundles including exclusive decks with specially designed boxes just for them, and several different goodies included. From all three decks, that's my favorite to be honest. We want those people to feel special, although we highly appreciate all supporters. For the first time in history of KS deck publishing, $1 reward backers won't get just creator's gratitude. They would be rewarded with great portion of high definition downloadable content, specially created for that purpose. And believe me, what I can guarantee you – this would be the card campaign where every extra penny would be invested in deck quality improvement and stretch goal gifts for our backers. Every additional sum, would be used to drop prices of add-ons. And we have a lot of extras… This is about making things right. So guys and gals – Let yourself to the expert assessment of Dr. Freakmund Zoid once again, and Indulge the comfort of straitjacket, cozily tucked in an embrace of extremely long sleeves…
Max – Thank you so much to both for your time. As a backer of the original project, I feel really happy to know that, despite the loss of so many people, this deck will eventually see the light. I will be aware of the campaign progress. I wish you the best luck and sincerely hope the new Asylum story makes people forget the past nightmares. And Milan!!! Thank you so much for the fantastic artwork you have created for this publishing event. Being part of your insanity is really a pleasure. I have used the poster as the footer of this article and I will probably print it bigger to have it in some place in my office.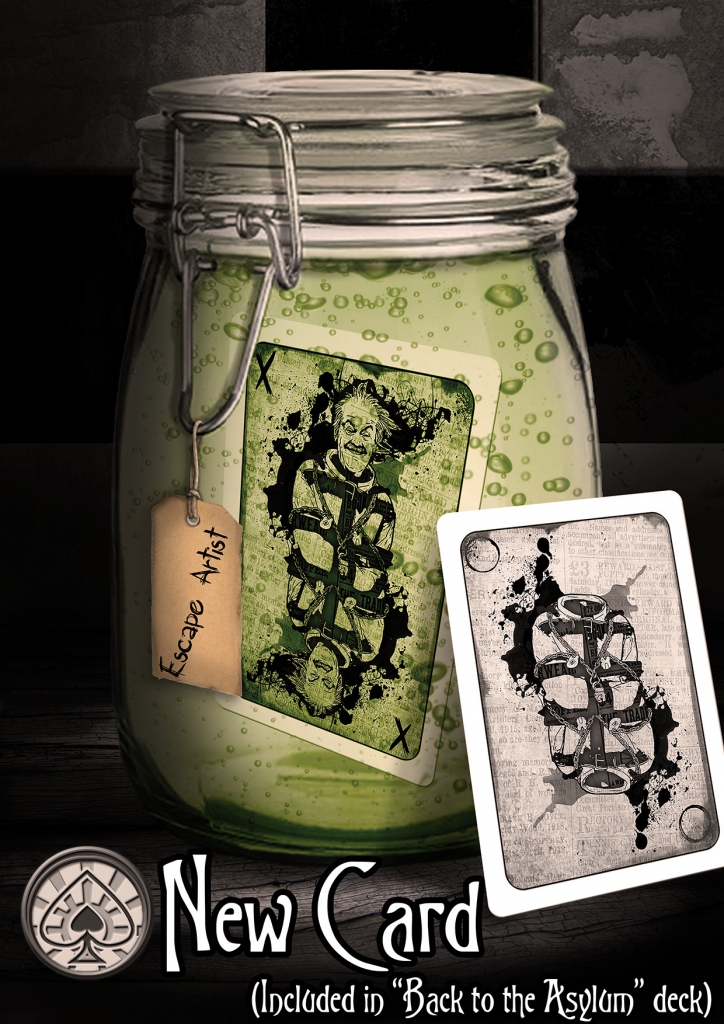 THE CAMPAIGN
BACK TO ASYLUM is ready. A great project with an amazing and disturbing artwork you will love. Something unique and very personal. You cannot miss it.
Two decks, incredible add-ons and stretch goals, gifts for backers and a lot of passion in every corner of the project.
And if you were one of the scammed backers of the original project, you are one of the Asylum survivors and can take advantage the Limited Insanity bundle available only for you. The Asylum Inmate deck produced for that tier will be strictly limited to the original backers.
You can visit the project website and raise your pledge to get these totally crazy decks.
Good luck!
EXCLUSIVE PROMOTION FOR READERS
If you back this project with at least a deck and write the creator through Kickstarter mentioning that you have read this article on Max Playing Cards, you will get along with your reward a special and customized dedication of Dr. Freakmund Zoid, an exclusive complement not offered in the campaign. "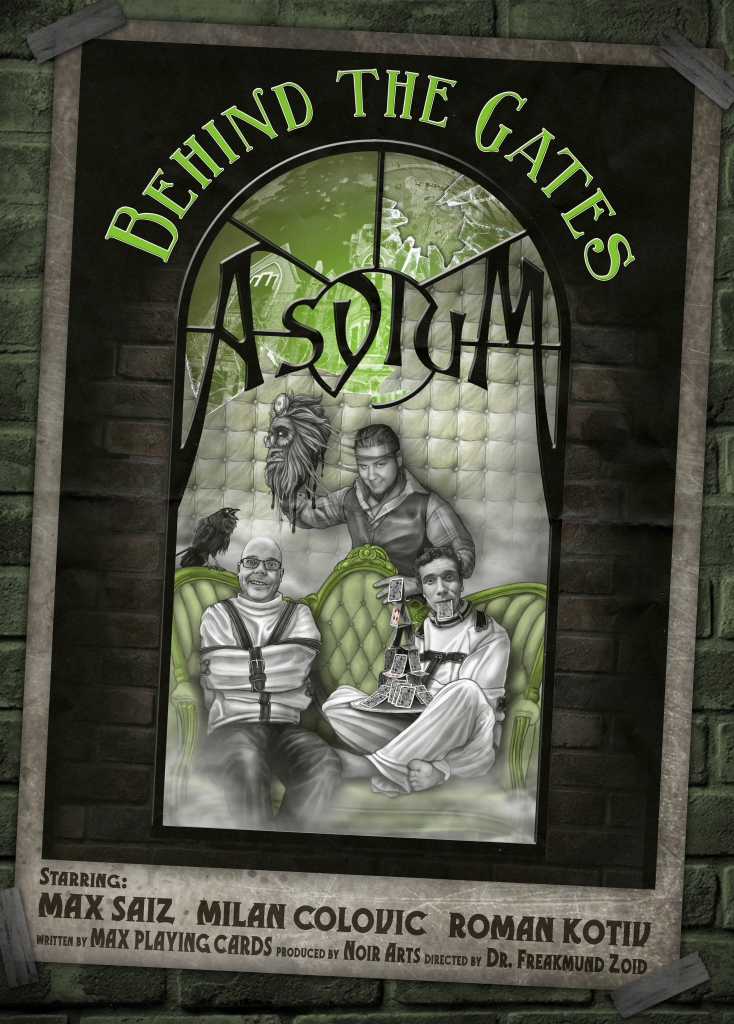 https://www.maxplayingcards.com/en/wp-content/uploads/2015/05/Aces-copy.jpg
595
842
Max
https://www.maxplayingcards.com/en/wp-content/uploads/2020/03/MPClogo-300x138.png
Max
2015-05-01 22:42:49
2020-08-24 13:10:00
The dark side of Kickstarter. A light at the end of the tunnel: Back to Asylum. Deep INTERVIEW and PROMOTION for readers.