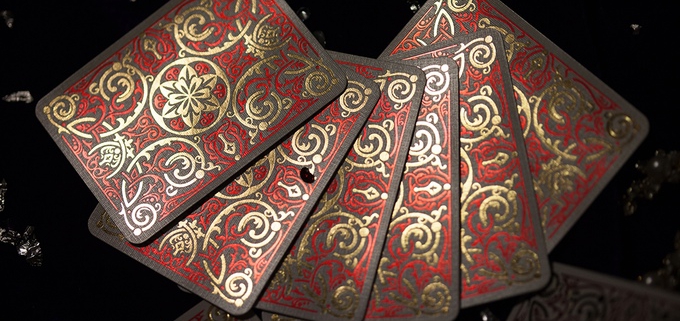 BRANLE TESORO Playing Cards. The refined double foiled luxury of the 16th century
Playing cards printers do not stop investigating in the search of alternatives to offer novel and surprising products. Embossing and foiled tuck cases and cards have already become powerful added values that large companies have made use of to sell more and more decks. New materials, finishes and extras go on surprising card fans.
Noir Arts (NPCC) is a small printing company that has made great efforts to compete with "the big ones" though a constant investment in new techniques and materials, keeping affordable prices in low print runs. One of their star creations is undoubtedly the Branle deck, with delicate and detailed illustrations inspired by the culture and history of the sixteenth century in Europe. After producing the first edition and a quite limited second edition, Royal Branle, NPCC has just launched a fabulous campaign with the third edition: BRANLE TESORO.
Using the same paper and the same artwork for the faces, Branle Tesoro is a risky bet with hundreds of hours of tests and research to get designs printed using two foiled layers and embossing, something only seen till now in the famous works of art created by Lotrek using handcrafted techniques.
The deck thus becomes a kind of work of goldsmithing where the tuck case, with iridescent stock, is also covered with two different foiled layers and a round die-cut to reveal the beauty of the back. The tuck case will also be closed with a cross-shaped seal that will serve as an additional ornament and which will include a number of the deck and the name of its owner.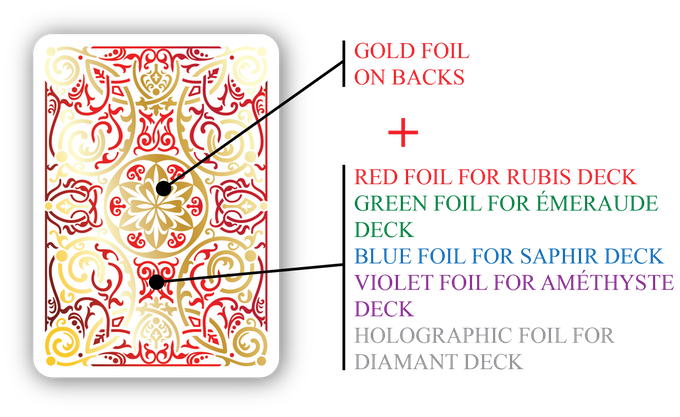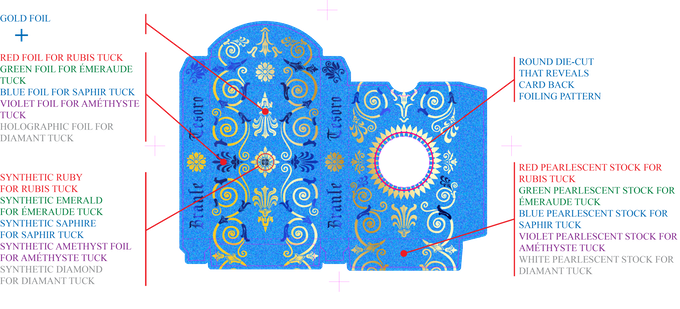 For the campaign, five different editions (colors) have been created, combining gold with metallic ones in red (Ruby), green (Emerald), blue (Sapphire), violet (Amethyst) and holographic (Diamond). The backs and tucks in each edition will be topped by a small synthetic gemstone in the same color.
These works of art have a fairly high price, something that can be understood given the investment required for their production. Getting them all will be a luxury available to few although the tier that includes a deck of each edition have already been sold out. Of course, if you like any of the colors offered, you can get a deck in the project website.
Good luck!
https://www.maxplayingcards.com/en/wp-content/uploads/2017/01/BranleTesoro_banner.jpg
453
680
Max
https://www.maxplayingcards.com/en/wp-content/uploads/2020/03/MPClogo-300x138.png
Max
2017-01-27 21:37:01
2017-01-27 21:37:01
BRANLE TESORO Playing Cards. The refined double foiled luxury of the 16th century