An intimate look at Uusi and their lives before and after designing playing cards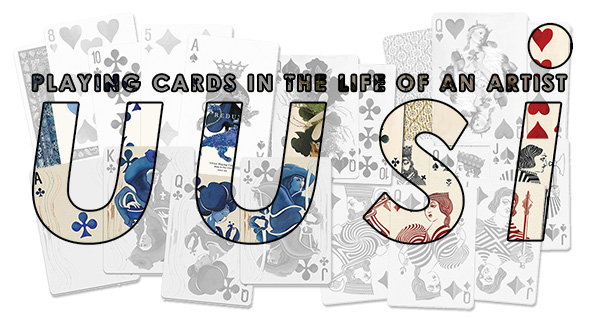 As a friend of Max Playing Cards, you know that as a collector, I feel passion for playing cards design and I like to know everything about the creation of new decks, the inspiration and the human beings behind them. I am pleased to have met great artists and great people, and I can even presume to consider myself a good friend of some of them, because their generosity and passion for a well done job has made me grow as a collector and a card lover.
It would be quite difficult for me to choose a favorite among all those cool designers and all those fantastic people, but if I make a greatest list, it would appear for sure one of the teams that have been able to better carry the beauty to their cards: Uusi .
I've had the opportunity to interview them before, and all their decks have been depicted in previous articles, but until now I never made a retrospective of an artist, his before and after the cards, so this article is definitely something special and different to what I've done before.
Taking advantage of the next imminent release of their fifth deck, Hotcakes, I was able to talk to Linnea and Peter to get some information about Uusi, their past, present and future, the way designing cards have changed their lives and their work. These are some of what they told to me and I do want to share with you.
BEFORE UUSI. THE EARLY YEARS
Before Uusi and before Linnea and Peter entered into the commercial design world, both started out as artists.  Peter received a BFA from Northern Illinois and came to Chicago where he set up a studio and started showing his work in galleries around the city.  Linnea spent a summer apprenticing at his studio and they ended up dating and then moving in to a studio space together.  They spent several years in the Fine Art world before drifting into commercial design.
EARLY DESIGN YEARS
About ten years ago, Peter and Linnea were contacted by a designer from Herman Miller, the renown US furniture and design company, who had seen their work at a client's house she had been at and wondered if they would be interested in creating murals for the Chicago HM Showroom.  They were thrilled to work with such a prestigious company and were even more thrilled when they asked them to continue their work by creating murals, site specific cabinetry and desktop items for their LA, New York and DC showrooms.  This was Uusi's first entry into the commercial design world and it opened up so many doors for them that they spent the next six years immersed in that field working for various companies and private clients.
UUSI BEFORE DECKLANDIA
In 2010, Peter and Linnea decided to start their own company and so they created Uusi. The origin of the name uusi comes from the Finnish word "oo-see" that means "new".
They wanted the new company to focus on craftsmanship, material exploration and discovery.  Their goal was to create an environment that could support an artistic approach to creating everyday objects for the home in Limited Edition and One-Off work.  In a sense it was a return to their art making backgrounds in that they would be guided by intuition instead of directed to a project by the demands of the marketplace.  Uusi opened its doors in October of 2010 and almost immediately they saw success with two items they put out: one was an Advent Calendar that Linnea had designed and the other was a knife rack that Peter created.  In the spring of 2011 they designed two animal sets that were picked up by The New York Times and became the first production items their studio produced.
UUSI ENTERS THE PLAYING CARD DESIGN WORLD
In the spring of 2011 they decided to put a series of images they had created for a card deck on Kickstarter. They didn't really have much knowledge of the card collecting and design community when created their first deck, "Blueblood", but after its success, they decided to immerse themselves in this world and really explore all its potential. They chose to do that by creating a plan for an eventual six deck series and thought it would be cool to give each deck its own theme and look by using different traditional artistic mediums and techniques for each one.
Designing these decks has given Peter and Linnea an enormous amount of pleasure in the creation of the artwork itself, through to the unique Kickstarter experience that has introduced them to people the world over who share the same passion they do for this humble item and have enriched their work and their lives with their generosity, their own stories and helpful suggestions.
They have also been able to work with another world renown company, "The United States Playing Card Company", who have produced all their decks to date and lent USPCC a very prestigious provenance that Peter and Linnea are proud to be a part of and will keep them valuable in the market for years to come.
UUSI DECK #5: HOTCAKES
The fifth creation of Uusi inside the 6 decks series they planned is Hotcakes. This is a deck completely different to the previous ones. The previous soft colors and elegant lines have become bolder and even spicy drawings, but with a cool vintage twist and a really funny design.
The deck will be released on April 26th and it will be for sure a succesful campaign not only due to the huge amount of followers Uusi already has, but also for the beuty and originality of this creation.
PAST, PRESENT AND FUTURE: UUSI BEFORE AND AFTER THE CARDS
The deck series is almost complete. The sixth (ans last) deck isn't named yet, but Peter and Linnea have started it and might have a sneak peak at it over the summer.
Playing cards have been just an extension of the kind of art both designers have always made, they just applied it to the playing card format.  They are working on a Zine series that will be coming out in the next year and hopefully some of the people who have enjoyed the artwork on their cards will enjoy checking that series out.
I hope you have enjoyed this article. I have done it from the bottom of my heart and from the deep respect I feel for such a great designers and also persons. I wish Peter and Linnea the very best on everything and I will come back soon with the info about the new project, HotCakes, as soon as it is launched.
Good luck and see you soon!
https://www.maxplayingcards.com/en/wp-content/uploads/2014/04/Uusi_Linnea_artwork.jpeg
960
576
Max
https://www.maxplayingcards.com/en/wp-content/uploads/2020/03/MPClogo-300x138.png
Max
2014-04-18 02:09:45
2014-04-18 02:09:45
An intimate look at Uusi and their lives before and after designing playing cards