Last days of Bicycle Cthulhu. Interview to Dan Criss and SPECIAL OFFER for readers
Yesterday, I was talking to Dan Criss, the creator of the new Bicycle Cthulhu decks I was writing about some days ago. He is an enthusiastic of his work and we were talking about the project and the third deck of the campaign that is really near as a stretch goal. I took advantage to ask some things about he and his work and here you have the summary of what he told me.
"From the moment I first heard about Kickstarter, I was in love! For years I have been sharing my games, hoping to find a way to get my creations off the ground. Everyone who plays my games falls in love with them, from the simplicity of design and multi-faceted game play, to the heavy thematic elements. However most were like me, with big hearts and empty pockets. Now, Kickstarter has given us little guys a way to grow and build our ideas and our dreams with the very communities they were made for! The level of involvement this offers is so radically different than anything we've seen before, and I know it will be the breathe of fresh air that so many industries have needed for so long.
My first offering was a fun little card game entitled "Cthulhu: The Great Old One", which garnered a good bit of attention during its run, but ultimately failed to meet its funding goal. Even though it didn't fund, I still never saw it as a failure, just a very involved learning experience. One thing which did come from that campaign was a wonderful family of backers who shared in the experience with me, and who were a constant support through the roughest of times, even when any chance of success was gone. I am forever indebted to my backers, and devoted to make the best products I can for them.
One of the most frequent requests I received from my backers was to create a standard playing card deck with the beautiful images which Ian Daniels had created for the campaign. I saw this as a great opportunity to help fund the art for the games re-launch. After a solid month of phone calls to vendors and printers, constant image revision, web layout and company restructuring, I launched the "NEW Cthulhu Bicycle Playing Card Decks" Kickstarter campaign. From the moment we launched, there were my wonderful backer friends, ready and waiting! With their amazing effort, all our faith and hard work was rewarded, as we reached our funding goal in the first 33 hours of the campaign. It has been a breath-taking experience so far, and it is far from over! So many returning friends, plus so many new faces every day, all coming together to make these beautiful decks a reality.
When we launched, our initial funding goal could only cover printing one deck design, the deck still available in the Elder Sign Limited Edition. The deck was designed using Ian's art to create beautiful cards with a haunted Victorian flair. When it became apparent that we would be able to afford another print run, we were able to honor the backers' request and our hopes by adding the second Limited Edition deck design based on the Necronomicon. This second design is much more dark in theme, with each card crafted to look like a page from the dread grimoire containing a excerpt from one of Lovecraft's stories.
Once we reach our next Stretch Goal, we will be offering the Unnameable Horrors Edition, a third deck design whose theme was decided on by a voting poll for the backers. The new deck features a mirrored image of Cthulhu rising on the card backs, with the fronts made to reflect the dark chaotic void of oblivion, while still featuring the characters and relics from the Cthulhu: The Great Old One game.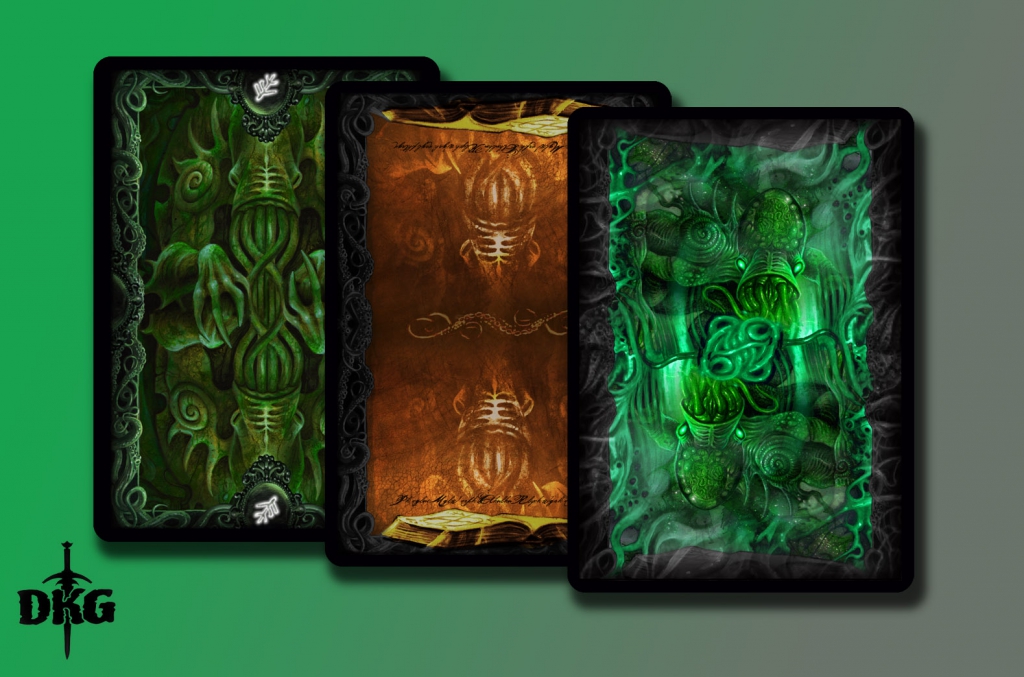 We have also designed a number of cool add-ons to go with the decks, like gorgeous collectors' poker sets with custom mahogany cases and custom Lovecraftian poker chips. Gamers like ourselves love custom dice, so we have plenty of those offered as well.
This campaign is only the beginning for Dann Kriss Games. In January of 2014, we will be starting the re-launch for our initial game, "Cthulhu: The Great Old One", offering lots more sweet Cthulhu pledge rewards and prizes. Following that, DKG has a planned release schedule for the next few years, where we will be offering a variety of different board and card games. Will we be offering more Bicycle decks down the line? Probably! After all, we have to do something with all that awesome art!"
If you haven't seen this deck before, you have the very last chance to get the decks or any of the add-ons created for this project (dice, tees, coins, poker chips, …). Just with a small adding to the existing backers' pledges the $42k can be real so go to the project website and raise your pledge.
SPECIAL OFFER FOR READERS
The first 20 readers that raise their pledge and write the creator with the code MAXCTHULHU will receive a pair of GREEN Cthulhu dice for FREE.
https://www.maxplayingcards.com/en/wp-content/uploads/2013/10/CthulhuNEW_banner1.png
960
1280
Max
https://www.maxplayingcards.com/en/wp-content/uploads/2020/03/MPClogo-300x138.png
Max
2013-10-29 23:34:10
2013-10-29 23:34:10
Last days of Bicycle Cthulhu. Interview to Dan Criss and SPECIAL OFFER for readers