NEW Cthulhu Bicycle decks by Dann Kriss Games. The myth strikes back
For nearly a century, countless readers have come upon the writings of Howard Phillips Lovecraft and become entranced by his words. His stories tell of scholars and dreamers, visions and secrets, gods and madmen. Many modern horror and fantasy authors cite Lovecraft as both their inspiration and favorite author.
This is not the very first time that we see a deck inspired on Lovecraft characters, specially on the Cthulhu myth. In fact, we could say this is not the first Cthulhu Bicycle deck. It is clear, according previous decks and campaigns, that this Lovecraft stories inspiration is followed by many people.
Dann Kriss, founder of Dann Kriss Games, knows it, and as a games creator and a fan of fantasy, he has decided to carry us the NEW Cthulhu Bicycle decks. It is not a mistake, I say decks, because it is not just one but two: Elder Sign and Necronomicon limited editions.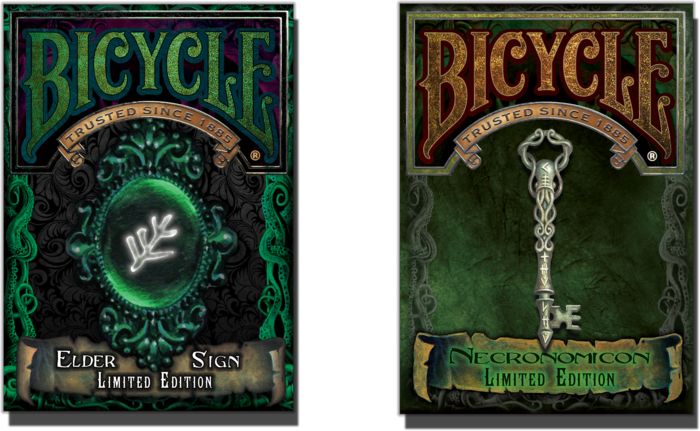 These decks represent the first international release from Dann Kriss Games, a start-up game publishing company who plans to utilize crowdfunding resources to fund the release of their various upcoming games and products. Through crowdfunding, DKG hopes to not only raise funds for releasing their many titles, while providing valuable product exposure and marketing, but also develop a community where game lovers from around the world can help shape the very games they are being offered. Company founder Dann Kriss believes this will lead to better quality experiences with his games, and a more personal and direct relationship with consumers.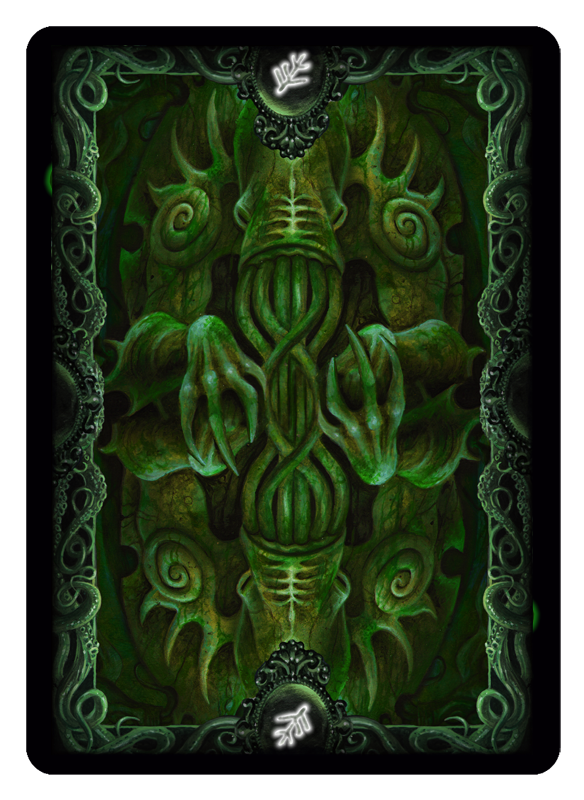 This is not just another Cthulhu deck series. It is different from what I have seen before related to the same stories. I have to say these decks are dark, eerie, deep and cool. They are amazing, and one of the secrets for this dark beauty is the magnificent hand-painted artwork by Ian Daniels.
Each deck is printed by the USPCC, Bicycle branded with Limited Edition tuck boxes and custom seals. Each card features unique art, customized suit symbols and borders, and is embossed with Bicycle's acclaimed Air Cushion Magic Finish.
This will be a limited edition of 3,000 of each deck. If the project gets more than $32K, the necronomicon deck will have different back and face design. Furthermore, if the project funding go beyond $42K, there will be a new third unlimited deck (a surprise, for the moment).
The decks have been widely funded so it will be real for sure, but there are a lot of days left to improve the features and see a lot of new add-ons and surprises. I am sure it will be a new funding record in the top 10 list and I think it deserves that position. The campaign also offers backers a number of exciting Cthulhu-themed add-ons, such as Commemorative Coins, custom Poker Chips and T-shirts, even custom dice.
If you need more info or want to raise your pledge, visit the project's website and get it before they're all gone.
Good luck!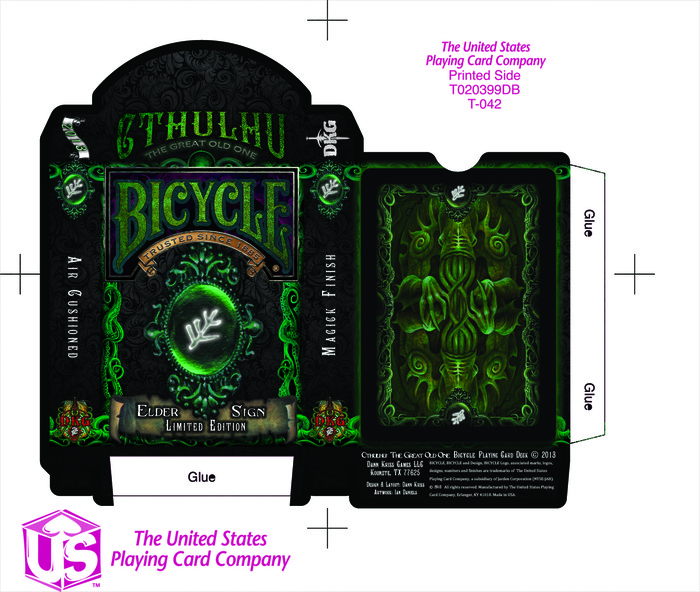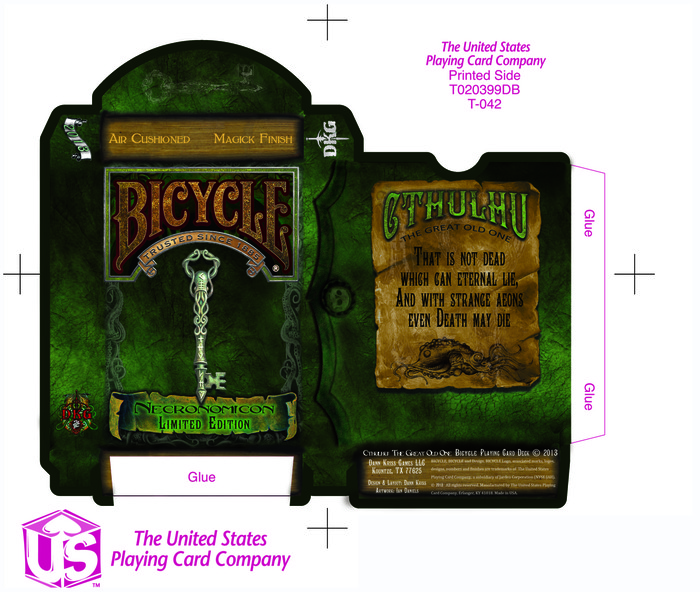 https://www.maxplayingcards.com/en/wp-content/uploads/2013/10/CthulhuNEW_banner.png
960
1280
Max
https://www.maxplayingcards.com/en/wp-content/uploads/2020/03/MPClogo-300x138.png
Max
2013-10-06 15:29:50
2013-10-06 15:29:50
NEW Cthulhu Bicycle decks by Dann Kriss Games. The myth strikes back