Throughout history, transformation decks have been very special collectibles. They represent a further step in custom playing cards converting each card's pips into the true protagonists in the design. Will Roya (PlayingCardsDecks.com) wanted to rescue one of the most important historical contributions to the transformation decks: COTTA'S ALMANAC #1.
This project stems from painstaking research on transformation cards and their origins coupled with Will's interest in rescuing cards from the past in high-quality restorations thanks to the meticulous work by Azure-Ox. This research aimed to find the first transformation deck and the investigations led to 1804, the year in which Johann Freidrich Cotta, owner of the JG Cotta publishing house in Tübingen (Germany), produced the first in a series of card almanacs that would continue to be printed in successive years up to a total of six between 1805 and 1811.
If you want to know the history of these decks in a more profuse way, I recommend that you read the article written by my good friend EndersGame. There you will find the keys to understand these fascinating decks with a magnificent and detailed editorial style.
Each deck incorporated 52 cards for each of the 52 weeks of the year (these cards were not intended for a game) and addressed a different theme. The first of these, this project's goal, is perhaps the most popular. Although the numbered cards do not seem to have any specific connection, the court cards are based in the characters from the 1801 play by Friedrich Schiller, Die Jungfrau von Orleans (the maid of Orleans) who served as the inspiration for the opera Joan of Arc by Giussepe Verdi. The original cards were printed on linen paper and the court cards were hand colored.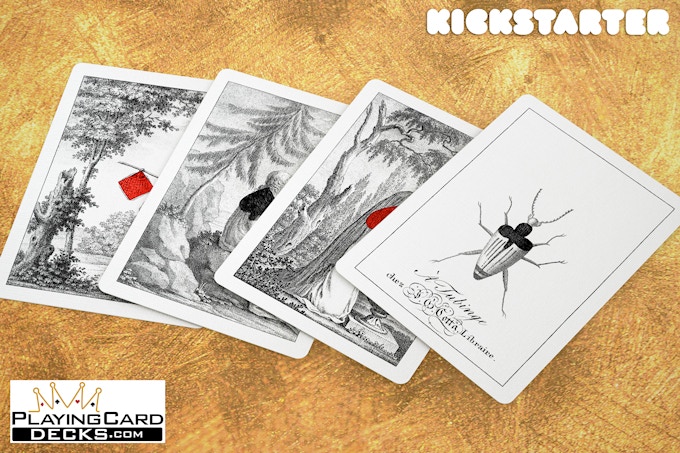 For the series, very unique tuck cases have been designed. The creators have used a color scheme based on Goethe's experimental theory of optics and color, much better known for his essential role in German literature of the time (and good friend of Schiller). This theory talks about the psychological impact of colors on human emotions, something that inspired other scientists, philosophers and artists. The tuck case will look like a book and the spines of all the decks in the series together form a panorama of Cotta's hometown of Tübingen.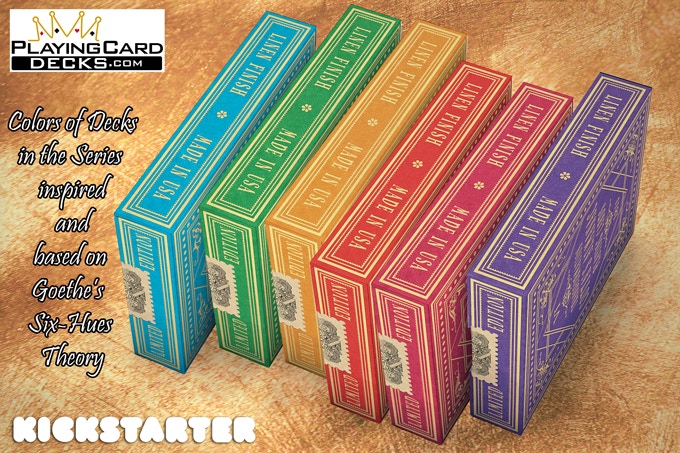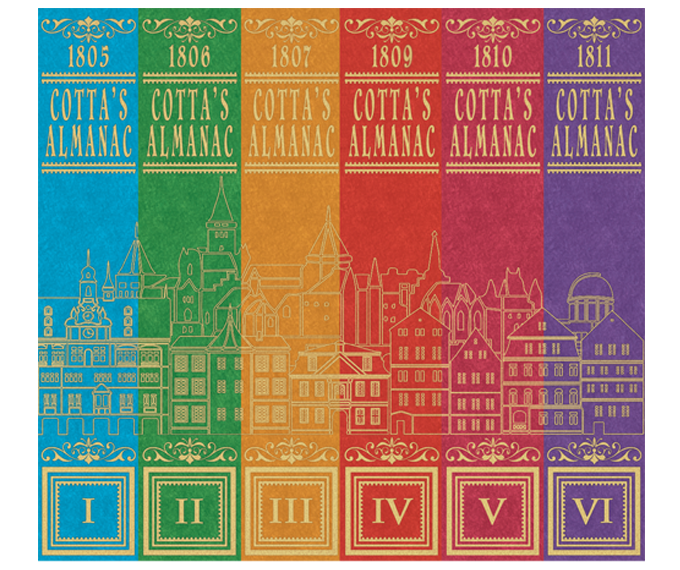 Since the original cards had blank backs, matching color backs have been designed with a classic symmetrical pattern.
The decks will be printed by the USPCC and will have a recreation of the 52 cards plus two jokers and two extra collectible cards.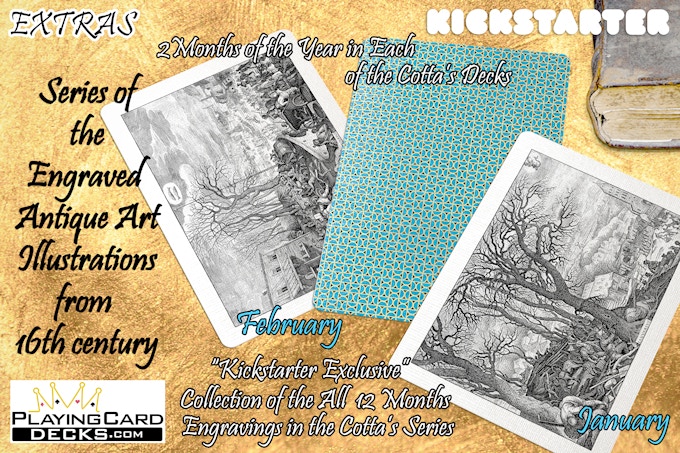 A limited print run of 1000 numbered decks will be released (more unnumbered decks can be printed depending on the demand).
This is a collection steeped in history and a high-quality restoration to bring life back to the first transformation decks ever. Do not hesitate, visit the project website and make your contribution
Good luck!
https://www.maxplayingcards.com/en/wp-content/uploads/2020/03/Cotta01_banner.jpg
576
1024
Max
https://www.maxplayingcards.com/en/wp-content/uploads/2020/03/MPClogo-300x138.png
Max
2020-03-27 14:15:50
2020-03-27 14:15:50
COTTA's ALMANAC # 1 Playing Cards. The first reproduction of a series of historical transformation decks