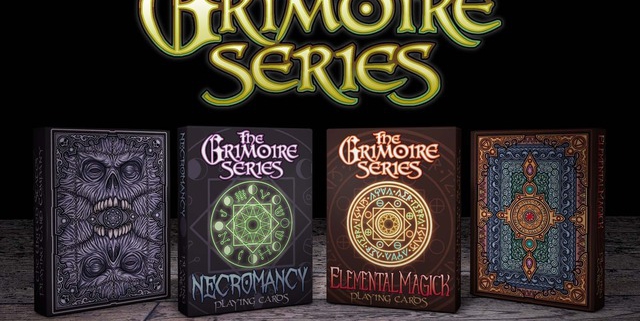 Grimoire Series Part One decks. The colorful fantasy of magic creatures. Interview to Edgy Brothers
After "Día de los Muertos", one of the coolest campaigns this year with nothing less than four different decks, my good friends at Edgy Brothers launch a new creation: The Grimoire Series Part One.
Taking advantage of their kindness, I made them some questions about this new project. This is what they said to me:
Max Playing Cards – Hello my friends, welcome to Max Playing Cards, it is a pleasure to have the opportunity to know more about you and your new project

Edgy Brothers – It's our pleasure to be here, Max. We're looking forward to sharing a little information with your readers.
Max – Can you tell me anything about the new project? What's the inspiration?
E.B. – The new project is inspired by my brother Dave and my love for fantasy role playing games, or RPG's, as they are also called. We used to play a lot of Dungeons and Dragons as teens and we've always loved the fantasy genre in movies and literature. So, it seemed natural to do a deck of cards based on that, that could also be used by RPG-ers in their games. A lot of Game Masters in D&D and Pathfinder (another RPG) like to introduce creatures and other challenges for their adventurers at random, and a deck of cards is sometimes the best way to do that. So, these decks can be used for Random Encounters, for example. But you don' t have to know anything about RPG's to get into this project. Ultimately, we think it's a finely illustrated deck that any collector or lover of fantasy and magick would appreciate.
Max – How long have you been designing the deck and at which point is the production process?
E.B. – We first came up with the concept months ago but it took forever for us to really get a handle on how we would approach it. Long story short, once we decided to concentrate on ancient magick, it all fell into place. And since there are so many different schools of magick (notice i'm spelling it with a "k" – that's to differentiate it from "magic", which would mean more of the sleight-of-hand and illusionist style) that we knew we'd need to do more than one project. So, we decided to do three parts with two decks each. Assuming the response to Part One is good, we'll continue with the next two down the line. Currently we're just launching the campaign, so once we're funded and we know how many Backers we've got, we'll be able to submit our orders with USPCC and the dice and coin manufacturers and begin the production process.
Max – You are going to work again with USPCC. I understand your experience with them has been satisfactory. Did your previous campaigns go well with them despite of their overloading?
E.B. – We've once again decided to go with USPCC. We wanted to give EPCC a chance but they're pretty busy at the moment and we just couldn't get an estimate on their process before it was time to launch. Nothing against EPCC; this was just down to timing. We don't rule out working with them in the future. USPCC does guarantee a brand that both collectors and non-collectors trust, even though they're pricier, especially to do the kind of embellishments we're doing this time. And they're not immune to delays, either. We encountered more than one with them last time, but it worked out okay and so we're happy to work with them again. But we like that there's another company out there that can do the job – it's good for the marketplace. What we hope will happen is that USPCC will offer a lower deck count pricing tier so that we can do a limited run campaign on some unique and rare designs, but as we understand it, they still don't offer it. Let's hope that changes. There are a lot of opportunities for some cool boutique projects if someone can accomodate the Creators.
Max – Have you learnt anything in your previous campaign that has forced you to make any change in this one?
E.B. – We've definitely learned a lot from our previous campaign, Dia de los Muertos. We think part of the reason we were successful (aside from the super-amazing artwork Dave produced) is that we were very active on the message boards and in the updates. We answered every question we were asked and sent a thank you message to every single Backer. Creators sometimes take their Backers for granted; we never want to do that. So, we're going to continue that level of engagement. We also were sure to introduce new cards regularly and listen to Backer feedback on the designs, something we plan on continuing with this project as well. What it really boils down to is respecting the people that make your project possible. But running a campaign is challenging, and not every Backer understands what Creators go through. For starters, the money you raise for your project is not even close to what you're left with after commisions and expenses. After Kickstarter, Amazon and Backerkit (our pledge managing company) took their cut, we kept 89% of that. Once USPCC and the other Add On vendors were paid and shipping was covered – even with Backerkit raising extra money for us through their Backer surveys we used to send out packages – we did a little better than break-even. Plus, if your campaign becomes very popular and you attract a lot of Backers, that means extra expenses to create enough rewards for their pledges, not to mention what you'll spend to ship those extra rewards. Not to say we were expecting to get rich; Kickstarter is just there to get you going, and that's what they did. So we're thrilled. But first-time Creators should know that whatever they think their project will cost, they're probably underestimating. Especially with international shipping, which is ridiculously expensive. But we love having international customers and they're some of the most devoted Backers we could ask for. So, we're going to keep offering it. But we learned our lesson about funding – we've got to set our goal at a reasonable level, especially with extra embellishments on the decks this time. With Add On Expenses, commissions, shipping and miscellaneous costs that will come up, $30,000 is a realistic goal to make this project happen. You have to raise an insane amount of money to be clearly in profit for your campaign. The profit is really supposed to come later as you sell your remaining inventory at retail prices. So, we've set up a nice online store for our inventory on edgybrothers.com, and we've attracted a nice amount of business. Plus, we'll be hitting a couple of festivals, including the Brentwood Art Festival on Oct. 12 and the Hollywood Forever Dia de los Muertos Festival on Nov. 1 to sell our Dia de los Muertos merchandise and decks. We can't wait!
Max – Thanks a lot for your answers. I am sure this project will be a success and I wish you the same for all your future ventures.
E.B. – Thanks for having us here, Max. We couldn't be successful without supporters like yourself. Keep up the great work!
There will be two decks, the Necromancy Deck and the Elemental Magick Deck (that will be unlocked when funding raises to 12,000), printed by the USPCC with different backs and with colorful cards all designed by David Edgerly and representing creatures from his fantasy mind.
If you wan to get them, visit the project website  and raise your pledge.
Good luck!
https://www.maxplayingcards.com/en/wp-content/uploads/2014/10/GrimoireSeriesPartOne_banner.jpg
480
640
Max
https://www.maxplayingcards.com/en/wp-content/uploads/2020/03/MPClogo-300x138.png
Max
2014-10-31 20:54:24
2014-10-31 20:54:24
Grimoire Series Part One decks. The colorful fantasy of magic creatures. Interview to Edgy Brothers