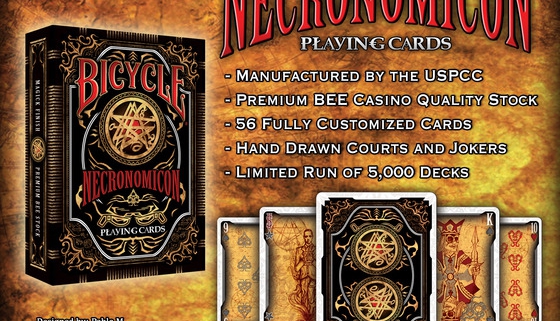 Interview to 4PM Designs and news about their new Bicycle deck: Necronomicon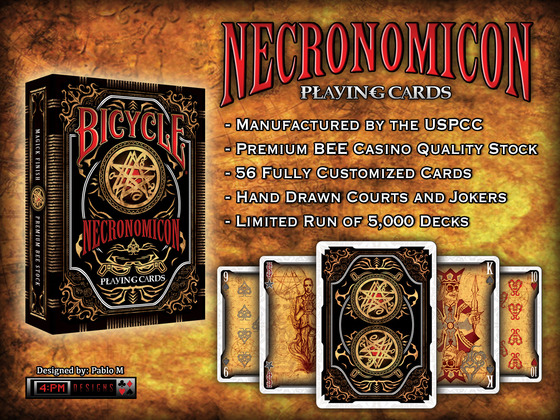 Following our Max Playing Cards section dedicated to interviews, I had the opportunity to talk with Pablo from 4PM Designs, a cool emergent company dedicated to custom playing cards.
After their fabulous success with The Grid deck, they strike back with a new deck: Bicycle Necronomicon, one of a series (Mythos) that they are going to talk us about.
Let's know more about it and the company behind this gold mine.
Max – Hello Pablo, thanks for answering some questions for Max Playing Cards' readers
4PM Designs –  no problem, whatsoever.
Max – Tell me a little bit about you and how did you begin designing playing cards.
4PM–  Well I got into the playing card industry by accident. I work in the motion picture industry and own a production company which focuses in horror, thriller, and suspense feature films. One of my roles when it comes to producing a film is designing marketing materials for a project such as one sheets, ads and commercials. I had some down time between two projects and began designing what would become The Grid. I had always been amused by playing cards. My father was an expert at slight of hand and as a child I would always marvel when he would swindle his friends in poker hahaha. He would teach me slight of hand and tricks which would now be considered cardistry. I was obsessed with circuitry and how much different chips resembled beautiful artwork. I had stumbled upon a few videos of cardistry and custom decks when I realized this could be an opportunity for me to utilize this design I was toying with. Thus The Grid was born.
Max – Which are your interests on cards beyond your job as a designer (collector, magician, manipulator, player, …)?
4PM– I love cardistry but just can't get the hand if it. My hands aren't slender enough to hand the cards with such grace. They end up exploiting out of my hands. Magicians have always been a favorite of mine as well.

Max – When and how do you decide to start 4PM DESIGNS?
4PM–  4PM DESIGNS was started initially to release The Grid in March of 2012 but as we became more involved with the community I knew this was something I should expand on. At first there was no "4PM DESIGNS" and I was going to release the deck under my sole name. However, I didn't want my motion picture business and playing cards to intersect so I chose discretion. I've worked on a few popular films and produced one for a well known author and I felt this venture into playing cards was an escape from the chaos of that world. I want people to see my cards and enjoy them completely without judgement over what I do with the other part of my life. Sole I just took my initials and rearranged them…4PM.
Max – What's the main feature of your company that you think makes it different from other?
4PM– Listening and knowing what we want to deliver. Either people will like our cards or they won't. But taking what the people want to see and trying to incorporate their passion into your deck is vital for the success if any deck. However, you have to know what you want from the start. I see too many decks coming out where it's clear people see this as an easy way to make money. They don't have a vision of what they want to accomplish. They just see green. We have a vision, regardless of how popular or financially successful it is doesn't really matter. What matters is that we deliver what we intended.
Max – How many people are involved now in 4PM Designs?
4PM– We just welcomed another designer that needed some foundation to grow. So right now it brings us to a mere 3 people.
Max – What about The Grid experience? It has been one of the most succesful deck in KickStarter.
4PM– We got lucky. We had no experience with cards, and no idea of a community before starting the campaign. All I had was a knowledge of product development, design, business management and marketing. I did not for one moment expect us to raise the amount we did and become the highest funded at the time. I honestly didn't even think we would get funded lol. But the experience was fantastic. We fell in love with this industry and the community as a whole.
Max – You included in your pledge levels for the Grid some exclusive clip guards created by another company. How has been the experience to launch a project that depends not only on you but also on other people? Are you going to include similar rewards for the new deck Necronomicon?
4PM– Oh boy lol the Eco Clips. With my experience in film you have no choice but to rely on other people so I thought continue that frame of mind would be beneficial. It instead became a headache. We did very well with the Eco Clips but the other company did not fulfill their commitment properly which caused a delay which we are now recovering from. The good thing is that this experience led us to develop our own line of card clips called "Arc Clips" they are very similar to Ecos in the matter that they are made of wood but the design and specific materials are different. They are already in production and we hope to have the first line available for the current Mythos: Necronomicon campaign. This way the clips will be in hand in time for shipping out the decks.
Max – Tell me something about this new deck. Does it belong to a series? I think you though on another deck to be created first. Is it correct? Tell me the story of all this.
4PM– Yes, Mythos is intended to be a series of three decks. Our first deck was supposed to be Mythos: Cthulhu Calls. We had marketed and promoted it for several months and were days away from launching the project when another group released their own Cthulhu deck. We knew releasing two similar decks was not a smart business move so we delayed it. Instead we pushed up the deck which was supposed to be the second in the series, Mythos: Necronomicon.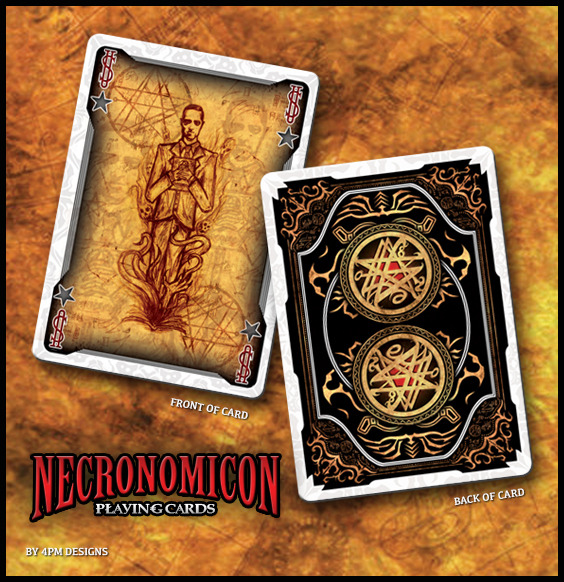 Max –  Please, give me the basic Necronomicon features: stock, finish, number of decks produced, any limited edition or related item?
4PM– Mythos: Necronomicon is our first Bicycle branded, Bee casino grade paper stock deck. The best of both worlds. It has a great magic finish which we call Magick finish and is a one time run of 5,000.
Max – Finally, can you tell me some privileged info about this deck or the series? Something new that only my readers can know :)
4PM– We are currently working with the USPCC to release a limited edition version of the deck which would only have approx. 1,500 made. We hope to release more information on that soon.
Max – Thank you so much again for your kindness. I really wish you the very best on this and, of course, of any future project
4PM– thank you!
The Necronomicon deck, launched through KickStarter, has already got its funding goal but I am sure it will get much more funds to improve the deck features. Congratulations and the best luck!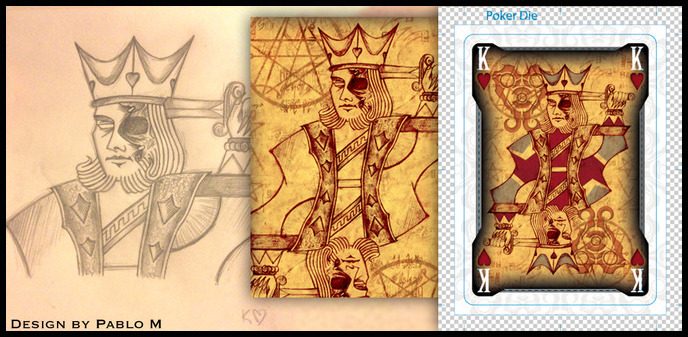 https://www.maxplayingcards.com/en/wp-content/uploads/2012/09/Necronomicon01.jpg
420
560
Max
https://www.maxplayingcards.com/en/wp-content/uploads/2020/03/MPClogo-300x138.png
Max
2012-09-30 19:10:07
2012-09-30 19:10:07
Interview to 4PM Designs and news about their new Bicycle deck: Necronomicon