Russell Kercheval and Circle City cards: the interview and his new deck Quicksilver
It was born on 2011 and has become one of the most popular playing cards company in the world.
Under the funny slogan "no bullshit, just cool cards",  Circle City Cards is proud to offer fantastic cards with fantastic designs. Some nice decks have been building a really interesting catalog formed, for the moment, by four different decks: Brimstone, Revision 1, Americana and Hornet.
It was funded by Russell Kercheval and Adam Clarkson, both designers of the company custom decks. Company's head and brain, Russell Kercheval, is a young and knowledgeable creator with a lot of experience on playing cards industry. He designed the very first CCC Brimstone deck, funded through KickStarter and the seed of the company itself. He is an artist, card designer, collector and playing cards fan and practices a contagious enthusiasm for this interesting cardistry world.
I have had the opportunity to interview him and I have enjoyed it a lot, so I want to share it with you. You will know more about him, his company and some exclusive info about his next future deck: Quicksilver.
Max – Hello Russell, welcome to maxplayingcards and thank you so much for answering some questions. My exclusive group of readers want to know more about this crazy playing cards world so, please, let's give them what they want :)
Russel Kercheval – Hey Max, this is a great site and I'm glad to help you out!

Max – Tell me something about your beginnings in the playing cards world. Was the Brimstone your first deck design? Were you a collector before or after designing decks? Do you remember your very first deck?
Russel – I've been fascinated with cards since I was a child. My grandfather had some great old decks with the most beautiful paintings on them (Congress), that was my first step into the world of playing cards.  On and off through my teens and twenties I would try and grab a few old decks here and there, nothing expensive, just neat little gems.  As with many people who are into collecting cards nowadays, my first 'custom' deck was the Black Tigers from Ellusionist.  While I do try and grab decks from other current artists, there is nothing like the feel (and smell!) of an old deck with a beautiful painted scene.
Max – When and how do you decide to fund Circle City Cards?
Russel – We have used HOPC, Kickstarter and have funded our own decks, so far.  Differences such as the demographic and timing are the main choices when deciding on how to release a deck. Our primary goal is to get the cards in the hands of collectors and cardists without any extra fluff added on. Since we don't run a busy forum and have a huge warehouse full of magic items we can pass the savings straight to the customer.

Max – What is, in your opinion, the difference between CCC and the rest of the companies that create decks of cards?
Russel – We primarily just focus on new deck designs instead of magic or cardistry.  Of course, we do love seeing our cards used in videos seen on YouTube!  We decided to 'cut the fat' that other companies have in their line-up and not spread ourselves to thin.  There are many fine places to learn magic or talk on forums. Opening another card/magic/forum site would just get lost in the shuffle, our strength is our deck designs.
Max – How many people are involved now in CCC?
Russel – Right now the main two players are myself and Adam.  When we release a new deck we employ a few temporary hourly workers (wives and friends – bought off with a promise of booze.)

Max – I always smile reading your slogan "No bullshit, just cool cards!". Do you really think there are many "bullshit" cards nowadays?
Russel – It's not so much the cards that are 'bullshit', it's the way others choose to market them.  I understand the fact that you need to market cards, even the best deck design in the world will fall flat if you don't tell anyone about it.  I feel the card collecting community has grown much more knowledgeable over the past few years and can recognize BS when they see it. Phrases that hype up the most mundane and average parts of playing cards are being blown out of proportion. Your paper is from France? So what! It doesn't tell me the quality of the stock. Your deck design has some earth-shattering never-before-seen awesomeness? No, it's a deck of cards with embossing.
Max – As a collector, I have lived a transformation of the playing cards market. The number of decks produced by USPCC this year is more than double the produced last year. The way it has become more and more stressing and the way many companies are feeding an insane pricey secondary market sometimes scare me. Commercial strategies of supposedly limited editions of 5000 units, endless personal reserves, signed boxes with many decks supposedly sold out, uncut sheets that cost 10-20 times the price of a deck, among other. What is your opinion about all of this?
Russel – The custom market has exploded recently, and I'm afraid I am partly to blame, haha! Kickstarter has been part of the boom and bane of playing cards recently.  With a few clicks and a card design it is possible to raise thousands of dollars to make your own deck.  As for the secondary market, the newness of uncut sheets was definitely taken advantage of when they were first heard of, the prices has come down considerably in the past year or so. There will always be a person to sell a deck of cards for more than they are worth and there will always be some collector who will buy them, as a whole though, it's leveling out.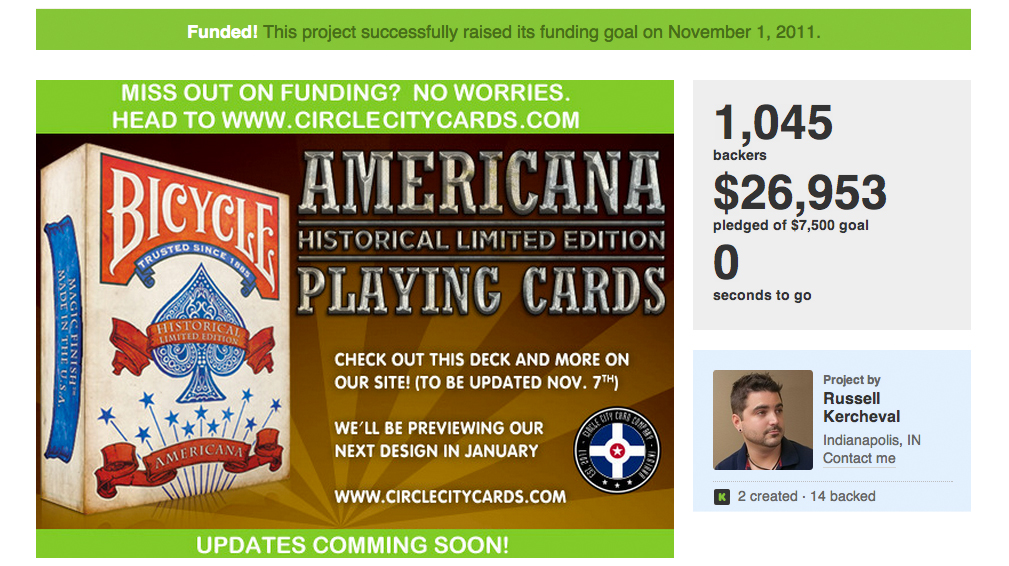 Max – Well, I know your next deck is going to be produced through Kickstarter. Having in mind all your decks except the Hornet reprint have been successfully funded with backers pledges, what do you think about Kickstarter and which are, according your experience, the advantages and disadvantages of that financial system?
Russel – While I have had and provided a positive experience, Kickstarter is a 'gamble' in every sense of the word.  In that, there is much more to designing a deck than pretty art; there is much more to a successful Kickstarter campaign than reaching your goal.  Kickstarter is a full time job, I put over 40 hours into each week during funding.  You have to plan out everything well before the project even begins. The two biggest factors that have been overlooked over and over again is: shipping and time.  Also, don't think you can grab some clip-art and have a 'cool design' the requirements for a proper card layout is an art in itself.
Max – Tell me something more about your new deck. Please, something nobody but you and your people know.
Russel – So you want some inside info, huh? The quicksilver design and layout actually took longer to fruition than the Brimstone deck. With the Brimstone cards I was free to design how I wanted but with Quicksilver I had to stay with the same feel while adding and improving to the design. In addition to that, the Quicksilver deck is actually the second of three designs in that series. The third deck (unnamed at this time) will be the third 'ingredient' in the triangle. Oh, and the paper will be specially imported from France!

Max – Thank you so much again for your kindness and your answers. I really wish you the very best on your current and future projects. You will have, at least, one unconditional backer and fan ;)
Russel – Thanks Max!  I know I sound like a broken record, but it is true; nothing would be possible without your and (your readers) support. It's been a whirlwind of a year, I can't wait to do it again!
As soon as I have more information about Quicksilver deck, it will be announced. In the meanwhile, be connected to Circle City Cards on facebook.
https://www.maxplayingcards.com/en/wp-content/uploads/2012/08/amer-KS-info.jpg
566
1009
Max
https://www.maxplayingcards.com/en/wp-content/uploads/2020/03/MPClogo-300x138.png
Max
2012-08-19 02:14:25
2012-08-19 02:14:25
Russell Kercheval and Circle City cards: the interview and his new deck Quicksilver