WATCHMAKERS Playing Cards. Forging a deck in the workshop of time
In keeping with their traditional eclectic and original style, 3rd Dominion presents their latest creation, inspired by the legacy of ancient watchmakers, inviting us on a journey through time: WATCHMAKERS.
Imagine a world where time is captured in small masterpieces. WATCHMAKERS draws inspiration from watchmaking dynasties, their meticulous work, and closely guarded secrets. This project celebrates the geniuses who, over generations, have crafted mechanisms that make time a silent witness. They are the guardians of time, creators of wonders that seamlessly combine precision and beauty.
Each court card represents a time master in different poses, with details evoking the delicacy of their craft. From watch ornaments to elements inspired by ancient tarot and watchmaker's tools, each figure immerses you in a world full of symbolism and mystery.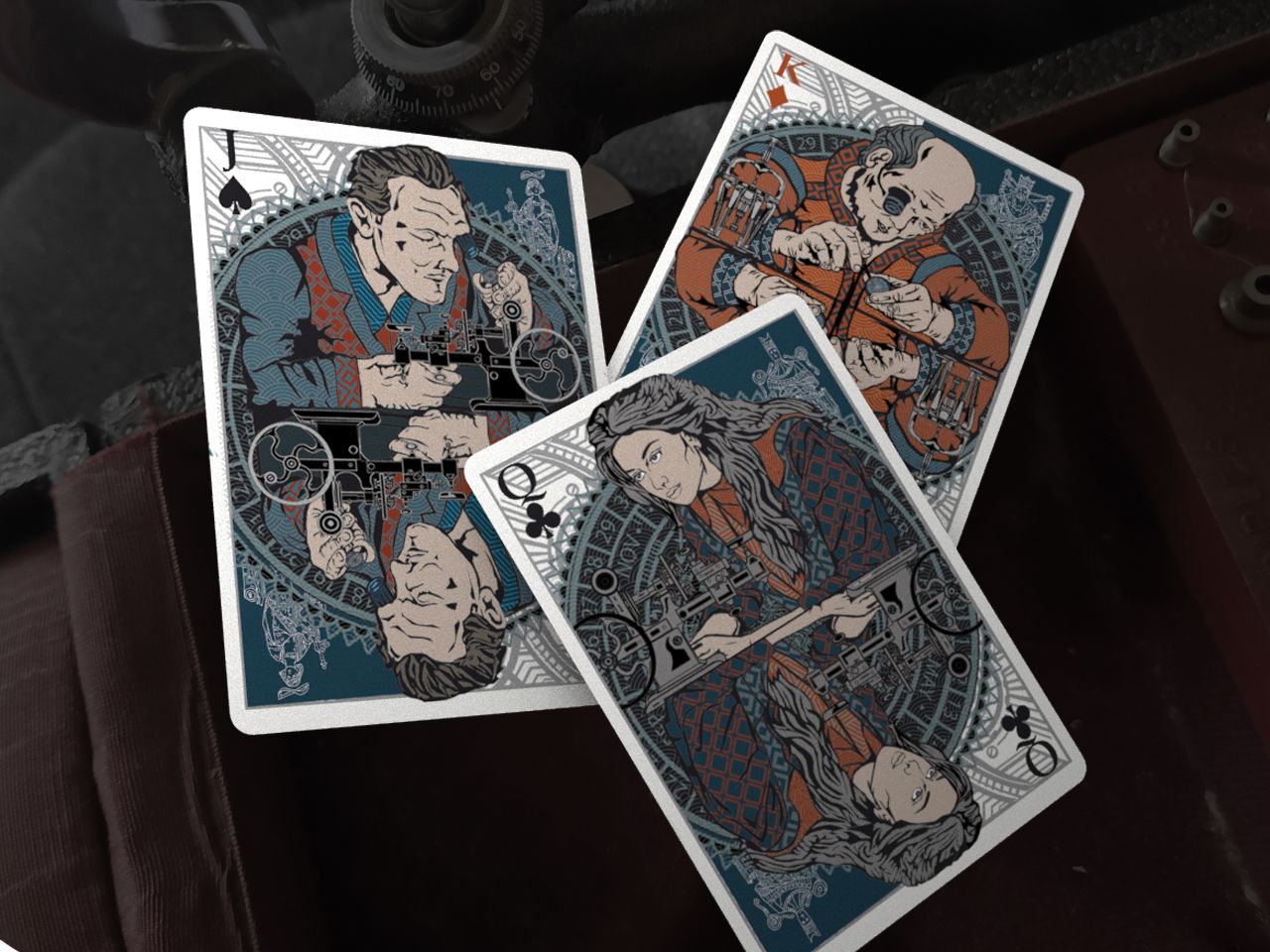 The aces and numbered cards immerse you in the complexity of the watchmaking world with intricate patterns and meticulous details.
The back features a symmetrical design with a "retro-futuristic" look, a signature of the artist. It also boasts a special shine thanks to metallic inks. But that's not all; it guards a mystery we will unveil later.
3rd Dominion never ceases to impress with their innovative tuck cases, and Watchmakers is no exception. It features an original opening system, embossing, and foil. Each tuck case is more than a mere container; it is a work of art in its own right.
The campaign offers four editions. The Classic editions, Silver and Copper, play with variations in the color of the tuck case.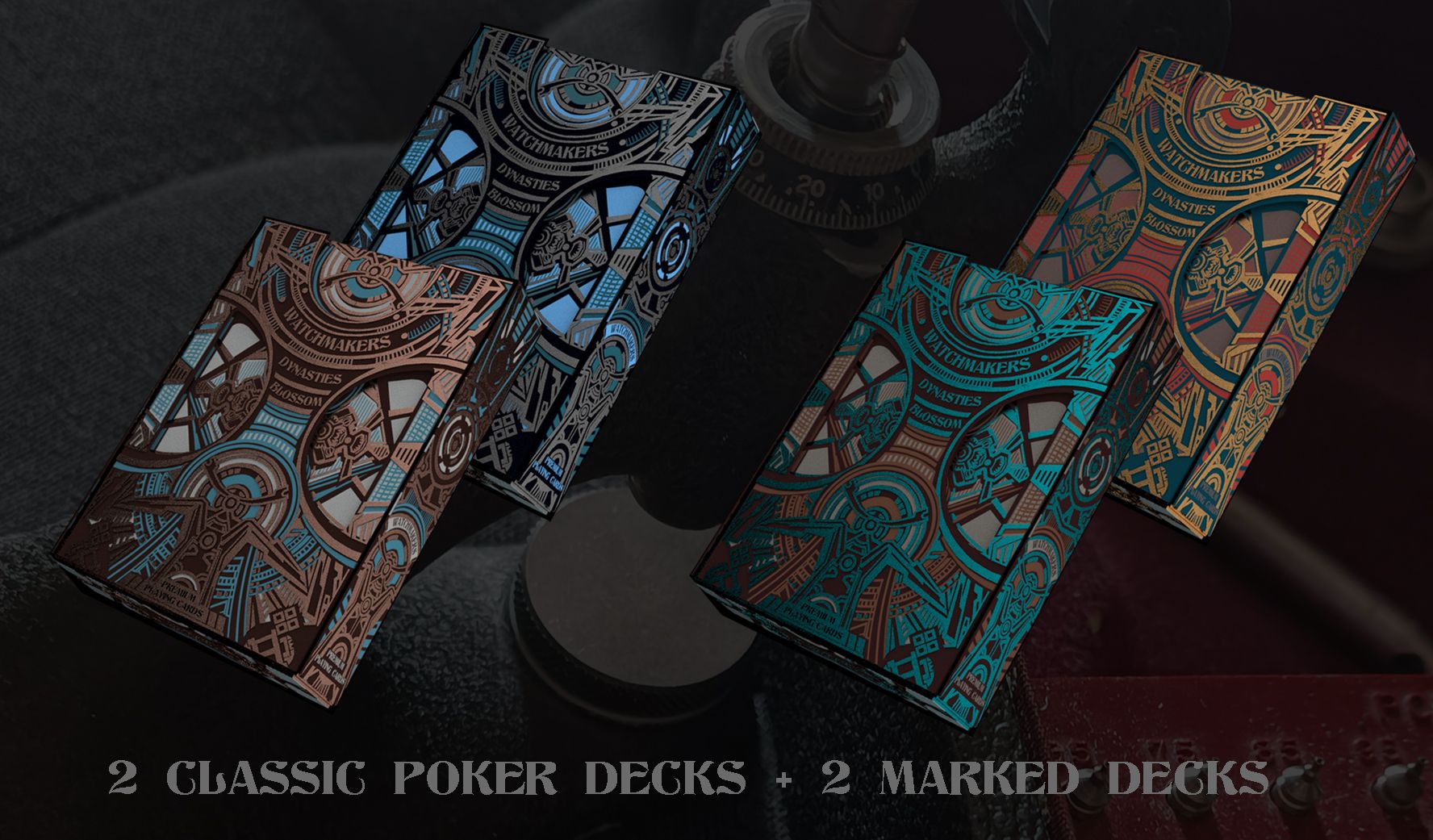 On the other hand, the Marked editions: Gold and Aquamarine, not only present variations in face and back colors but also add a touch of magic with a unique, intelligent, and easy-to-read marking system on the back based on special symbols. This feature will delight card magicians and tricksters.
All editions come with exclusive seals to close the cases in limited and numbered editions, printed by Noir Arts (NPCC) in Ukraine, with a premium linen finish and luxury details on each case.
Additionally, the campaign offers double cases containing both pairs of decks and a special Luxury case with a magnifying glass, similar to those used for watch repairs, ideal for showcasing your decks with style.
Don't miss the opportunity to join this exciting campaign, which is already widely funded. Embark on this journey through time and ensure you get your own deck before the clock strikes the final hour. Visit the project website and raise your pledge.
Good luck!
https://www.maxplayingcards.com/en/wp-content/uploads/2023/11/Watchmakers_banner.jpg
576
1024
Max
https://www.maxplayingcards.com/en/wp-content/uploads/2020/03/MPClogo-300x138.png
Max
2023-11-03 21:50:20
2023-11-03 21:50:20
WATCHMAKERS Playing Cards. Forging a deck in the workshop of time