ARTIST INSIGHT: ANNETTE ABOLINS. NINE LIVES Cards and her upcoming project VIZAĜO
Writing for so many years in Max Playing Cards has provided me with fabulous moments (and also some bitter ones), because I have had the opportunity to know the human quality of artists whose talent is hidden behind the fabulous designs I talk about. And there are (fortunately many) occasions in which meeting those human-beings behind the artists makes it worth the effort and dedication to this work. One of those occasions came a few weeks ago, when I had the opportunity to meet Annette Abolins. Our inspiring conversations about art and cards made me remember the former illusion partially lost through my fatigue and exhaustion and create a new section to talk about awesome people dressed up as talented artists. I have already done it in the past with other artists that I consider friends today, but Annette is going to inaugurate this section, which I hope will add more and more members to this wonderful family of Max Playing Cards.
---
ARTIST FILE CARD

Name: Annette Abolins
Origin/Based in: from an Australian/Latvian family, she spent part of her childhood living in Sweden. A strong connection to different cultures has shaped her artistic expression and continues to inspire her work. Home is on the east coast of Australia, where the rolling waves of the Pacific Ocean are a constant reminder of distant shores.
Art Background: studied fine arts and design in Sweden and went on to graduate from the National Art School in Australia. Art has given her the voice of story-telling; a space where visual ideas and thoughts flow freely (often through ink on paper) with inspirations coming from life, myths and imagination. Pen, ink and paint are constants in her 'toolbox', though she has also worked in clay for 15 years and spent the last 10 years in web and graphic design.
Any other hobby or love: lots of interests along with a love of family, the ocean, swimming, sailing ships and cats
Portfolio: www.abolinaart.com.au
Website: www.ninelivestarot.com.au
---
NINE LIVES PLAYING CARDS AND TAROT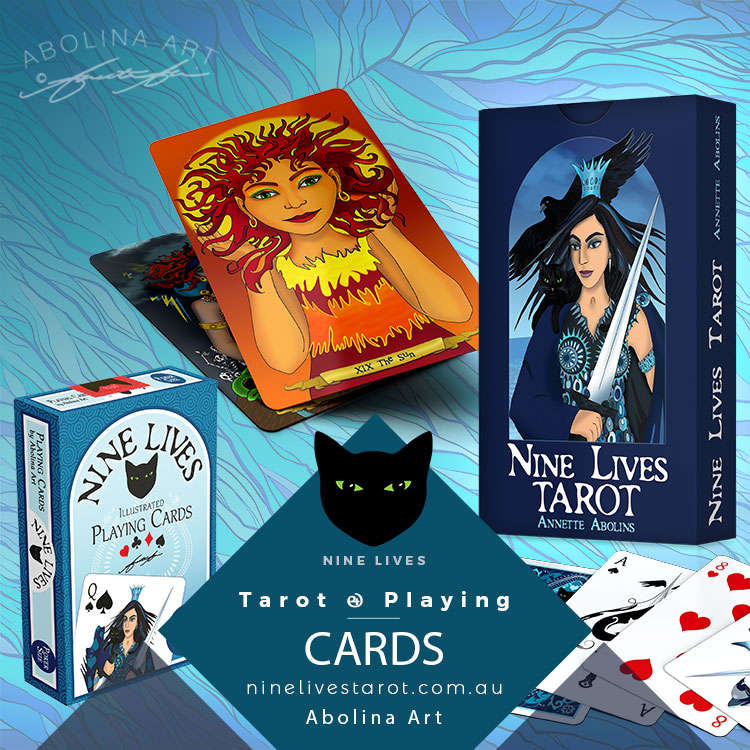 Annette's first work in Playing Cards was Nine Live Tarot. Her work is passion, comes from passion and reveals passion. Everything has a meaning, a connection with real life, something to tell and something to spread.
Playing card design was the perfect excuse to connect her love of creating usable art and her fascination with visual imagery and symbolism. The recurrent idea of a card as a individual piece of art that tells a story motivated her to go through this amazing quest. Translating art to cards was something exciting and unique for her, and something she has been able to make accurately. Not just a picture fitted in a rectangular area but artwork designed to find in the playing card a comfortable home. She enjoys the whole entire process: from ideas, sketches and ink drawings on paper to refining each illustration towards the completed design. Designing becomes a joyful journey of visual discovery.
Using the 1910 Rider-Waite Tarot reference, with abundant symbolism and a tone-down of the Christian imagery of the previous decks, Annette tried to represent her own idea of the tarot as a visual tool for introspection and reflection, taking the Carl Jung's psychological interpretation and creating a feminine archetype of the individual in each card.
The link between the cyclic movements in life (depicted in the tarot) and the idea of the nine lives of a cat gave the name to the deck. Designs blend imagination, mythology, symbolism and creativity, an endless well of inspiration. 300 tarot decks were printed in two print runs (and there will be probably a second edition in a near future).
Two years after publishing the Tarot, Annette took the same symbolism and re-drew the knights (jacks), queens and kings with new clothes to match their suits in order to create the Nine Lives Playing Cards deck that was printed both in bridge and poker size and limited editions: 300 decks of the bridge edition and 850 decks of the poker edition, printed by the Expert Playing Cards Company.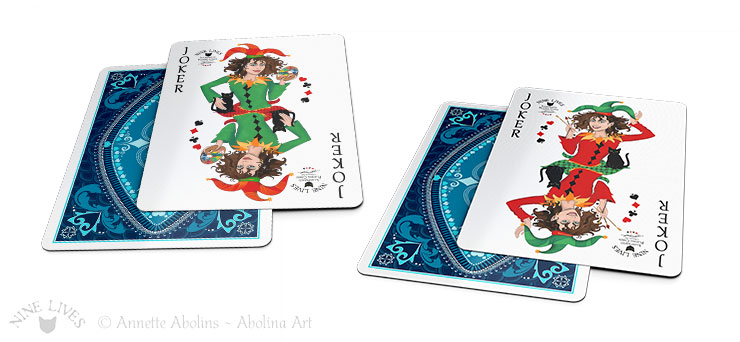 You can get the last units of all the editions in the NINE LIVES SHOP.
---
VIZAĜO PLAYING CARDS
The success and positive feedback Annette has received regarding her Nine Lives work has encourage her to go on creating art that could become nice playing cards. In fact, she is planning to create her first crowdfunding project for her next deck: VIZAĜO.
Vizaĝo is the Esperanto word for "face" and that's exactly the inspiration for the designs. Annette is fascinated by faces and she have drawn them almost anywhere, specially in teapots, mugs and bowls.

Taking her vision of these colorful faces, she is creating a new and original deck of cards. Getting the name from a language created to connect the humanity is another sign of the artist's positive spirit. Court cards seem to be definitive while the artists is working on the numbered cards and aces. Each suit has its own palette, which is loosely inspired by the meaning and element associated with the suits: love & emotion of hearts (red), creativity & fire of clubs (yellow), wealth & earth of diamonds (green) and wisdom & air of spades (blue).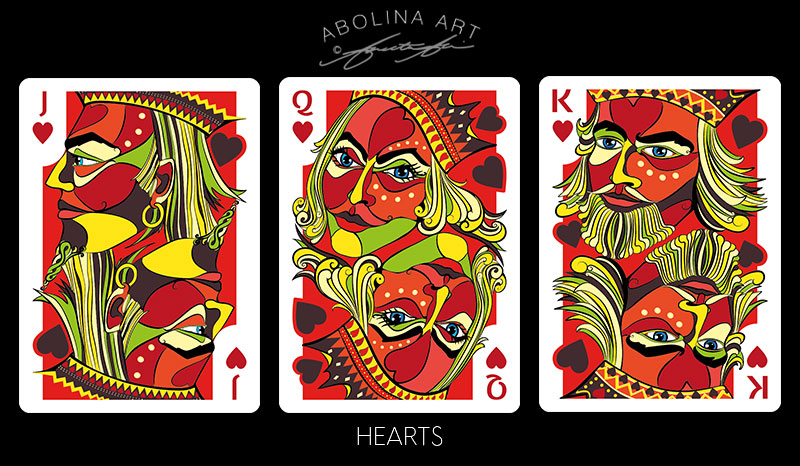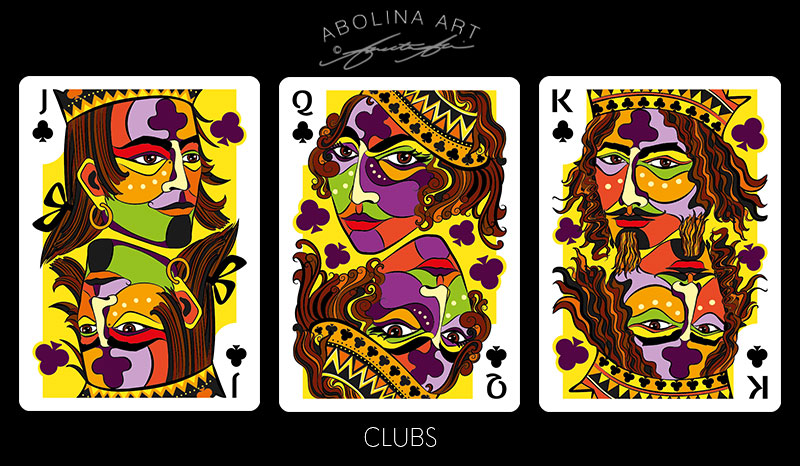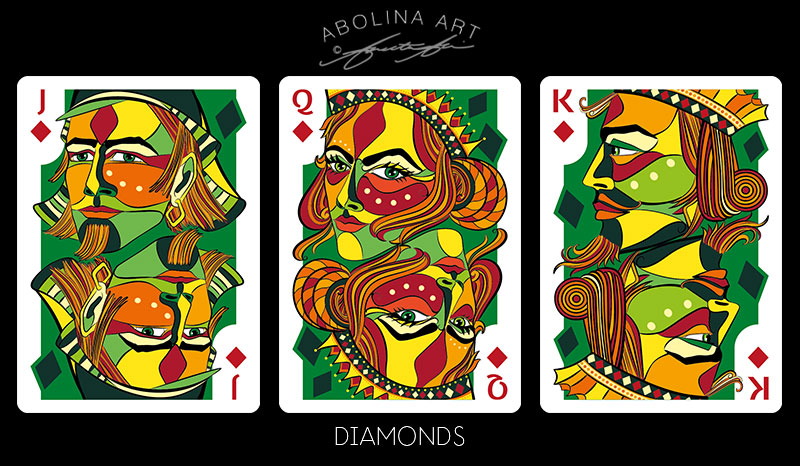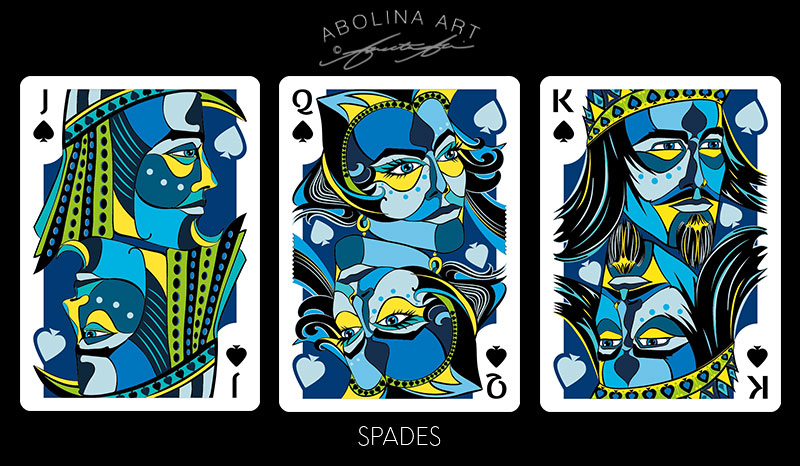 ---
I wish Annette the very best in her upcoming projects. I truly believe that not only her art but also her deep love for what she does deserves that success. I will be pleased to depict her upcoming project when launched. In the meanwhile, follow Annette in her blog and social media.
Good luck!
https://www.maxplayingcards.com/en/wp-content/uploads/2016/12/ninelives-aces-jokers-back_aa2016.jpg
929
1000
Max
https://www.maxplayingcards.com/en/wp-content/uploads/2020/03/MPClogo-300x138.png
Max
2016-12-04 23:11:00
2016-12-04 23:11:00
ARTIST INSIGHT: ANNETTE ABOLINS. NINE LIVES Cards and her upcoming project VIZAĜO