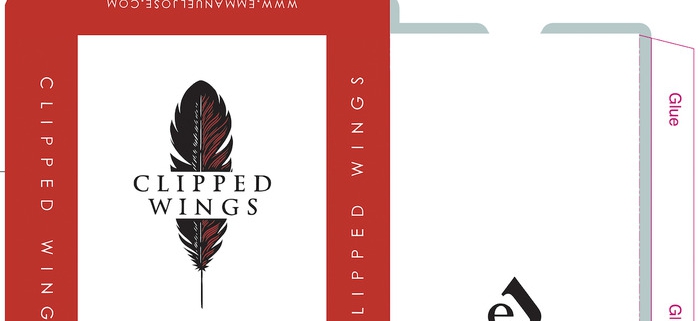 Clipped Wings deck. Papercutting cards. Interview to Emmanuel Jose
Emmanuel Jose is one of the most talented playing cards designer I have known. That's not only because he designs transformation decks with a really original concept, but also because he uses a technique that distinguish him form the rest of artists: the papercutting.
After his very first work, Curator, a true success produced by The House of Playing Cards, Emmanuel has launched his second deck (and his first solo project): Clipped Wings.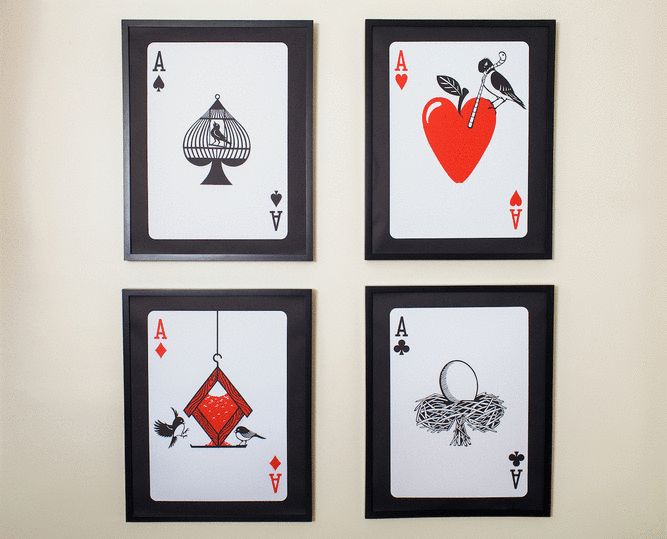 I have had the opportunity to talk to him about his art, his techniques, his decks and, of course, his new project. I hope you enjoy this interview as much as I have enjoyed it.
Max Playing Cards – Hello Emmanuel, welcome to Max Playing Cards, it is a pleasure to have the opportunity to know more about you and your art

Emmanuel Jose – Thank you, Max, the pleasure is mine!

Max – Tell me something about your work as a designer. What is your background?
Emmanuel – I double majored in art and psychology at Davidson College, NC. The art program there was very traditional, and I spent my time creating drawings, paintings, and lithographs while I was a student. I started doing a lot of papercutting work while I was in college, but it was always for non-academic reasons. I was a resident advisor/hall counselor, and I'd make papercut work to decorate the halls. I've been artistic since I was a kid, and art runs in my family.
Max – Your designs, and specially, your style, is well known among collectors. Why did you decide to design playing cards?
Emmanuel –  I've loved playing cards ever since I could remember. I remember my dad and my uncles showing me decks of cards whenever they played poker, and I fell in love with the artistry, beauty, and design of playing cards. I once tried to do a series of playing card art when I was in college, but my professor wasn't a fan of the paintings I made. Years after I graduated, the desire to create playing card art was still very potent, and since I was free to create art on my own terms, I started making the Curator deck.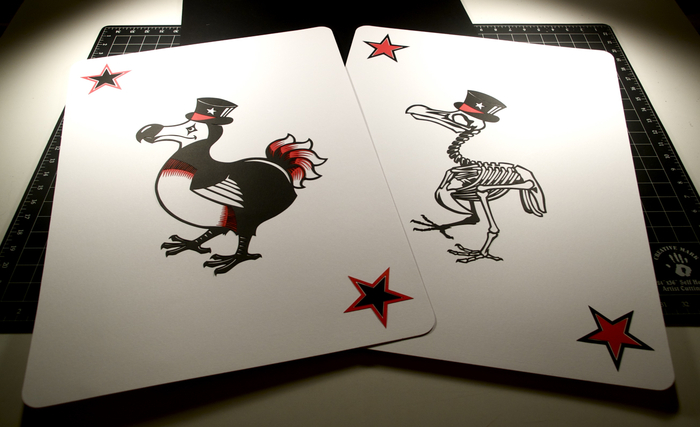 Max – What about your papercut technique. It is unique on playing cards design. Can you explain it briefly?

Emmanuel –  Papercutting is the art of cutting out images from paper through the use of scissors, blades, knives, or lasers. In my case, I draw out my images first, and then I cut them out with X-Acto knives or scissors.
Max – You have also a funny and very well programmed way to spread each one of the cards you create. Can you explain it to the readers?

Emmanuel – When I decided to create papercut playing cards, I told myself that I would make 1 card a week. A week gives me enough time to create one card. More importantly, there are 52 regular cards in a deck, and there are 52 weeks in a year, so it made sense to coincide the cards with the weeks of the year. I typically create the cards in the order of Spades, Hearts, Clubs, and Diamonds (Ace through King within each suit). There are some weeks when I create more than 1 card because I also make two jokers, a back design, and a tuck case design. I post the cards weekly on my website, www.emmanueljose.com, as well as on Facebook, Instagram, Flickr, DeviantArt, Twitter, and Behance.
Max – Are you interested on cards beyond your designing job?

Emmanuel –  I definitely plan to create artwork that's not based on playing cards, but playing cards will always be a love of mine. I'll always love them, and I'll always be a collector. Those things will never change.
Max – Your first design, Curator, was published by House of Playing Cards. It was a success and it was even counterfeited (something that only happens with popular decks). How was the experience and why did you decide to produce the new deck by yourself?
Emmanuel –   I'll always be thankful to House of Playing Cards for producing the Curator deck. The experience I had with them in making the deck a reality was a great one, and the process went smoothly. There were plans for House of Playing Cards to also produce the Clipped Wings deck, but eventually, I realized that it was best to manage the deck on my own. As an artist, it's important to have control over the work you create.
Max – By the way, do you have any Curator fake deck?
Emmanuel –  I do have one of the fake decks! When I found out about the forged deck, I got in touch with Alexander, the man who was selling one of the two fake decks he had bought at a marketplace in Ufa, Russia. He didn't know that he had bought counterfeit decks, and he was happy to send me his extra deck. When Curator released, I made sure Alexander got the official deck. To this day, I still don't know who's responsible, and I don't know how many forged decks are in existence.
Max – Tell me something about this new project: Clipped Wings. Details, number of decks, the story behind the design, …?
Emmanuel – I will be using Kickstarter to fund the production of the Clipped Wings deck. At the minimum, there will be 2,500 decks produced, but depending on how the campaign goes, more decks may be printed. The other pledge rewards include uncut sheets, prints, and collector's art books. Higher pledge tiers include custom original art. I'll also offer prints and a collector's art book for the Curator deck. Not many people know this, but I had pet birds as a little boy. The birds were talking myna birds, and they mimic human speech. I remember those birds fondly, and while I was making the Curator deck, birds kept appearing in the card ideas that I'd write down. When I realized how many bird ideas I had, I decided to make a deck dedicated to birds. The Clipped Wings Ace of Spades is based on the myna birds that I had.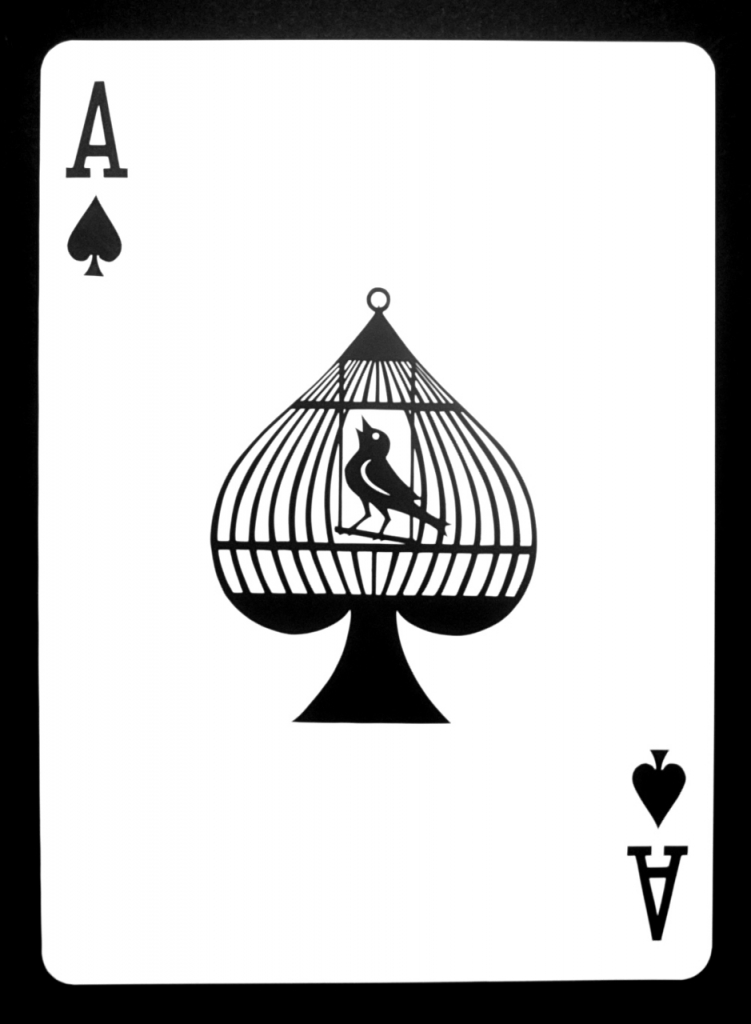 Max –Tell me something special, something nobody but you (and MPC readers) know about your next project.
Emmanuel – Right now, I'm creating the cards for Delicious, my fourth transformation deck. Food, drinking, and eating are the central themes to the deck. I don't know what the theme of my fifth deck will be yet, but I am having an opportunity to have someone select the theme for me.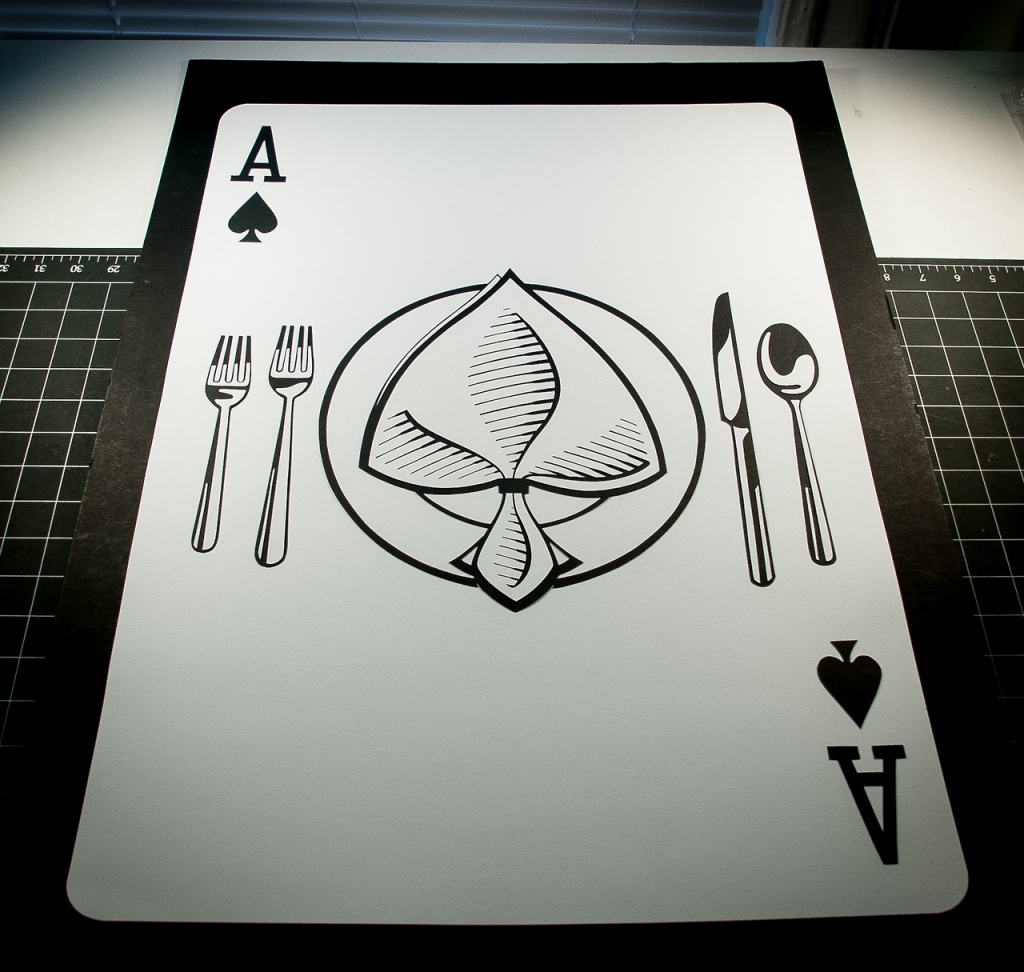 Max – What about other future decks. I have read about your Circus themed deck: SawDust. When? How? Where? …
Emmanuel – In May of 2012, I started to have thoughts of creating a circus deck. I was befriending more and more circus performers, and the circus is such a visually rich world. I wanted to explore that world, so I decided my third deck would be about the circus. When I watched the 1952 circus film The Greatest Show On Earth, the word "Sawdust" stood out to me as the perfect name for the deck. If the Clipped Wings Kickstarter campaign is successful, I'll be launching a campaign for Sawdust in late spring/early summer. I'm planning to have some upcoming contests for Sawdust, and all I'll say about the deck is to Look Closely.
Max – Thank you so much for your kindness. I really wish you the very best on your current and next projects and count on Max Playing Cards to spread the voice about your art!

Emmanuel– Thank you very much, Max!
I hope Clipped Wings achieves a huge success. You can visit the project website and raise your pledge to get this fantastic piece of art.
Good luck!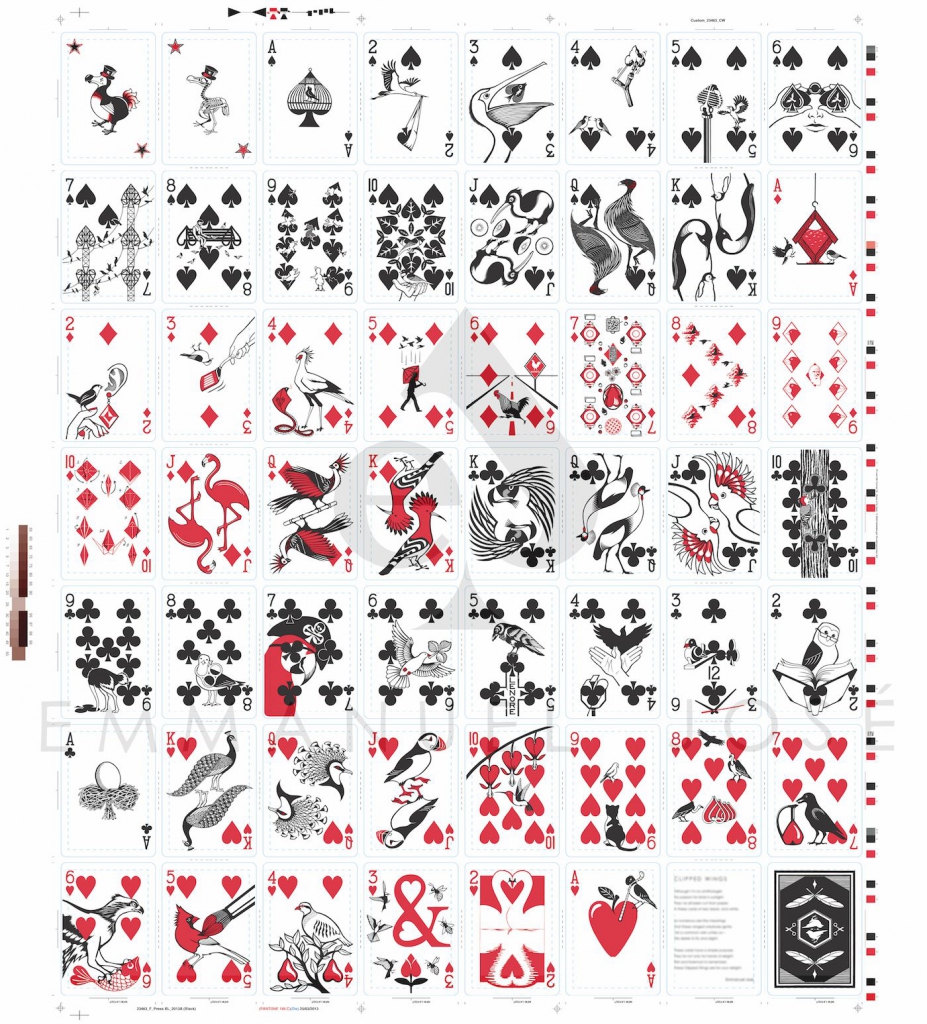 https://www.maxplayingcards.com/en/wp-content/uploads/2014/03/ClippedWings_box.jpg
595
700
Max
https://www.maxplayingcards.com/en/wp-content/uploads/2020/03/MPClogo-300x138.png
Max
2014-03-20 19:33:55
2014-03-20 19:33:55
Clipped Wings deck. Papercutting cards. Interview to Emmanuel Jose