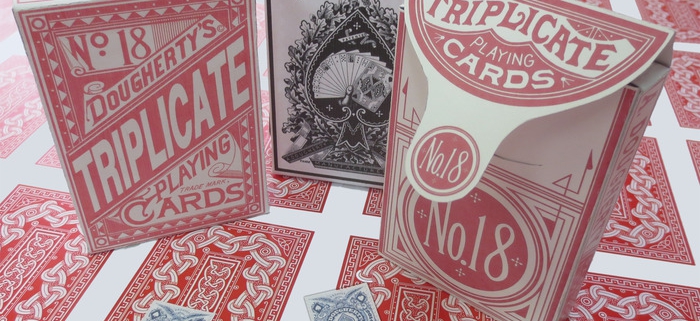 1876, A.Dougherty Triplicate Playing Cards. A master piece of restoration
Along last weeks many playing cards projects have been launched through Kickstarter. Most are based on customized playing cards, some are nice, other not so nice… But this is different, this is not a new deck, but an old deck, in fact it is an authorized reprint of a deck published in 1876 by A. Dougherty: Triplicate.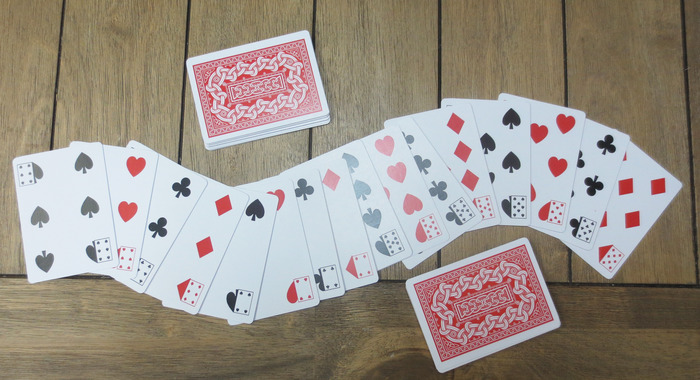 In 1876, Andrew Dougherty, a printer and manufacturer of playing cards, got a U.S. Patent for his triplicate cards. The triplicate was a miniature card placed in the top left and bottom right corners. It was a revolution in the way cards could be held and viewed. The decorative ace of spades and the wrapper for the first No.18 Triplicate deck showed a fanned hand of cards with the triplicate miniature indices viewable on each card. The first deck of triplicate cards came with a best bower, which was later replaced by a joker.
If Andrew Dougherty would be able to see this deck, he will probably be proud of it. The design has been carefully recovered and restored by Michael Scott, from Home Run Games, a company dedicated to a completely different type of designs that begins with this deck a new series of restorations they will do with USPCC decks (Squeezers, Indicators, Ivorettes, …).
The United States Playing card company has worked with them during the restoration of this beautiful piece of history. They have been working with USPCC for over 6 months researching archives, designing and formatting. Hundreds of hours have been put into the restoration of the art to bring this treasure back to life. The tuck box, back design and ace of spades have been approved by the United States playing card company as the restored art work for the deck. A. Dougherty is a registered trademark of The United Stated Playing Card Company
There will be four editions of this Triplicate deck: two standard, with a modern tuck box, in red and blue, and two limited one, also in red and blue, with 1000 decks that will be stored on a vintage recreation of the original 1876 box with a long tongue, printed with the famous Douguerty's Linoid Finish and wrapped original paper wrapper printed on archival paper and sealed with 2 restored stamps. Each limited deck will be signed and numbered on the deck and on the back of the paper wrapper.
The project is almost funded in just a couple days so it will be a fantastic success for sure. If you like it, go to the project website and raise your pledge.
Good luck!
https://www.maxplayingcards.com/en/wp-content/uploads/2014/02/Triplicate_banner.jpg
477
700
Max
https://www.maxplayingcards.com/en/wp-content/uploads/2020/03/MPClogo-300x138.png
Max
2014-02-23 04:56:50
2014-02-23 04:56:50
1876, A.Dougherty Triplicate Playing Cards. A master piece of restoration