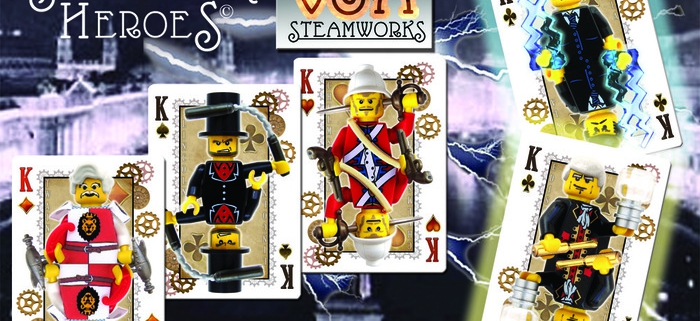 Steampunks Heroes Lego Bicycle Deck. Interview with the artist.
It is not the first time we talk about playing cards inspired on the Victorian Age. Nevertheless, this KickStarter new project brings us a very original proposal: The Steampunk Heroes Bicycle Deck.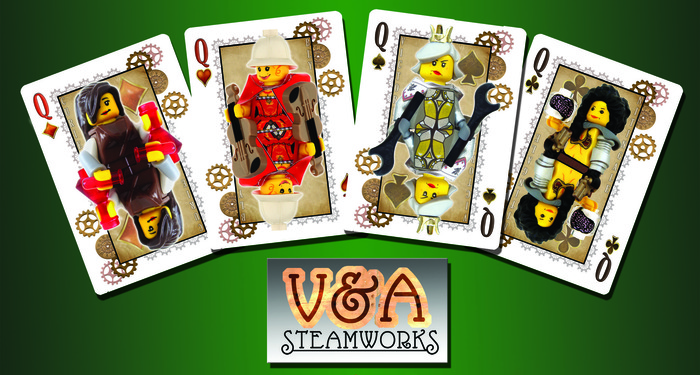 Its creator, Guy Himber, is a fan of Lego world and proposes a completely new and customized deck, printed by USPCC under Bicycle brand, with an artwork based on Lego characters of the Victorian Age.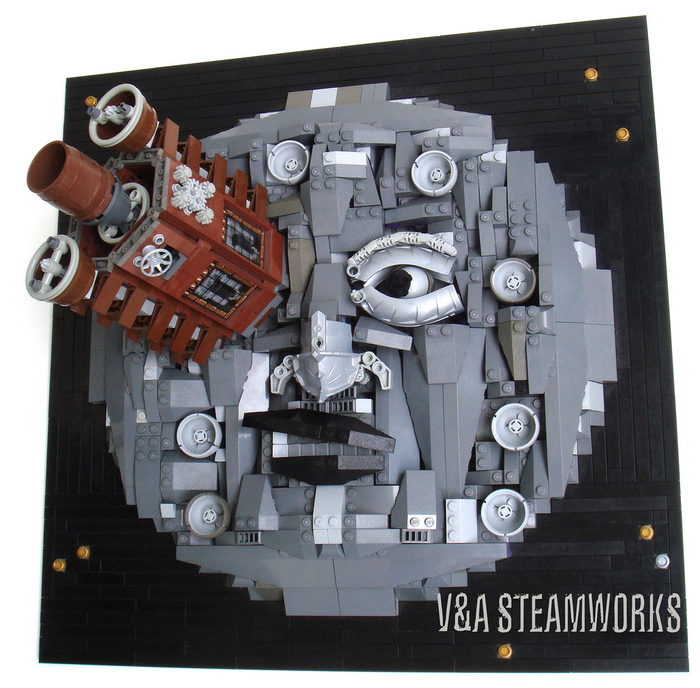 The deck also pays tribute to Georges Méliès' classic film "Voyage to the Moon" with a very amazing artwork (box and card back) photographed on a real Lego model.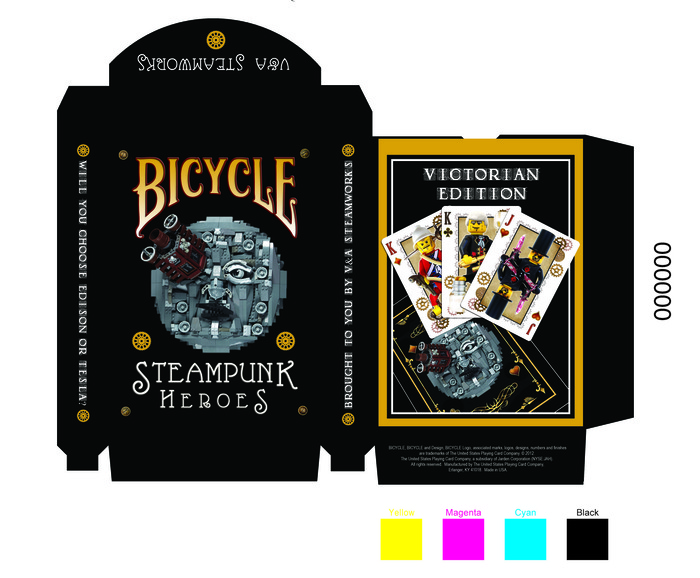 In this post, maxplayingcards inaugurates a new section dedicated to interviews with deck creators (or any other interesting people in this amazing world).
Max – Good morning (good evening, not sure due to time difference) Guy, and thank you very much for answering my questions. First of all, why designing a deck of cards?
Guy Himber – Steampunk Heroes was a project inspired by a series of magazine articles I had written and been the co-editor for over at

BrickJournal

. Joe Meno, the Editor , and I had been discussing the creation of an all Steampunk themed issue and I said I would only do it if I can be in charge of getting all of the content and design put together. One of the articles I created was about Steampunk themed minifigures and all of the wonderful vendors and hobbyists who create secondary market accessories. I made somewhere in the neighborhood of 60+ different custom figures and many of them were based on Victorian age historical figures. Once photographed, all of the images needed to be tuned up in Photoshop and during this process I started to note how many of them reminded me of Court cards. I duped and flipped one of them to make and early prototype and the idea started to take root to perhaps make a full deck based on the minfig styled characters.
Max – Is it your first job in cards artwork?
Guy – I am an Industrial Designer and Special Make Up effects person in the film industry. I am VERY comfortable working within Photoshop ( and to a lesser extent Illustrator ). It was just a matter of applying those same skills to a card deck. I did TONS and TONS of research to come up with the deck design. I never realized how much history and tradition is reflected in a deck of cards before I started my studies. I currently own about 80+ custom and standard decks in my personal collection ( soon to be 81 once Steampunk Heroes gets printed! ).
Max – Are you interested on cards beyond this design (collector, magician, manipulator, player, …)?
Guy – Strangely, a distant relative on my Father's side of the family was a famous Magician/Bandleader named

Richard Himber

. He is very well known in Magician circles and is the originator of many of the most famous magic tricks used today. Check out the Himber Rings or the Himber Wallet and you can see some of his work. I don't think he ever made a deck or cards , but I do know he wasn't opposed to creating entire fake books to do illusions and magic.
Max – Which are the main difficulties you have had creating this deck?
Guy – Every finished design you see was probably done and redone at least 3 times. Every time I would think that I had an angle or character pose perfect for creating the card profiles I would bring them into Photoshop and discover an improvement or two that could be done to them. The greatest difficulty was not giving into the temptation of being satisfied with my first or second design solution. Always look for an even better option and don't be afraid to critique yourself. Learning the card collector world was also a bit of a challenge. I am STILL learning about card finishes and paper stock and the manufacturing process. The cards won't hit the presses until I am happy with the results.
Max – How many decks will be printed?

Guy

–

At minimum 2,500. But this number will increase as the campaign becomes more successful. I would like the final run to be closer to 5,000 so that I can implement some paper upgrades or tuck box features for everyone who buys a deck.

Max – Will be this deck a good deck for magicians or just for collectors?

Guy

–

Traditionally, magicians don't like to stray too far from the classic royalty cards. Perhaps this is the deck that will change some of their minds? I would love to see a trick or two employ the double Kings ( Tesla and Edison ) in some way. The card backs are technically ONE WAY , but I purposely made the outer borders and details TWO WAY. In effect, doing fans and flourishes should not be effected, it's only when cards are full exposed that you will notice that the Voyage to the Moon artwork is ONE WAY in the center. This was done to best serve the art and design of the deck. I'll be posting some mock up pictures of a fanned card back soon on Kickstarter.

Max – Can you give us an approximate release date?
Guy – At this point the project is pretty much funded at Day #1 so I will start to formally submit the final artwork to USPCC in the coming weeks. At the end of the campaign everything will already be ready to make a run at the presses , so it will just be a matter of where the Steampunk Heroes Deck print run ends up in line with whatever else is printing at the Mill in Erlanger at the time. The decks and uncut sheets should deliver WAY before December.
Max –Will there be more creations in the near future?
Guy – I had an excellent time making the Steampunk Heroes deck and I already have an idea for a second theme. Based upon everything I learned from my debut deck I can only imagine how much farther I can take a second one. Of course, after mailing a couple 1,000 decks in the mail I might start to have second thoughts about creating a second Kickstarter project!
Max – Thank you very much. I am sure this Kickstarter campaign will be more than successful.
Guy – Thanks Max, it was a pleasure to chat with you.
NOTE: While writing this post and translating it to Spanish, the project got funded. Congratulations!!!!!
Some stretch goals are going to be defined to improve the deck features included an upgrade the deck to CASINO BEE STOCK paper. Keep connected and raise your pledge!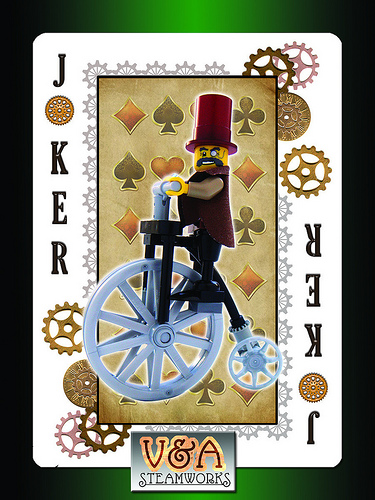 https://www.maxplayingcards.com/en/wp-content/uploads/2012/07/LegoSteampunk01.jpg
456
700
Max
https://www.maxplayingcards.com/en/wp-content/uploads/2020/03/MPClogo-300x138.png
Max
2012-07-11 11:48:00
2012-07-11 11:48:00
Steampunks Heroes Lego Bicycle Deck. Interview with the artist.