Bicycle by MATSUI GAMING MACHINE CO. Playing cards made in USA that travel from Japan to the rest of the world
The United States Playing Card Company is undoubtedly the largest producer of quality cards in the world and that production rhythm is a constant challenge for serious collectors of decks made in USA in general and Bicycle cards in particular. Their own series (sold by the USPCC in their website) and many other custom decks come together with other which are distributed through special channels so find them all (sometimes even know about their existence) becomes a defiance for collectors.
Apart from this commercialization outside the common channels, there are also specific productions for countries with a significant demand for quality cards. One of these countries is Japan, where the interest in Bicycle cards is soaring. Most of card fans are simply unable to purchase decks in Japanese stores due to different obstacles such as the language, the currency, the payment methods and the shipping. Fortunately, there are companies that are responsible for distributing these cards outside Japan to make them accessible to the international audience and the most important among them is MATSUI GAMING MACHINE CO. LTD.
Apart from a big company with more than 35 years of gaming experience, MATSUI is the exclusive distributor of the USPCC in Japan from 1997. Founded in 1980 by Takashi Matsui, a passionate man about the gaming industry and quality products, the company has its own factories for gaming chips and equipment and offices throughout the world. In recent years, they have also created many decks in collaboration with the USPCC and other companies some of which have been distributed internationally so fans around the globe can already enjoy them. Some of these decks are promotional items from Asian companies or major multinationals or have been created to celebrate anniversaries, events, etc…
I thought it was a good idea to create a new place for this type of cards, focusing on those that can be found outside Japan and therefore can be purchased by wholesalers, shops and even individuals. I hope you enjoy them.
---
---
BICYCLE TOKIDOKI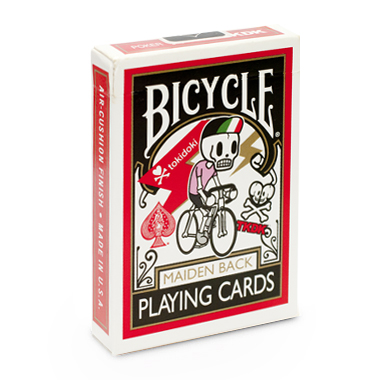 Developed in collaboration with Simone Legno, artist and co-founder of Tokidoki, an Italian company devoted to fashion items and accessories with a very original design. All the cards have been customized with the design style of Simone's funny characters.
---
BICYCLE LAUNDRY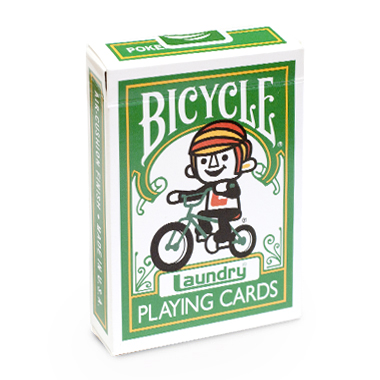 Developed in collaboration with Laundry, a Japanese apparel brand who are especially popular for their beautiful t-shirts. It is a Bicycle deck with a color scheme based on the bright green of the brand. The faces are customized in a funny cartoon style.
---
BICYCLE SEX PISTOLS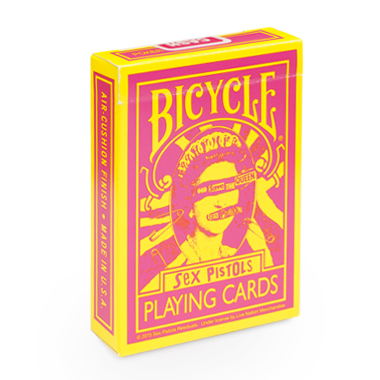 One of the craziest decks developed in collaboration with the renowned British punk rock band Sex Pistols. The back shows the maiden design colored with a union flag and pips and court cards have been customized. Naturally, queens recall elements of the well-know cover of the band "God Save the Queen" that is also depicted in the joker.
---
BICYCLE PEANUTS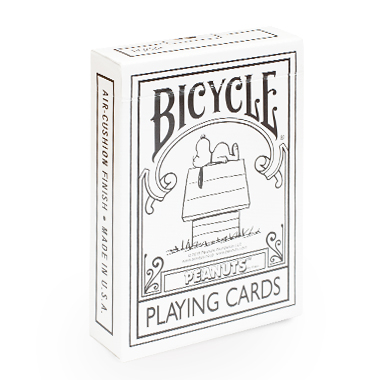 Created in collaboration with PEANUTS trademark, by Charles M. Schulz, creator of the popular comic strip with endearing characters like Charlie Brown and Snoopy. Cards and tuck case are black and white with a very simple color scheme. The back design uses the famous Charlie Brown cloth's design. The faces depict characters from the comic book playing with the pips like in a transformation deck.
---
BICYCLE RILAKKUMA BE@RBRICK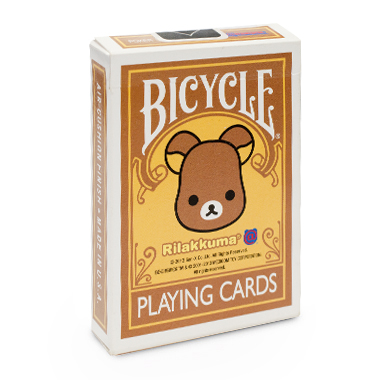 Rilakumma is an extremely popular character in Japan. This deck is celebrating its 10th anniversary and it is a triple collaboration between Bicycle, San-X (Rilakkuma's creator) and MediCom Toy, producers of the famous collectible Bearbricks, toys with a bear shape and infinite colors and designs. The characters of both brands appear on the card faces that have been completely customized.
---
BICYCLE FRAGMENT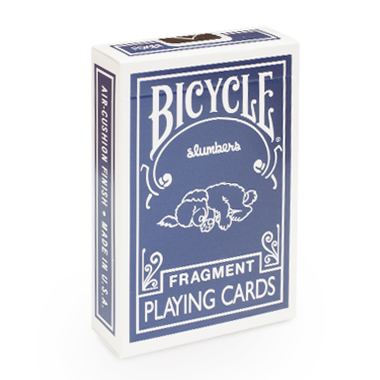 This deck was created in collaboration with Hiroshi Fujiwara when he opened the concept store "the POOL aoyama" (already closed). It is basically a Bicycle deck with custom jokers.
---
BICYCLE ITOYA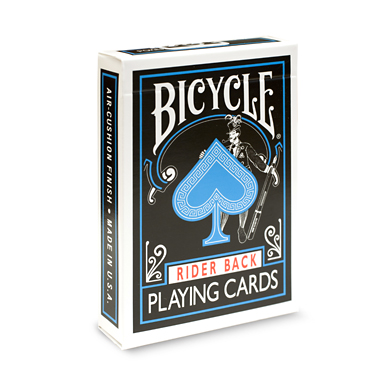 Created in collaboration with Itoya, a popular Japanese stationer, the deck shows a striking combination of designs in white on black background and a completely customized set of cards with a Maiden back and black faces.
---
BICYCLE NEW ERA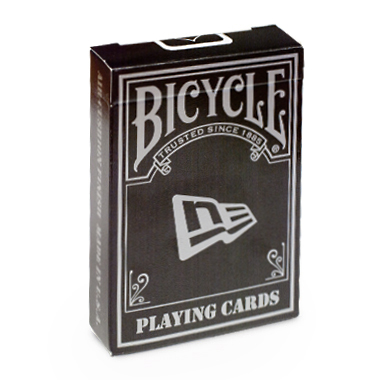 New Era is an internationally popular cap brand that has collaborated before with Bicycle to create another deck. This second edition in silver uses a different color for each suit and a different cap on each ace. The court cards also wear different hats and the back is decorated with two company logos.
---
---
All these editions are available for international orders. If you are a whole-seller or a shop and you are interested in a direct purchase you can contact Matsui and ask for quotes according to the desired quantities. If you are a collector, you may be able to find all them in online shops or retailers.
There are other editions, mainly promotional decks, not for sale so they have become objects of desire for serious collectors. You can see some in this link.
Maybe someday I can make a section dedicated to these little gems. Who kwows?
I will keep you informed of futures developments by Matsui.
ganba~tsu te!
https://www.maxplayingcards.com/en/wp-content/uploads/2016/07/Matsui_banner-scaled.jpg
1920
2560
Max
https://www.maxplayingcards.com/en/wp-content/uploads/2020/03/MPClogo-300x138.png
Max
2016-07-13 22:24:31
2016-07-13 22:24:31
Bicycle by MATSUI GAMING MACHINE CO. Playing cards made in USA that travel from Japan to the rest of the world