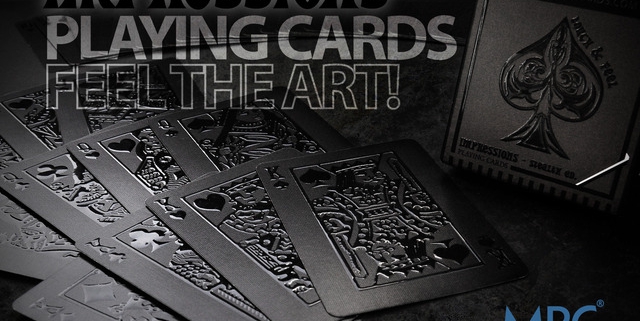 Impressions Playing Cards by Make Playing Cards. The technology that makes you feel the cards when touching them
Make Playing Cards is not new at all in this business. They are making table top games for more than 30 years, but they were widely known as playing cards makers specially after their first Kickstarter campaign where they presented their own cards brand.
Now, they come back with something completely different, not only a new design, a new stock or a new finish, but a new type of cards with a new printing technology: Impressions.
Who better than Alex Tse, Marketing and Design Manager of Make Playing Cards to explain it? I had the chance to talk to him and asked him some questions. This is what he answered.
Max Playing Cards – Hello Alex, welcome to Max Playing Cards, it is a pleasure to talk to you about this new project. Although you already made your debut on Kickstarter some months ago with your own brand of playing cards, this new campaign, Impressions, has been completely different. How have you living this?

Alex Tse – Thank you Max, it's my pleasure to answer you for your readers. Yes, although our company is reaching its 32nd anniversary this year manufacturing table top games, gift cards, packaging for some of the most well know retail companies out there, we still didn't have our own brand or product. This was what sparked off our first campaign. Our second campaign which is the current one could be looked upon as a more innovative and creative project where we are doing something exciting to playing cards that has never been done before. It's a risky move but as we are finding out now, people are loving it.

Max – Which is exactly the technology these new decks are based on?
Alex – The technology is very new and the machine that we have installed is still very rare in the printing industry due to the huge investment required. I won't go into figures here but it's definitely an investment risk. Basically, it's a secondary process where after normal printing, you put it through a special process which is able to apply accurately, different levels of raised gloss to specific areas of the sheet of paper using a liquid called polymer which has the highest gloss levels achievable on printed material and looks amazing. It can be looked upon as a cross between traditional spot UV and embossing but much more advanced. Also there is no minimum order quantity required when using this digital technology whereas using the traditional method to attempt something that is a little similar to this would cost you a lot of money. This technology is also capable of Braille which is great for the visually impaired. We will be making this available on our site very soon as we are already receiving so many requests for it. Actually everything that's on our project are available through our site for customization which people can use for their own playing cards projects.
Max – In your opinion, which would be the main advantage points of MakePlayingCards.com (MPC) compared to the competition's?
Alex –Our main advantage is that we are keeping modern with technology and providing what the customer needs without having huge setup costs but yet keeping high standards in terms of printing, manufacturing and sourcing premium materials. Customers always comes first for us and we listen to all feedback. More importantly, we take quick action on feedback and improve where necessary.
Max – I have seen your samples and you have a wide variety of stock qualities. Have you detected any change along last year in your customers' needs regarding the quality (and also the quantity) of their decks?
Alex –People are reducing the quantity that they are producing each time but the quality needs are getting higher and higher. The playing cards community is very professional and they know their stuff and if you don't meet expectations, they will tell you and others without holding back.
Max – Have you got any surprise hidden for this campaign??
Alex –We are working feverishly on rewards as we want to reward our backers for supporting us on this really exciting project. We are also working on something that we hope to be able to release within the next week or 2 but I can't say what it is right now. Will keep all informed.
Max – So, we'll have to be alert! Thanks a lot for your kindness and time.
Alex –My pleasure, Max.
The project offers FOUR different decks printed with the already mentioned technology. On the one hand the original Impressions edition in full color with MPC's own designs and the Stealth edition, in intense black that contrasts with the sparkle of the embossed printing. A third deck with extended court cards, the Court Impression Edition, give another vision of the classic cards and finally, the new Phantom Edition, in pure and elegant white, completes the set.
It is clear, specially having in mind the huge acceptance they have had by backers, that MPC has a lot to say yet, so let's keep in touch and visit the project website to get some of these special decks.
Good luck!
https://www.maxplayingcards.com/en/wp-content/uploads/2014/09/Impressions_banner.jpg
480
640
Max
https://www.maxplayingcards.com/en/wp-content/uploads/2020/03/MPClogo-300x138.png
Max
2014-09-20 20:02:11
2014-09-20 20:02:11
Impressions Playing Cards by Make Playing Cards. The technology that makes you feel the cards when touching them