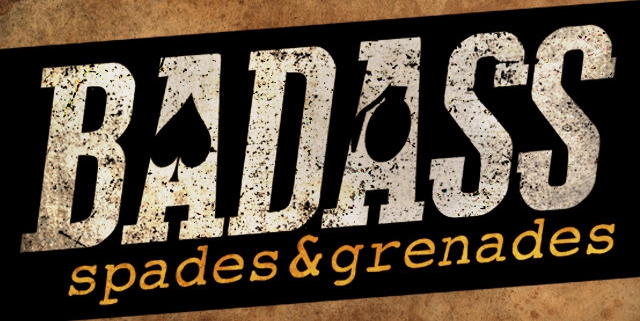 BADASS: Spades & Grenades. Playing cards with Balls
Ben Thompson has written and maintained the web site badassoftheweek.com for about 8 years and now, writing about Badasses once a week. His stories about incredible people doing impossible things have become very popular.
His partner, Manny Vega, helped him in the visual aspects of the stories and characters and they created the "file cards" with detailed and structured info for each character.
After publishing some books about their work, they decided to make a deck of cards for their fans and here it is. The Badass: Spades and grenades deck.
The artwork for this deck depicts a group of strong humans, each one in a different card, with a memorable quote.
Printed by USPCC, the artists have redesigned each card and every pip. The project is already funded but if they get more funds, they will be able to make the artwork better indeed.
Enjoy the pictures of some cards. You can get more info about this deck and badasses in the project website, where you can also raise your pledge.
Good luck!
https://www.maxplayingcards.com/en/wp-content/uploads/2013/08/BadAssBanner.jpg
480
640
Max
https://www.maxplayingcards.com/en/wp-content/uploads/2020/03/MPClogo-300x138.png
Max
2013-08-04 12:36:17
2013-08-04 12:36:17
BADASS: Spades & Grenades. Playing cards with Balls