Bicycle Venexiana deck. Interview to Lotrek and exclusive images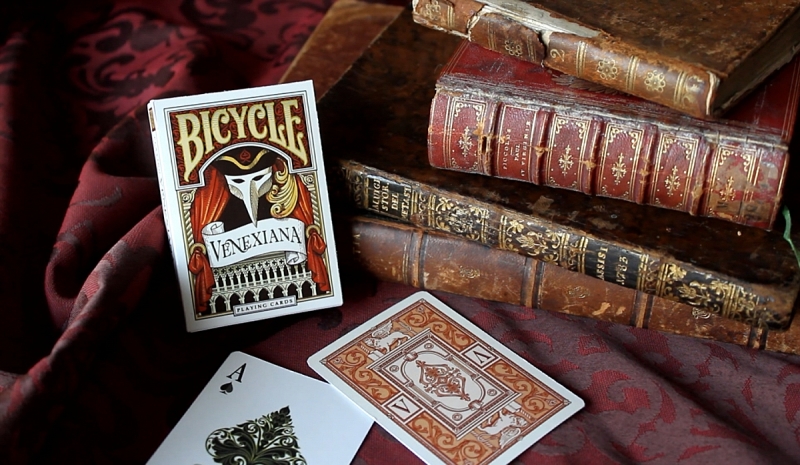 Venice, the Adriatic Queen, is one of the most inspiring cities for artists all over the world. That's the case of Lotrek, from Half Moon, a Greek designer that decided to make a Bicycle deck inspired on the city of canals: Venexiana.
This is not his first design for playing cards, as he already worked on two stunning Bicycle decks: Timeless and Butterfly, but this is his very first project as the whole responsible of the deck. It is necessary just a couple of minutes having a look to this deck and its cards to see the huge talent of this designer. A talent only comparable to his kindness. I have had the opportunity to know him and talk about many things related to playing cards so I have decided to publish an interview.
I hope you enjoy it.
Max Playing Cards – Hello Lotrek, welcome to Max Playing Cards, it is a pleasure to have the opportunity to know more about you and your art

Lotrek – Thank you Max, it's my pleasure.

Max – Tell me something about your work as a designer. What is your background?
Lotrek –Well, I studied painting in the Athens School of Fine Arts but gradually I got more and more interested in illustration and graphic design. So I worked for many years as a freelance illustrator.
Max – Some of your designs are well known by card lovers. Timeless and Butterfly were cool decks. Why did you decide to design playing cards?
Lotrek –  I didn't! I could say that playing cards design decided to come to me.  In fact I always loved playing cards design but being a child I spent hours looking at them wondering why on earth playing cards are all the same! At that time I didn't know that there is a whole world of custom playing cards.  Until I was commissioned to design two decks for RSVPmagic. That was it! I felt that I found a destination. This field is endless and the limitations in the design in fact trigger the creativity.
Max – What about those RSVPmagic decks? Did you enjoy the experience? 
Lotrek –  Absolutely. Russ is a great guy and apart from very general guidelines, he gave me full freedom to create both "Timeless" and "Butterfly" without interfering  in the design.
Max – Are you interested on cards beyond your designing job?

Lotrek – Haha! Not really, I have to admit… I prefer designing them. But I love flourishers and magicians. I can spend hours watching tricks! I'm always thinking that I should start practicing to present a few tricks to my wife.
Max – Tell me about your favorite playing cards designs
Lotrek – I like the style of T11 playing cards, although I wish they had more customized courts. They are very elegant works thought. I think black Artisans is their best release. I also like Federal52. Jackson had a great concept and execution there. I'm also waiting for Deco by Paul Carpenter. He is very focused on the details.
Max – As you are mentioning two consecrated playing cards designers like Paul and Jackson, what do you think about the way the playing cards market is changing along last years?
Lotrek –  It's obvious that more and more custom decks from talented designers are popping out, some of them being real masterpieces and this can only be to the benefit of the playing cards community. I just wonder whether the market can absorb such plethora. On the other hand one can say that as the offer of intriguing decks is growing, more and more people start a collection. Plus we have the magicians who often destroy their decks and need new ones!
Max – When did you create Half Moon and how many people is involved there?
Lotrek –  Well, for now Half Moon is just a brand name that I like for my decks. It's not a proper company yet. But if the whole story grows, it will become one. Currently it's only me but although not directly involved, there is my wife Melania, who is also an artist and photographer with a very sharp eye and mind. Her advice and work  is precious to me.
Max – Tell me something about Venexiana. A short story to better understand the deck and the design
Lotrek – Venexiana is a dedication. Venice is one of my most beloved cities and I always wanted to do something about it. I've been there quite a few times and I really cannot deal with the amount of inspiration I get every time I just think of that unbelievable place. So, a deck dedicated to that city was rather obvious for me. I'm focusing more on the 18th century Venice, when the city had lost its' former absolute power in the Mediterranean, but had reached a peak in elegance and the Venetian artists were famous all over Europe. In that time Vivaldi was composing his seducing music and Canaletto was painting views of the city so real and vivid, that you think you can hear the people talking in the streets. I'm also influenced by the Venetian art of book printing, an art that also flourished in the city.
Max – Why Kickstarter? And how Kickstarter coming from Greece?
Lotrek – Well, Kickstarter is THE place. Apart from being the largest crowdfunding site, it has already built an audience for playing cards decks. On the other hand this has caused an insane plethora of designs, which makes things harder for creators. Being from Greece was a problem but I was lucky enough to have a great friend in the States who was very excited with the idea and he actually gave me full access to his KS account, as if it were mine. So, the wall I faced at the beginning became a highway in the end.
Max – I agree with you Kickstarter has become THE place for deck designers, but you also know it is a double-edged sword that has somehow lost its original essence and fostered the emergence of unscrupulous creators who hide behind the legal ins and outs of the platform that prevents backers (especially those international) fight against fraud to which they are sometimes subjected.What do you think about it?
Lotrek –  Unfortunately, it seems that humankind will never get rid of such persons. The only thing a backer can do to protect themselves, is using their mind and judgement. Some campaigns are shouting that they are at least "suspicious".
Max – Tell me something special, something nobody but you (and MPC readers) know about this deck.
Lotrek – Hmm, it has to do with the name. I was trying to find a name that I would really like, but I has only thinking of too complicated or too abstract names. I thought of "Serenissima" but I saw that there is a game with that name. And one day, as I was reading Hugo Pratt's "Ballad of the Salt Sea"  I remembered that one of his heroines is from Venice and her name is Venexiana Stevenson. That was it! I had the name.
Max – That's a cool story. Tell me something about the deck itself. Number of decks, paper, stock, whatever makes it special…
Lotrek –  It will be printed only once. I'll be printing a minimum of 2,500 decks but the final quantity will be determined by the backers' demand. And after that, nothing! The deck will be printed by the USPCC using Bicycle stock with air cushion finish. However, I may have upgrading to Bee stock with magic finish as a stretch goal. I want to state the difference with the design.
Max – Will it be any special edition of the deck apart from the regular one? This is something very common in the KS campaigns when the funding reaches a specific amount. Any other add-on or stretch goal?
Lotrek – I'll probably release a different color tuck case. Many backers asked for it and I think it would be nice. A custom seal will be definitely a stretch goal, as well as Bee stock and Magic finish. I also may include coins, as they match ideally the theme of the deck . Venice was a city full of coins! Now it's full of banknotes, I guess… But all these are after the funding goal, and we have road ahead. I prefer to keep my expectations modest.
Max – Any plans for the next future?
Lotrek– Plans… I have a deck in mind in which I believe very much. I think it'll be really special and totally different from the current. I wish I can launch it in four months. But for now my main plan is to get "Venexiana" funded and produced. I've put great effort to it and I can't wait to see it printed.
Max – Lotrek, thank you so much for your kindness. I really wish you the very best on your current and next projects and count on Max Playing Cards to spread the voice about your art!

Lotrek– Thank you Max for the opportunity you gave me to talk. And keep up the great work you do!
If you like the deck and the project, you can get more info and raise your pledge on the Venexiana project website.
Good luck!
https://www.maxplayingcards.com/en/wp-content/uploads/2013/07/Venexiana_Ace-of-Diamonds-med.jpg
1288
1000
Max
https://www.maxplayingcards.com/en/wp-content/uploads/2020/03/MPClogo-300x138.png
Max
2013-07-22 01:49:31
2013-07-22 01:49:31
Bicycle Venexiana deck. Interview to Lotrek and exclusive images