CHERRY CASINO Playing Cards. The success of simplicity
Las Vegas is undoubtedly a basic reference in the world of playing cards. Playing cards and casino games are indisputably linked and there are many decks that have become a legend in the world of collecting. Jerry's Nuggets playing cards represent the best exponent of the deck turned into a collector's item. After the hype of the original ones, several dozen different reproductions, derived designs and even fake editions have been made. Furthermore, there are other decks that, without being linked to a real casino, have been created with inspiration of the most classic vintage playing cards. One of the best examples is the CHERRY CASINO series.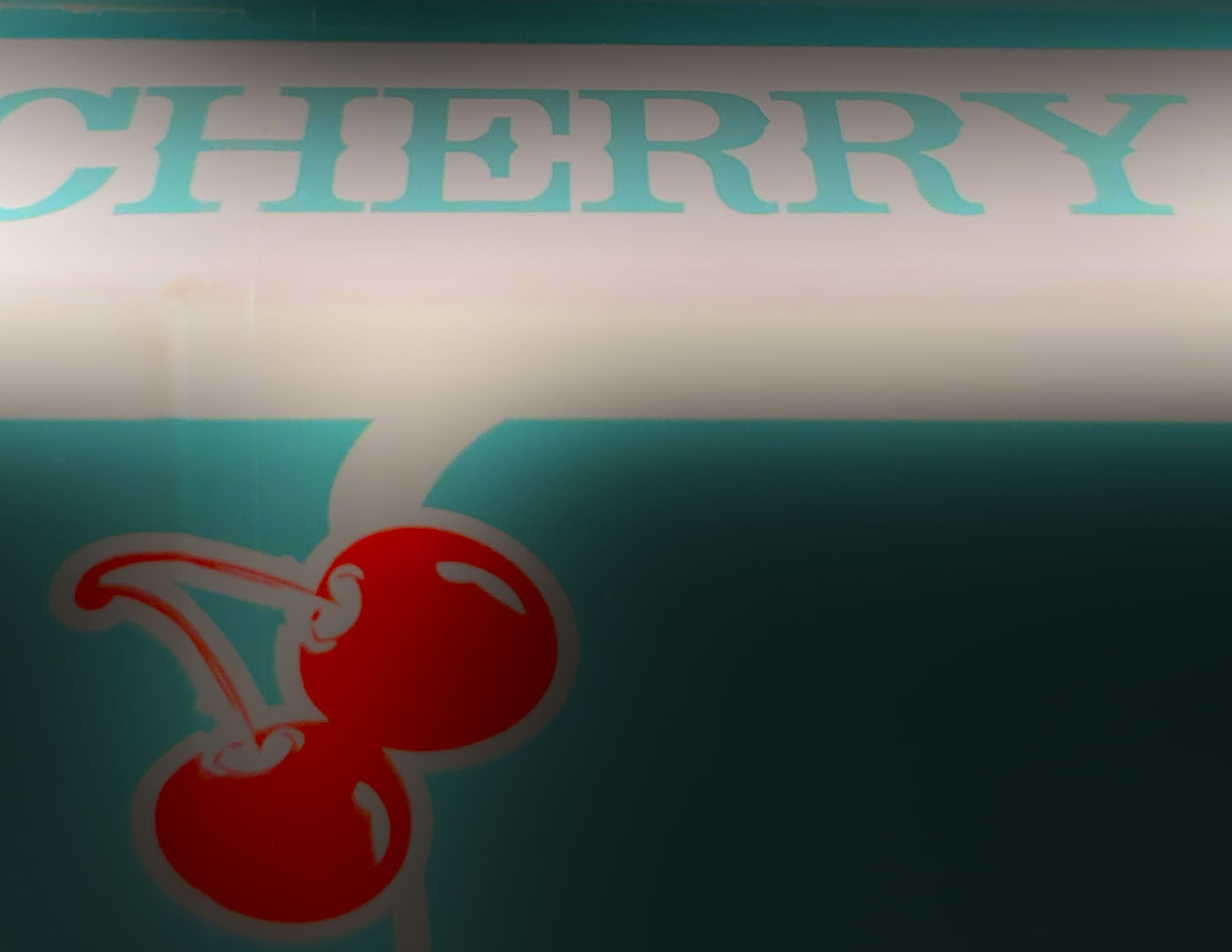 In 2015, Pure Imaginations Project produced the first edition of this deck with a print-run of 2000 units. Designed by Franky Morales and Sam Devins, the Cherry Casino recalled classic playing cards with a sleek, symmetrical back with a cherry on the corners and two sinuous white waves blending into the edge. A simple design but with a lot of personality that augured a sales success.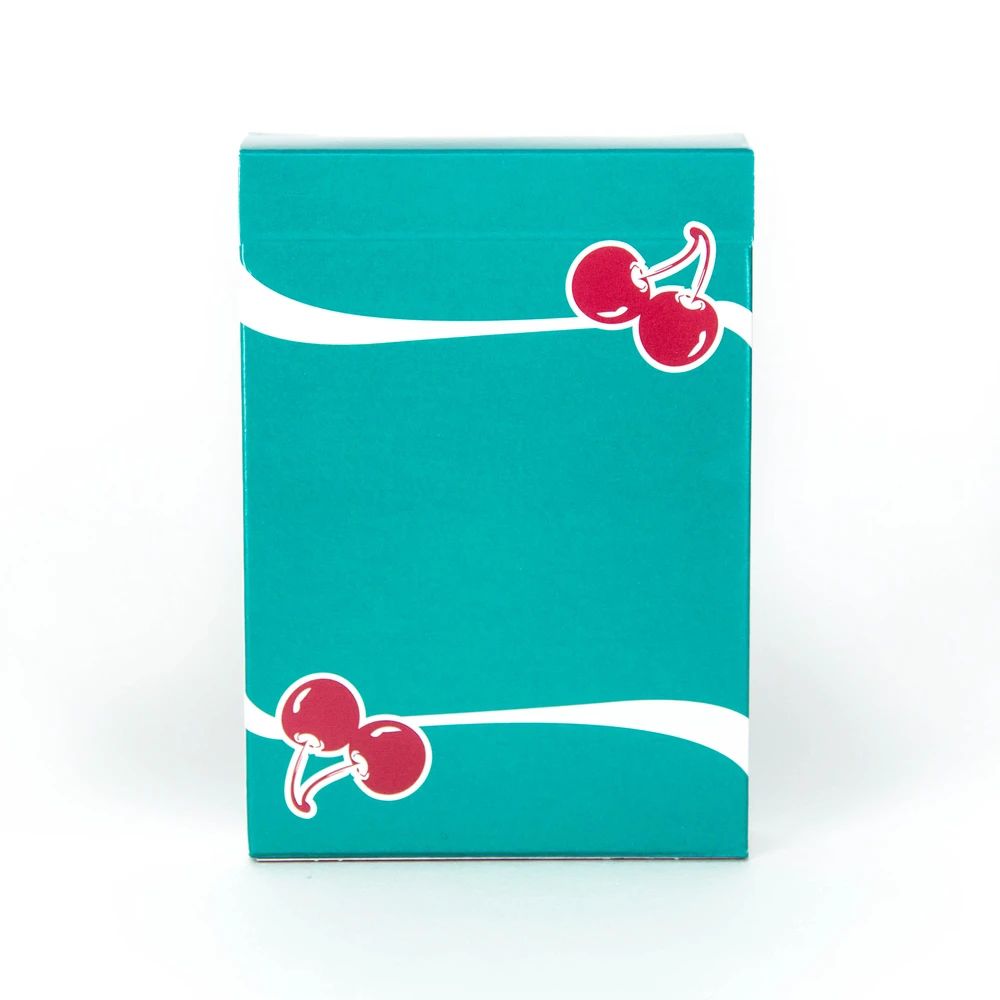 Inspiration from traditional casino decks could be also seen in the jokers and the ace of spades, the only custom cards in the deck.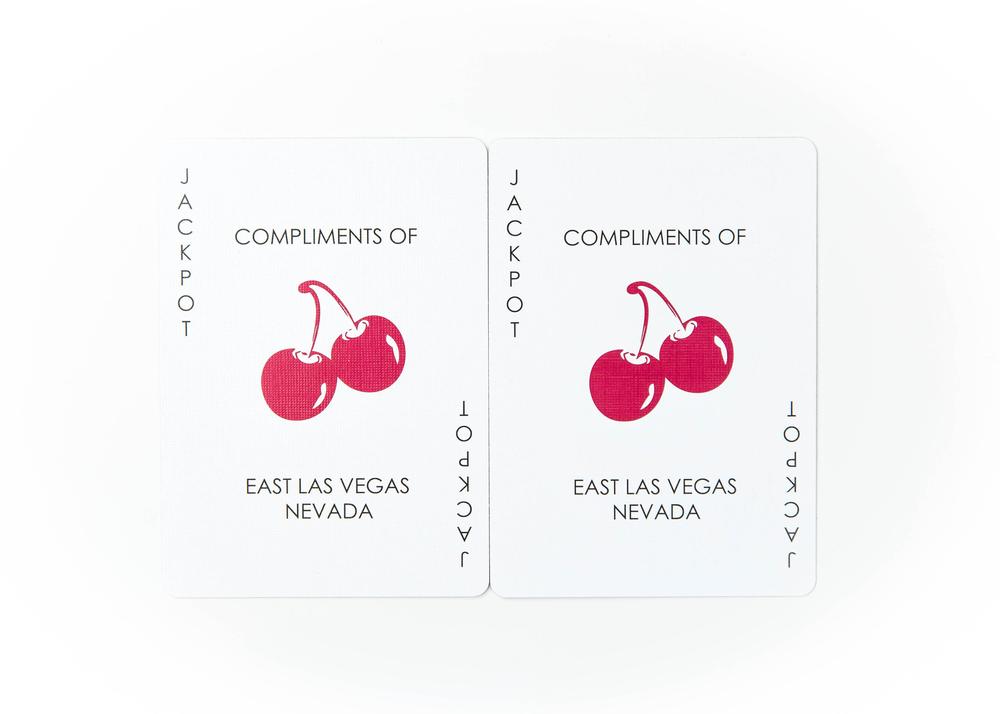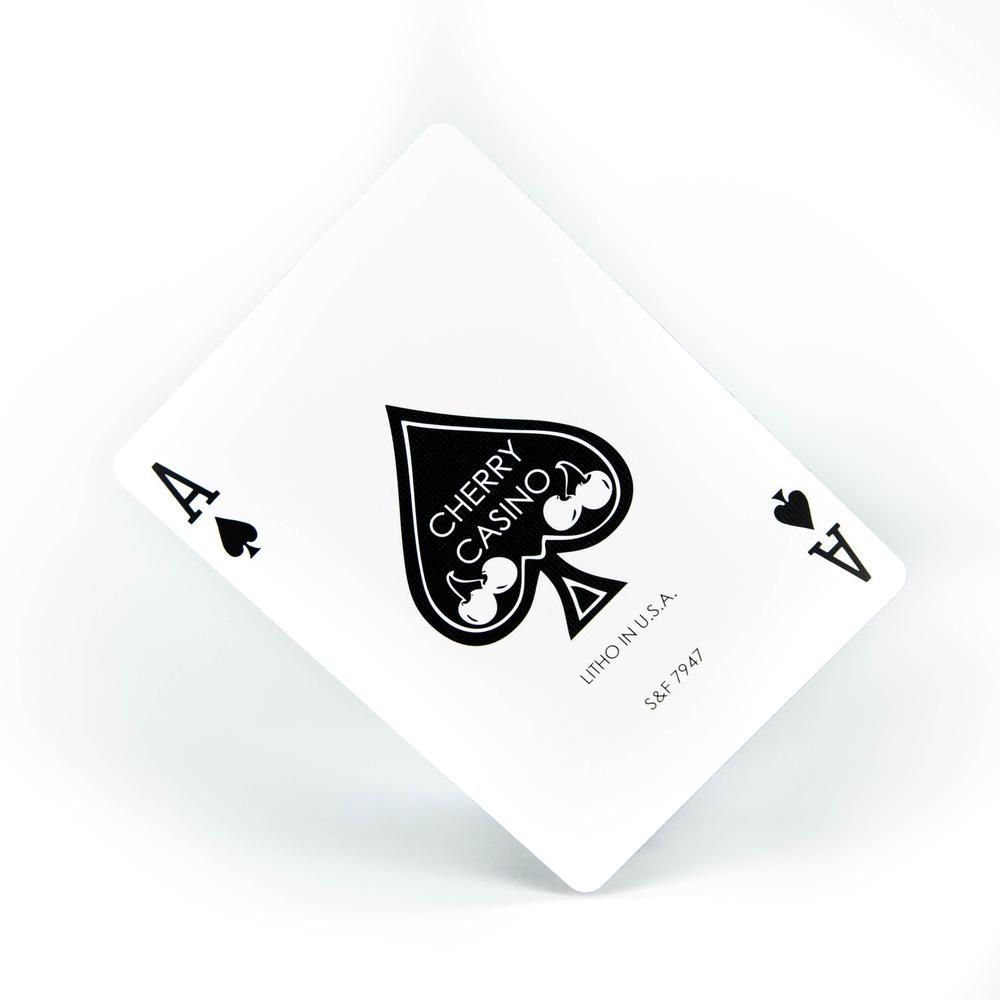 In addition to the standard edition, a limited edition was also created with a different tuck case, the same turquoise color but completely plain, and a print run of 500 decks.
From that beginning, every year, two new editions of the deck were added to the series. This is a summary of all editions.
Cherry Casino. 2015. Turquoise color. Bordered tuck case. 2000 print run.
Cherry Casino limitada. 2015. Turquoise color. Plain tuck case with cherry in the lower right corner. 500 print run.
Cherry Casino v2 Charcoal. 2016. Dark gray color. Bordered tuck case. 2500 print run.
Cherry Casino v2 Charcoal limitada. 2016. Dark gray color and borderless tuck case. 1000 print run. From this edition on, all the tuck cases were made with the same design.
Cherry Casino v3. 2017. Same color as the original.
Cherry Casino v3 True black. 2017.
Cherry Casino Tahoe Blue. 2018. Colaboración con Murphy's Magic. Color azul intenso.
Cherry Casino Reno Red. 2018.
Cherry Casino Fremonts Dessert Inn Purple. 2019.
Cherry Casino Fremonts Sahara Green. 2019.
Cherry Casino Flamingo Quartz Pink. 2020.
Cherry Casino Tropicana Teal. 2020. The most recent of the variations of the Cherries deck with a color very similar to the original.
If there is not enough with this variety of color, the latest edition of this deck is, without a doubt, a much-talked about release: CHERRY CASINO TAHOE BLUE HOUSE DECK. Created primarily for the most serious collectors or those who want to have a much more exclusive object in their hands, it has been produced in a special tuck case, with iridescent paper and a shiny blue finish. Like al the others in the series, it has been printed by the USPCC on thinner Bee crushed stock. The print run of only 500 numbered decks sold out in minutes at major wholesalers and is available now in a few retailers and online stores.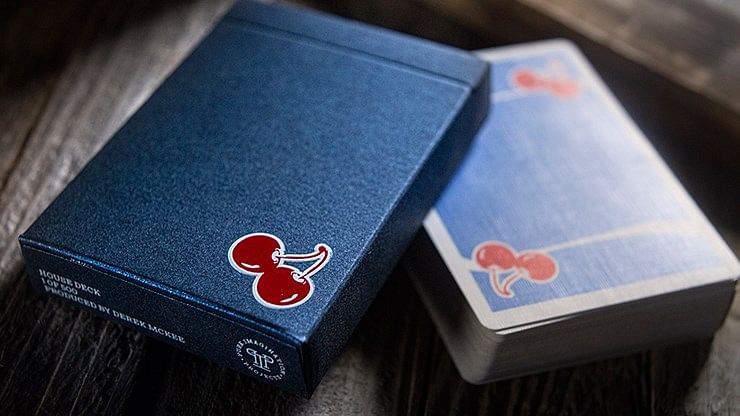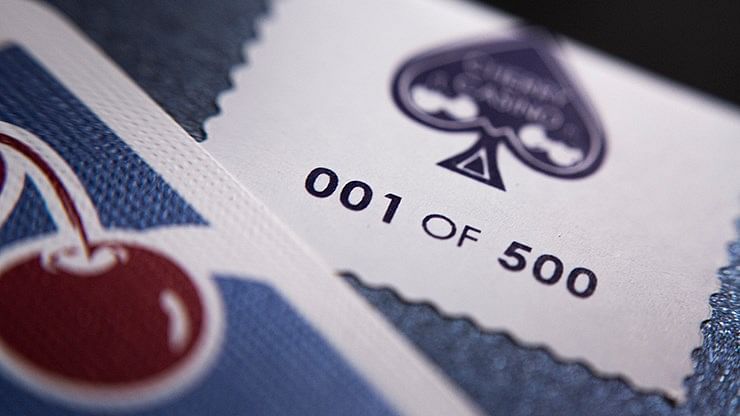 Although there is a certain secrecy about the next versions of this luxury deck, the success of this new edition will undoubtedly bring new colors in this ultra-limited print-run.
It is, therefore, a collection of decks that has already become a mythical series with many followers. I wonder what the future holds when it comes to other color variations, finishes and print-runs. It seems that the success of this series has caused a greater secrecy around the number of decks printed and also a certain lack of originality in the proposals but … if it works in the market, why change it?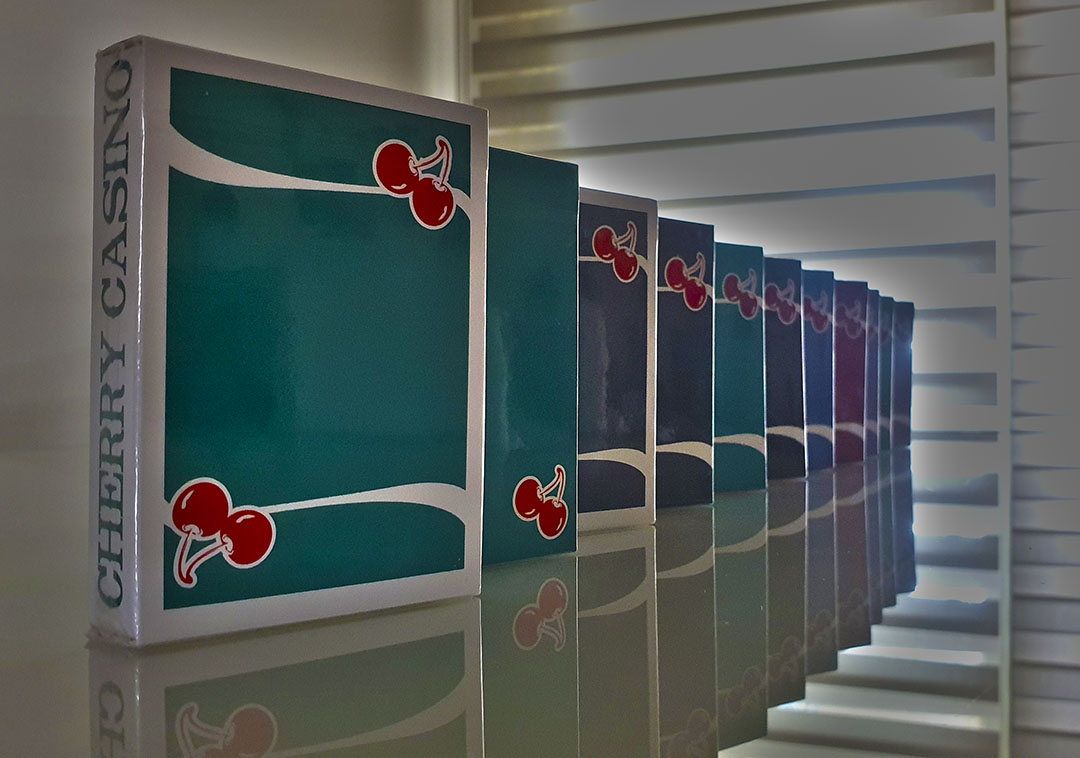 For those who do not have the first decks in the collection, getting them now is a real challenge. There are still some of them in stock in online stores. One of the places with a wider variety is undoubtedly Playing Card Decks and, right now, they offer different editions of this deck, including the most limited one.
To help you a little, Will Roya has been so kind to offer Max Playing Cards readers a 10% discount on their first purchase. If you want to take advantage, get these and others from the thousands of their catalog.
Good luck!
https://www.maxplayingcards.com/en/wp-content/uploads/2020/09/CherryCasino_banner.jpg
810
1080
Max
https://www.maxplayingcards.com/en/wp-content/uploads/2020/03/MPClogo-300x138.png
Max
2020-09-24 20:31:03
2021-04-21 19:29:55
CHERRY CASINO Playing Cards. The success of simplicity