INCEPTION Playing Cards. The beginning of the search for knowledge
Every release by Jody Eklund (Black Ink Playing Cards) is a new bet of quality design. Detailed illustrations have customized elegant playing cards full of not only art but also history and emotion. His latest work is INCEPTION.
In this deck, Jody keeps the inspiration about the human nature and the innate search for the knowledge. This is the way the own artist defines the idea behind the design:
All ideas start with a spark, a light that dispels darkness… an inception. Our world's great thoughts, inventions, movements have been built on the foundation of history's first great thinkers. These people were the revolutionaries that realized that what is, is not always as it seems, and persevered to birth new worlds of thought and knowledge.

The Inception playing cards are about the people who were vanguards in their fields. Their ideas laid the bedrock for growing fields of knowledge, discovery and invention. They dared to ask why, and unleashed knowledge that touches every part of our modern day existence. Would the Wright brothers started towards the dream of flight if not influenced by the pencil drawings of Da Vinci? Would we have looked for worlds beyond our own if the heavens had not been revealed by Galileo? The human spirit is curious and ever evolving toward greater heights of discovery, but it all started with a seed, a spark… an inception.
This quest for knowledge is present in the court cards and their well-known characters. Everything reminds Leonardo Da Vinci and his sketches. Symbols related to the great master's obsession with Celtic knots are present too.
Three decks will be printed: Intellectus, Illustratum and Inception Signature. The three decks will share the same court cards excepting the kings of spades that, together with the aces of spades and backs will be different for each one.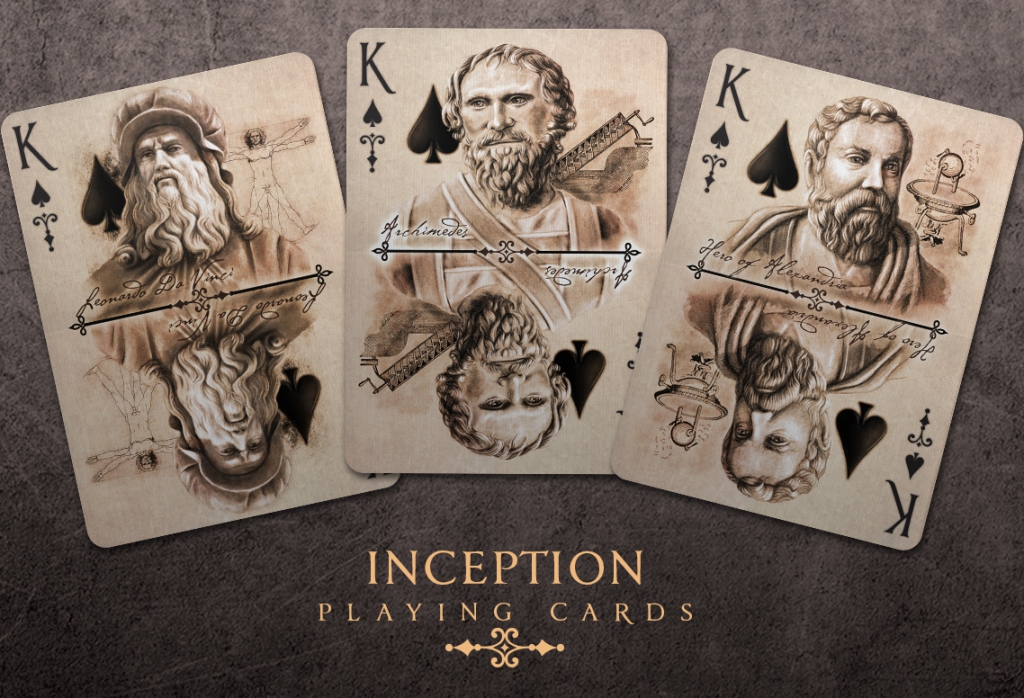 Intellectus will be the blue deck while Illustratum will be the red one. Both tuck cases will have a nice copper foil on them. Inception Signature will be the most limited deck of the series. Signed and numbered, the tuck case will be embossed and copper foiled, and will be limited to the campaign needs.
The three decks will be printed by Legends Playing Cards Company using their Classic Finish in the cards. Materials for tuck case are still pending to be determined as they are exploring different options, including a new silky stock.
A great addition to your collection. The deck will be released in April 12th through Kickstarter so be alert about the launch.
Good luck!
https://www.maxplayingcards.com/en/wp-content/uploads/2016/03/Inception_banner.jpg
853
1138
Max
https://www.maxplayingcards.com/en/wp-content/uploads/2020/03/MPClogo-300x138.png
Max
2016-03-20 12:26:51
2016-03-20 12:26:51
INCEPTION Playing Cards. The beginning of the search for knowledge