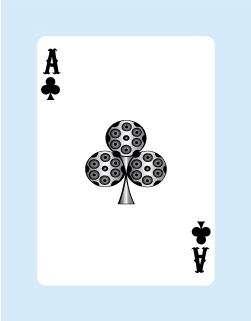 Bicycle Gunslingers is a collaboration effort between two creative designers, Shane and Amber. This is their first project together, but they are no stranger to the playing card industry.
Shane is a magician, card collector, art enthusiast, and awarded artist. Shane has a real passion for cards and it shows not only with his massive collection, but also with his design of them.  He has helped in the design of the Arcane Gaff Deck, and now with Gunslingers.
Amber has a background in art, card collecting, and XCM. She has been learning magic tricks from the time she was little, but always favored card tricks above everything else. Amber came on board this project purely as a designer, and then began to take on more of the PR role as the project progressed.
The concept of Bicycle Gunslingers began from the term that casino dealers use when dealing table games: slinging cards. Slinging cards also means to throw them. They combined this idea with the term gunslinger, because it is the most common thing someone thinks of when they think of slinging. They weren't really trying to go for a western theme. It's more the thought of having the card become your weapon. This applies to magicians, card sharks, and flourishers, just as the pencil is the weapon of choice for a sketch artist.
Gunslingers has been created with the magician, card collector, and flourisher in mind. The deck will include two gaff cards for the magician and four reveals on the box, customization for the collector, and the smooth handling of a Bicycle deck printed by the USPCC for the flourisher.
You can visit the project website to get more info and raise your pledge.
Good luck!
NOTE: If you send a message to the creators mentioning you found the deck on Max Playing Cards you will receive an extra surprise with your reward.
https://www.maxplayingcards.com/en/wp-content/uploads/2013/12/Gunslingers_AceClubs.jpg
323
251
Max
https://www.maxplayingcards.com/en/wp-content/uploads/2020/03/MPClogo-300x138.png
Max
2014-01-01 23:01:29
2014-01-01 23:01:29
Bicycle Gunslingers deck. Each card will be a weapon in your hands